INTERVIEW OF THE WEEK
Photographs: Bharat Sikka, Sagar Chettri
The Sculpture Park
Aparajita Jain, Peter Nagy, Shreyasi Goenka
Last I went up the winding road that takes you to the Nahargarh Fort in Jaipur, I could not have imagined the artistic spectacle that The Sculpture Park has today turned it into. I imagine, somewhere between the sprawling verandahs of hookah-smoking men in the evenings, the vast windows of the Raja's suite where we stayed, and the majestic blue views it offers—some of the finest works by top Indian and international contemporary artists that were unveiled last December.

The Sculpture Park at Madhavendra Palace, Nahargarh Fort, is a unique col¬laboration between the Government of Rajasthan and Saat Saath Arts that has transformed the heritage site into a contemporary art walkthrough. The exhibition includes artworks by 15 Indian and nine international artists including Arman, Huma Bhabha, James Brown, Stephen Cox, Anita Dube, Vibha Galhotra, Vikram Goyal, Subodh Gupta, Evan Holloway, Matthew Day Jackson, Hans Josephsohn, Jitish Kallat and Reena Saini. Organised by Aparajita Jain & Shreyasi Goenka and curated by Peter Nagy, Director of Nature Morte, the exhibit will be on display until November 2018. We spoke to the brains behind the project.


Tell me briefly about your journey in the arts, and the birth of Saat Saath Arts that is behind The Sculpture Park.
Shreyasi Goenka: My journey with the arts began when I was a child. My grandparents were collectors. I started collecting when I was 20. It was mainly decorative art. My fascination for Contemporary Art began when it was introduced to me by Aparajita, when she started her first gallery, 7 Art. Since then there has been no returning to the decorative art space. Aparajita and I believe that Contemporary Art deserves a wider audience as it is a medium that makes one reflect, react and introspect. With this thought, Saat Saath Arts was born, with the express outlook to ensure that Contemporary Art finds a public stage.


What inspired The Sculpture Park at the Nahargarh Fort?
Aparajita Jain: We need public spaces for art, for Contemporary Art to be viewedby the masses and to use culture as a conduit for job creation, tourism and economic growth of areas. Specifically vis-a-vis Jaipur, it has multiple tourist spots, but amongst the forts, most of the visitation is restricted to Amer. Nahargarh is beautiful and but not as busy. For repeat visits, one needs to come up with something new. Culture is a great way to reinvigorate our existing heritage sites. We are doing an experiment here and let's see if it works. It is an example of what an encouraging visionary government and private enterprise, when they join hands, can achieve.
How was it conceptualised, and what piqued the interest of leading corpora¬tions and the government in support-ing the initiative?
Aparajita: The government expressed interest because The Sculpture Park is for the public, the mass. Public Art is Democratic. It is for all. It does not put the viewer into a category. It does not demand a membership card. It is essential for all villages, towns and cities to celebrate their public spaces and domains with works of art in diverse forms. It generates pride in beauty. It ignites latent aesthetic sensibilities. It is fundamental, a great leveller. We have been working on The Sculpture Park for about 8 months. The government has been gracious and given us the property, supported us with security, electricity and general maintenance, the private sector has funded the rest which is curation, insurance, transportation etc. It's been a great blend.


Peter, how has your artistic journey led you into curating the Park?
Peter Nagy: That's a good question! Actually, this feels a bit like Nature Morte's 20th Anniversary Exhibition. NM started in November 1997 and Aparajita and I toyed with the idea of an anniversary show, but whatever we thought of we knew that someone would feel left out. The Sculpture Park was never intended as this, but it does feel like a culmination of my 20 years of working in the art world of India, in the sense that all the players [art-ists, patrons, government, friends] are in place to make such a project happen [and it takes 20 years to develop these relationships]. A foreigner as myself is first seduced by the heritage structures of India, and I was particularly seduced by Jaipur on my first visit to India in 1990. So to be able to construct an exhibition in a building such as Madhavendra Palace is a dream come true.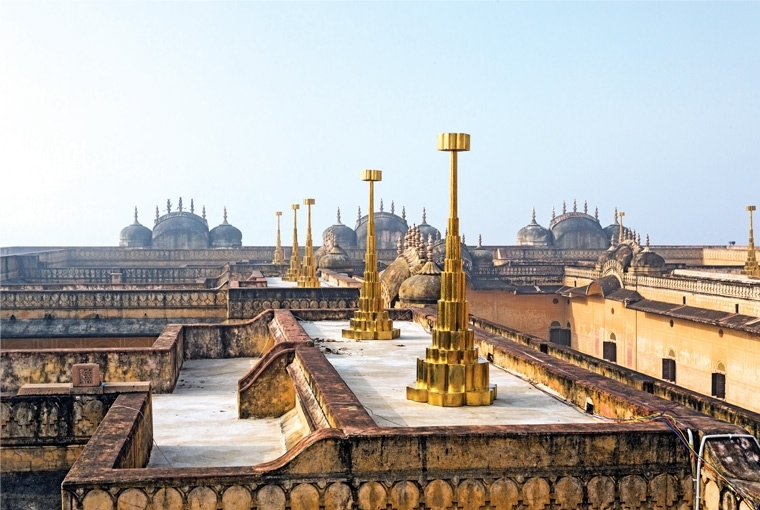 The Hundred Petal Lotus by Vikram Goyal
Take me through the plan of conception and curation.
Peter: I wanted to show important works that could command the setting, which is rather impressive. But the palace, as one experiences it now, is an empty monument and it was built to be a pleasure palace, a site of luxury, eroti¬cism and intrigue. So I wanted to bring something of this back into the palace through the sculptures displayed. For this reason, I have chosen many works that use domestic objects [such as furniture and clothing], to bring a sense of the ghosts within the palace to life. Second, the palace is a highly decorated space, with elaborate paintings covering most of the walls. For this reason, I chose works that have a relationship [either in their materials, techniques or references] to the decorative arts.


How did you choose your artists for this project, and what considerations of space and structure did you keep in mind?
Peter: I did not have the time, nor budget, to ask the artists to make new works for this project [which would require bringing them to the Palace for preliminary research visits]. So I had to start with artists I was familiar with and could source older works from their studios. I've tried to bring in a wide range of sculpture, in a wide range of mediums. Also, the paintings throughout the palace are highly ornate, so I chose many works that have an almost Baroque sense of the Post-Modern to play off this complexity. The largest works, by necessity, have to be sited within the courtyard. They simply won't fit into the small¬er spaces. So here will be large scale works by Bharti Kher, Huma Bhabha, Subodh Gupta and Thukral & Tagra, and bringing these together within this space will certainly be very dramatic. Also, I am very excited about the suite of bronzes by the French artist Arman placed within the Maharaja's apartment. Arman is a major figure of the 1960s and 70s and I believe this will be the first time his works are shown in India. For 2018 we will exhibit fewer artists with more works by each. Our first edition has 24 artists with approximately 50 works. The second edition will most likely have only four or five artists, with perhaps eight to 10 works by each.


Text Soumya Mukerji
Photograph Courtesy: Dhruv Malhotra & Saat Saath Arts