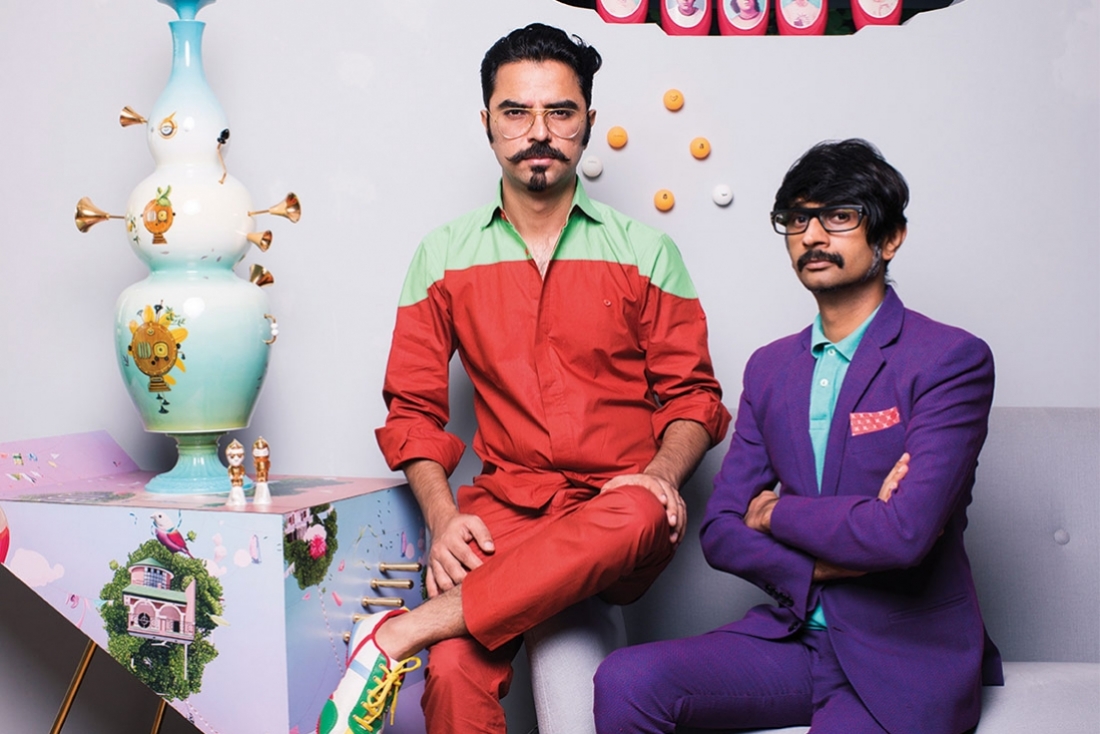 Photograph: Tenzing Dakpa
#ThrowbackThursday
with Thukral & Tagra
Jiten Thukral & Sumer Tagra—more popularly known as Thukral & Tagra—have been a part of the art world since the last 10 years. Inspired significantly by their heritage and contemporary life, they have time and again, created interesting and thought provoking art. For them art has always been the starting point that has opened up many avenues and led them to various mediums, and in turn encouraged them to experiment with different materials. In addition to producing some iconic art works, they have widened their oeuvre and worked with terracotta, porcelain, wood, paper and even the moving picture. Today Thukral & Tagra's creative pursuits are boundless.
While sipping on an organic amla drink at their think-tank studio, they took me through their vision, sensibility and the enthrallment they feel working with different materials…

Approach to Art & Design
We both approach things in a very visual manner. Our works start from art and then it branches out into design. It entirely depends on how people want to put it together. For example, right now we are working with terracotta—we are creating speaker cases and accessories with it. For us, working with different materials, technology and craft, is what fascinates us. At the same time our approach is extremely visual, so in that sense, every format can be modified into design or even a sculpture and that is what's really exciting. Our porcelain urns was conceived as art and then it took the form of a sculpture. However, then we wondered if we could inject sound into it so that it becomes a sound sculpture. And then someone got inspired by the shape and artistic approach and in turn suggested to make a speaker out of it. So, one thing leads to another. Over the year we have worked with making paper, porcelain and terracotta and in turn have challenged ourselves by working with very diverse mediums.

Working with Terracotta
Again, it all started with Art. A curator had seen our work in Art Basel and he approached us. However, since he was a design curator, he asked us to use Indian materials (that was the brief) and create a design object that could be a part of the museums and exhibitions. So we thought about it and decided to work with a different material, and we wanted to work with something that had not been used in the modern day technology. We though of terracotta as it's very craft-oriented and very rarely does it come into your living space. So we wanted to merge the rawness of terracotta with technology, which is a lot to do with what India is all about it. So now we are trying to make a desktop accessory box which has a speaker, an iPod dock, an iPad dock as well as a little light, water bottle holder—basically, everything in one. And this we are experimenting for ourselves and see where we can take it.
Importance of Design
Design and art are merging, but India still needs to acknowledge that. The mindset here has evolved over the years, but it will still another 4-5 years for us to understand the importance of Design. When we exhibited in 2005, people didn't quite get our work and installations, as they wanted to buy something that they could put up on their walls. But by 2008-2010, they understood art in its different forms and the same people were showing interest in our installations. So one can see the evolution that has taken place.

Decoration vs. Design
There is a difference between decorative objects and design objects. Design is problem solving. Design is pushing the envelope. Design is making life simpler. And if you look at art and design, it's questioning the notion of materiality. If I have to make a chair, I don't only think if it's going to look good, but I think of how innovative it can be with the design. I think of making it with another material than wood and plastic and in that way, I look at it as a sculpture. Design adds to the existing concept and product. Decoration is just an extension of what is already happening.
Our conversation with Thukral and tagra was first published in our Design Issue of 2014. This article is a part of Throwback Thursday series where we take you back in time with our substantial article archive.

Text Shruti Kapur Malhotra