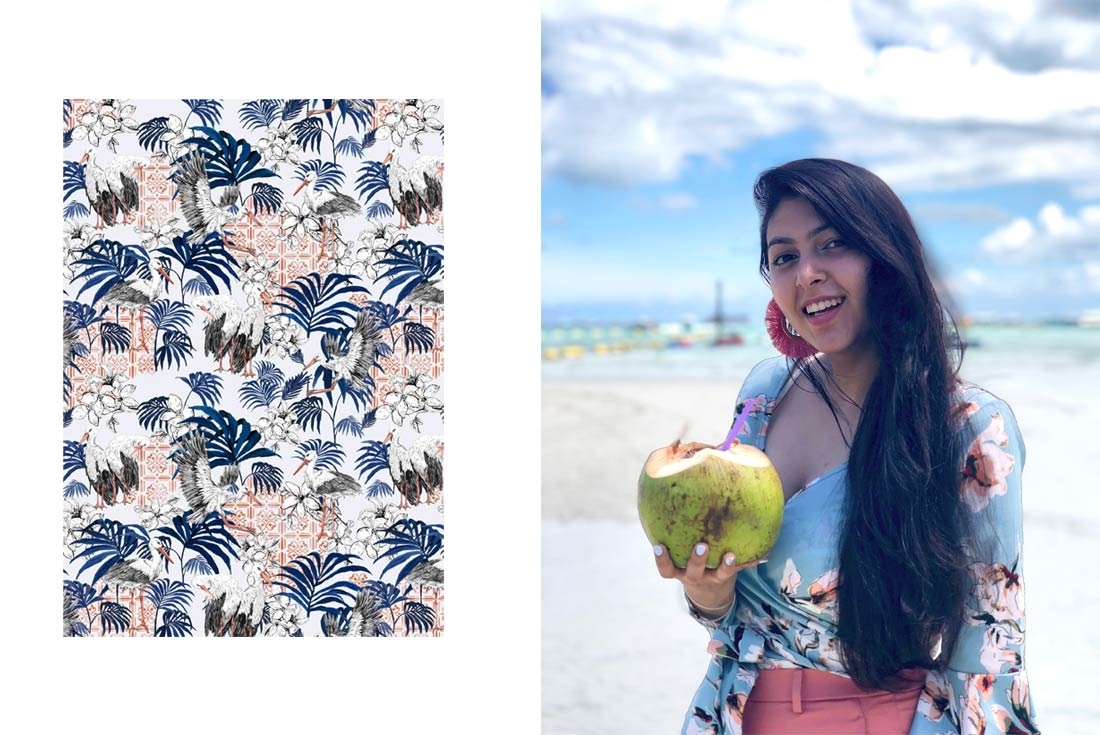 Naina graduated with a Masters in Print Design from Winchester School of Art last year and on her return to India, started Naina Lamba Textiles. Her eponymous textile design studio is a amalgamation of floral, tropical and conversational prints. As you glance through her Instagram feed or her website, you'll come across a range of prints which are not only rich in terms of their colour pallete but also rich in every bit of excruciating detail she has put into them.
Her journey till now has been sculpted by a sharp business acumen and a childlike yet zealous artistic vision. Like several practitioners of applied arts, Naina too wanted to have something she could call her own, a space where she could create and be guided by her own design language rather than someone else's. This desire led to the inception of Naina Lamba Textiles in February this year. Kicked off by a series of freelancing projects, she was able to set up her own studio during this time. Two months in, and she launched her own stationary label called Papercollect that features her prints on a range of stationary products. Fast forward a few more months, she already has a niche of established clients, notable designers in India and well acclaimed brands abroad, one of the Indian names being Malini Ramani. However, one of the core underlying aspirations to start Naina Lamba Textiles was to sell on trade shows across the world where H&M and Zara come to source their fabrics.
Her work consists of digital prints although she does a little bit of work with screen printing on specific client requests. She feels that digital printing does the most justice to her work in terms of clarity of colour and detail. Hence, she has been hooked to this medium ever since she discovered it. She also traces back a memory from college where she got utmost clarity that print was meant for her and she, for print. One of the semesters in NIFT had a print design project which she uninhibitedly aced and that too, topped her class. She also expresses her distaste for goddy embellishment details which donne a ton of bridal and Indian wear and her wish to bring something fresh into the market. Today, her works are inspired by her travels. If you see the latest collection on her website MIRADOURO 'The Portuguese Belvedere', it has been inspired by her trip to Portugal.
Her process almost always begins with a sketch by hand, which is later refined digitally to finish the artwork. Working with hand allows to her to achieve the level of detail which she aims for, as fine tip liners (a pen with a very fine tip used by artists) form a crucial part of her work.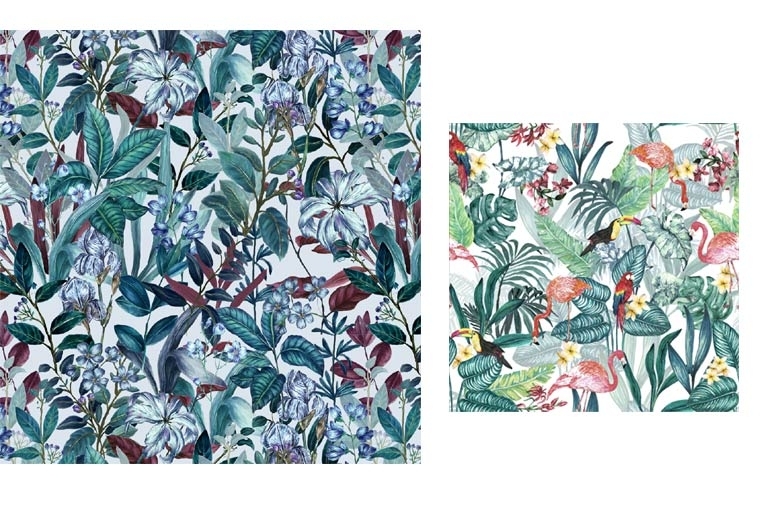 She closes the conversation by informing me about the inevitable demand for printed textiles in India, to the extent that some bridal wear designers have been experimenting with print.
As the country gears towards minimalism in terms of the usage of textile surface techniques and a desire for modish clothing without being too over the top, prints form an indispensable part of the fashion conscious consumer's everyday wardrobe.

Text Hansika Lohani Mehtani