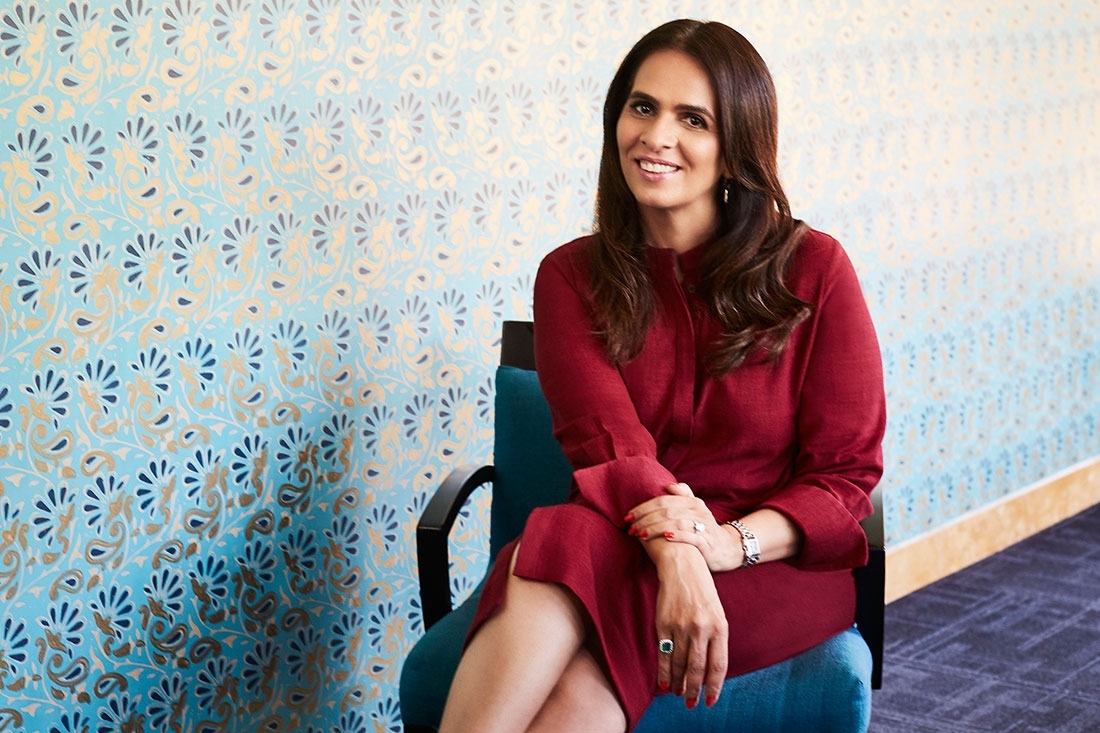 Interview of the Week
Anita Dongre
Designed to look like a zen garden, Anita Dongre's first standalone Grassroot store at The Chanakya in New Delhi is nothing short of a celebration. Having taken Indian craftsmanship to New York where she launched her flagship Grassroot store early this year, the leading fashion designer is ready to bring in a full-fledged wave of intricate handloom designs to the city. Her new line of sustainable luxury clothing is more than just a retail experience; it's a handpicked collection of stories emerging from the fringes of our metropolitan society. Each collection has been through its own set of struggles, its own unique combination of sweat and blood.
Anita Dongre Grassroot is a conscious step towards slow and sustainable fashion. A tale of reverence and appreciation for the local artisan and the environment. It is a product of Dongre's design fascinations from when she was little and her 30-year experience as a global leading stylist.

We speak to her about her personal journey that is Grassroot and what she hopes to inspire through this project.

Why did you choose New York?
I've always loved the multicultural vibe of New York City and its inherent sense of fashion. This makes it the perfect platform to present the finesse of India craftsmanship. Thankfully the numbers from online sales reinforced this belief.

How did the people outside welcome the Grassroot concept?
I am overwhelmed by the response Grassroot has received both internationally and in India. People have walked in from the street and opened up conversations with me about their sustainability efforts and love for Indian culture. On the other hand, there is a very deep sense of appreciation for the craftsmanship on display. Anita Dongre Grassroot started as a brand that celebrates Indian craftsmanship and with all the love we have received we are certainly getting to the point where people welcome the Grassroot concept.
Grassroot store at The Chanakya
Tell us what's new in Delhi this time over.
Delhi has embraced Grassroot and what the brand stands for since we started in 2015. We are very excited to bring our flagship experience to this city through the beautiful space The Chanakya offers us. This season in particular has been full of innovations, and I'm excited about what we have achieved with our embroideries and a capsule 'handwoven stretch' collection.

What does it take to cultivate the idea of sustainability in a luxury label? How do you make both meet?
For me the idea of sustainability is tied to the practice of respect. It's impossible, in my mind, to cultivate the idea of sustainability without addressing the need to cultivate respect for the artisan and environment first. Grassroot was born out of the need to address the issue of rural employment and celebrate fashion and textile crafts in all their glorious detail. This is slow fashion—the time it takes, the attention to detail and the heritage each piece comes with, makes it a luxury item to be treasured for years. The idea has been practiced for years, I have the distinct privilege of bringing it to the world's attention.
Grassroot store at The Chanakya
When you moved from India to New York, your customers changed. How did you adapt to it?
Grassroot, though Indian at the heart, has a global appeal. Classic urban silhouettes and neutral colour palettes work just as well for Indian women as they do for the New Yorker woman. We have to take into consideration that in this age of social media, aesthetics are converging globally.

How is the ethos of the Grassroot store different from that of your other stores?
Every store of ours communicates the aesthetics of the brand and its values. The décor at every Anita Dongre Grassroot flagship store is accented by elements in rose gold, cork and recycled wood. Every detail is special in this store, from custom-made racks that nod to the humble shuttle (used to hand-weave fabric) and dreamy wall panels of handwoven chanderi and khadi that tell the journey of the brand. These stores choose sustainability in material exactly like the clothes that make up this brand.

What is your creative process like? From the product being prepared at the local artisan's home to the shelves of your store—how does the journey progress?
I grew up fascinated by the work of artisans and the lives they live. I am inspired by the technique I see, the colours my artisans wear and their bond with nature. You'll notice the pink of a sunset in the Thaar or the blue of the Narmada river in these collections along with the flowers, birds and herbs that dot the villages we work in. These memories influence my initial sketches. It is then a back and forth process with the artisans to understand their craft, send out fabric for weaving, waiting to receive it and then sending it out to another village to be embroidered. Grassroot has been a personal journey for me, one that I could not have embarked on without my experience of 30 years in the fashion business. Despite that experience this brand has taught me one new thing—patience. It takes time for the many villages and crafts to come together to make a final piece and that journey is what makes every piece in Grassroot so special.

Grassroot store at The Chanakya
There is an obvious gap between artisans in our village and haute couture available in stores in our country. How can that be bridged?
Our efforts, through every brand, is towards narrowing this gap. We are fortunate to be in India, a country that has a vast and wealthy heritage in handcrafts. It's a win-win for all if leading designers involve rural artisans in the production process.

Manufacturing of clothes puts as much pressure on the environment as anything else. What's next in fashion?
Sustainability and slow fashion. Although, to be honest, sustainability should be the right now of fashion.



Text Pankhuri Shukla