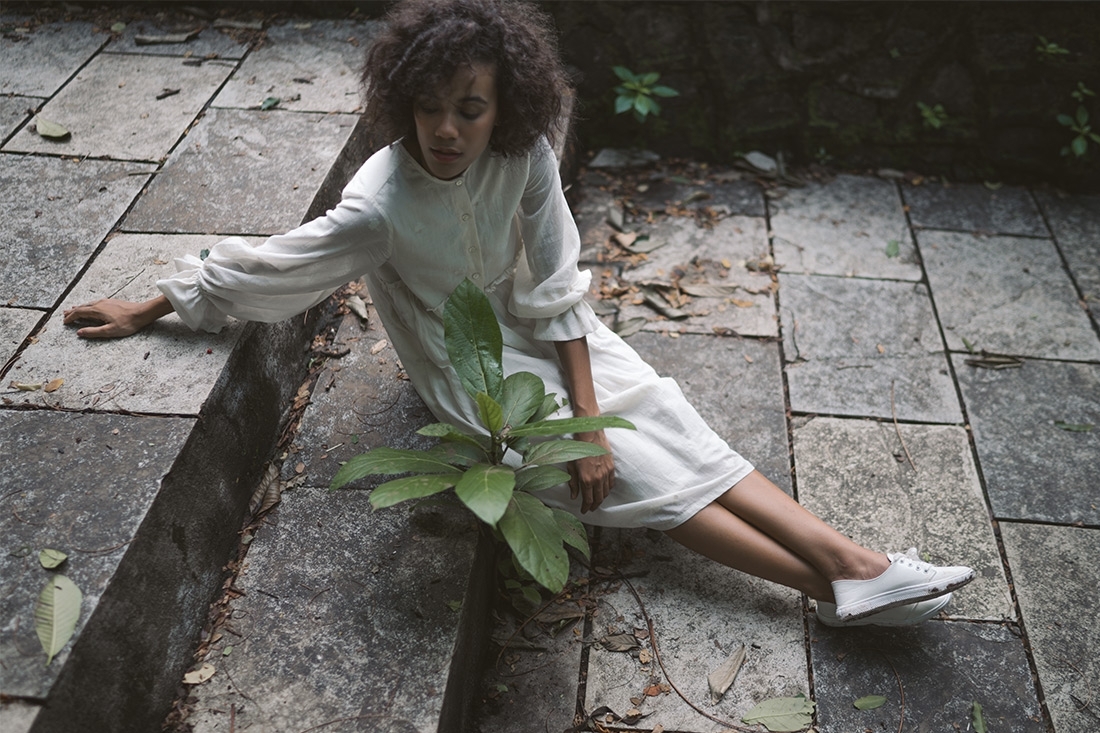 It is not typical for a label to earn a spot at Amazon India Fashion Week after being in the business for barely six months. Auréole's nascent journey is a product of Aditi Mohoni's drastic career switch, soon after stumbling upon and falling in love with the craftsmanship of indigenous textiles. Aditi and co-founder Kunal Virwani share a passionate vision of blending nostalgia with modern aesthetics- enhanced by the pleasing irregularities of the earnest hand woven fabrics. Auréole is the mark of pure labour of love and continues to evolve with each collection. A brief conversation with the creator.

What led you here?
Last summer, when the Bombay High Court was on vacation, (I was a divorce lawyer up until then) my partner, Kunal and I took an impulsive road-trip across Gujarat. It was then, that we discovered some of the finest weavers and textiles we had ever laid eyes on. Taken aback by their skill, art and the textures of beautiful fabrics, we began toying with the idea of Aureole. A label that offers beautiful quality clothing with impeccable finishing at a price that was genuinely affordable.

What is your design ethos?
Our designs reflect our credo for unencumbered and free living and our creations underline our ideology of being simple and clutter free. We go back to our roots of simple living and harmonious thinking to defy burdens of today. We believe in a life that is well balanced and wholesome.
With this outlook, everything we are surrounded by serves as inspiration; the gentle swaying of trees in the wind, the sweet sounds of chirping birds, the happiness of waking up to a beautiful sunrise. We're learning to experiment with our clothes and the stories we tell through them.
How would you describe your relationship with the weavers?
The faceless weaver was the very genesis of Auréole and infact its very first muse. Our aesthetic originates from a place of simplicity of being and clarity in thought that is reflected in our designs, perhaps why we are so enamoured by the traditional weaves and artisans at first sight. It was as if their creative expressions in the cloth resonated with our sensibilities.
It is important to make people aware of the value of what they own. There is so much beauty and artistry in our entire supply chain starting from the weavers to the 'karigars'; it would not be true to our brand if we did not bring them to the fore. Over time, we've really gotten acquainted with our weavers, their families. They've whole- heartedly invited us into their lives and homes. It is this philosophy that translates elegantly into our fabrics painstakingly brought to life by our weavers.

It is challenging to sustain a vision that relies on craft?
No it is not. While we choose to express our vision through the crafts our country so proudly boasts off, our objective as a label goes even beyond. Being ethical and using responsible traditional processes is fundamental to our label. However, that is not what defines us. It is second nature to us to follow conscious production practices. Our story lives on through our design and thought process, one that is about celebrating moments, celebrating stillness and even celebrating silence.
How is the concept of comfortable, easy and simple luxury unique to you?
Just as splashing paint on a nude canvas enhances its beauty, the concept of comfortable, easy and simple luxury to us represents that canvas where each garment does not over shadow the wearer instead allows for a form of self-expression and being true to who you are.

What does 2018 look like for you?
We are very excited about our upcoming collection and collaborating with more like-minded people this year. This one's full of color and inspired by stories of travelers.