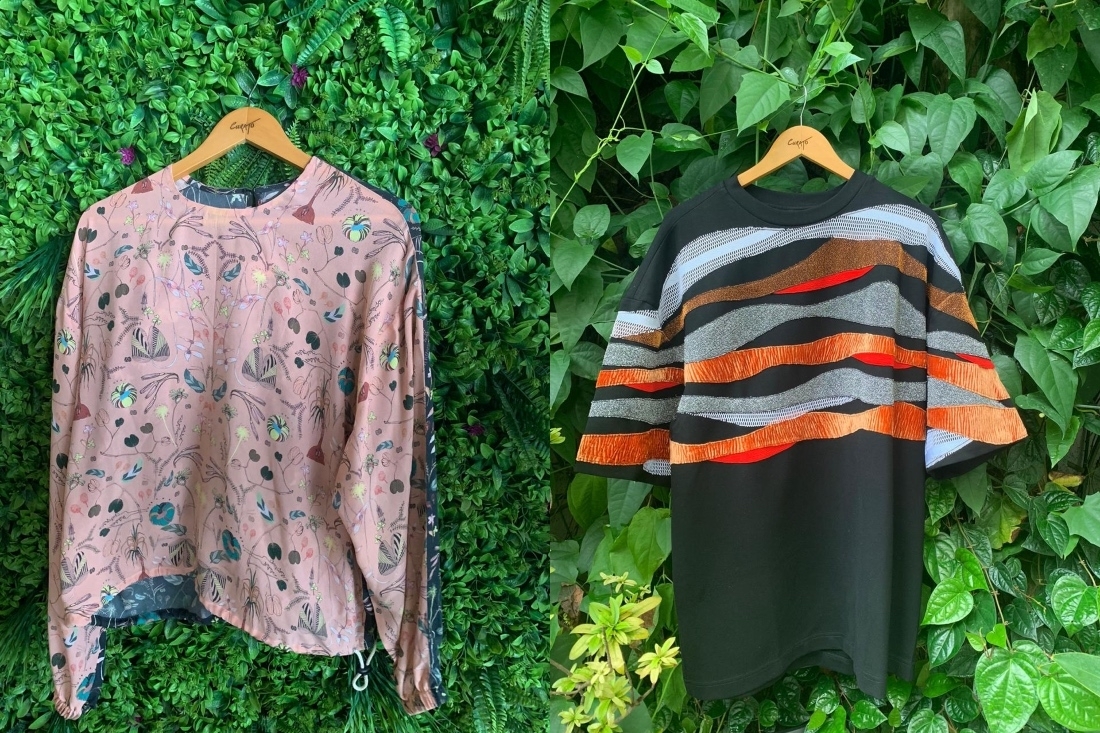 L: Payal Singhal ; R: Kanika Goyal
As we get accustomed to the 'new normal', four like-minded women, better known as modern visionaries, have combined forces to shatter the glass ceiling. With a philanthropic vision to infuse awareness through a sustainable approach, entrepreneurs Hemali Jain and Priyanka Khanna, conceptualized DUNIYA 2020 — an initiative that began with the aim of bringing unique and artistic concepts to raise beneficence in a creative ecosystem. It is an outreach venture that unites the creative visions of art enthusiasts across the country, as 30 eminent artists come together, for the very first time, to create bespoke t-shirts that would be sold for charity.
What started out as an aspiration to spread solidarity and positivity, with project Duniya 2020, briskly turned into a fashion collaboration as Tanisha Rahimtoola Agarwal, founder of multi-designer menswear store, Curato, and renowned fashion stylist Sanjana Batra came onboard. Thus the initiation of Duniya 2020 began -- a combined vision by these young, talented and like-minded women to make a difference and extend consciousness, by leading a sustainable way forward.
For the very first time, 30 designers and celebrated talents of the industry like Anamika Khanna, Ridhi Mehra, Anushka Khanna, Kresha Bajaj, Pero, Payal Singhal, Kanika Goyal, Gauri Nainika, Saaksha & Kinni, Dhruv Kapoor, Ridhima Bhasin and the like have each contributed a unique design on their t-shirt, as a reflection of their ideology to support this cause. To capture the spirit of the times, each t-shirt is custom-made using recycled fabrics, earthy prints and beautiful embroideries, keeping in mind the principle theme of the campaign, 'Save the Earth'.
In order to involve each and everybody's contribution to the cause, and to propagate the main inspiration behind Duniya 2020 to the indigent, 100% of all proceeds from the sale of these T-shirts would go towards the medical and logistical assistance required by the needy. This will be facilitated by Duniya's NGO partner Project Mumbai. Run by Shishir Joshi, Project Mumbai is an NGO that has constantly aimed to create and fulfill several initiatives, with their ventures like 'Khaana Chahiye' and 'Ghar Bhejo'. These initiatives have helped feed and transport many poor and helpless migrants as they were heavily struck by effects of Covid-19. With the help of funds raised through project Duniya 2020, Mr. Joshi plans to extend his assistance for the benefit of the disabled, physically challenged and senior citizens.
In uncertain times like these is when dynamic transitions take place. Keeping the present scenario at the forefront, Duniya 2020 was established with the motto to help sustain the fashion industry. As the pandemic surges, it is the local artisans, poor craftsmen and Indian fashion designers who are and will be taking massive hits. This project is a small step towards opting for locally produced, sourced and manufactured designs, with the intuition to create a larger impact for those affected by the rampant Covid-19 and also do our bit to help uplift the economy. Together, by starting small, we can create a huge impact.