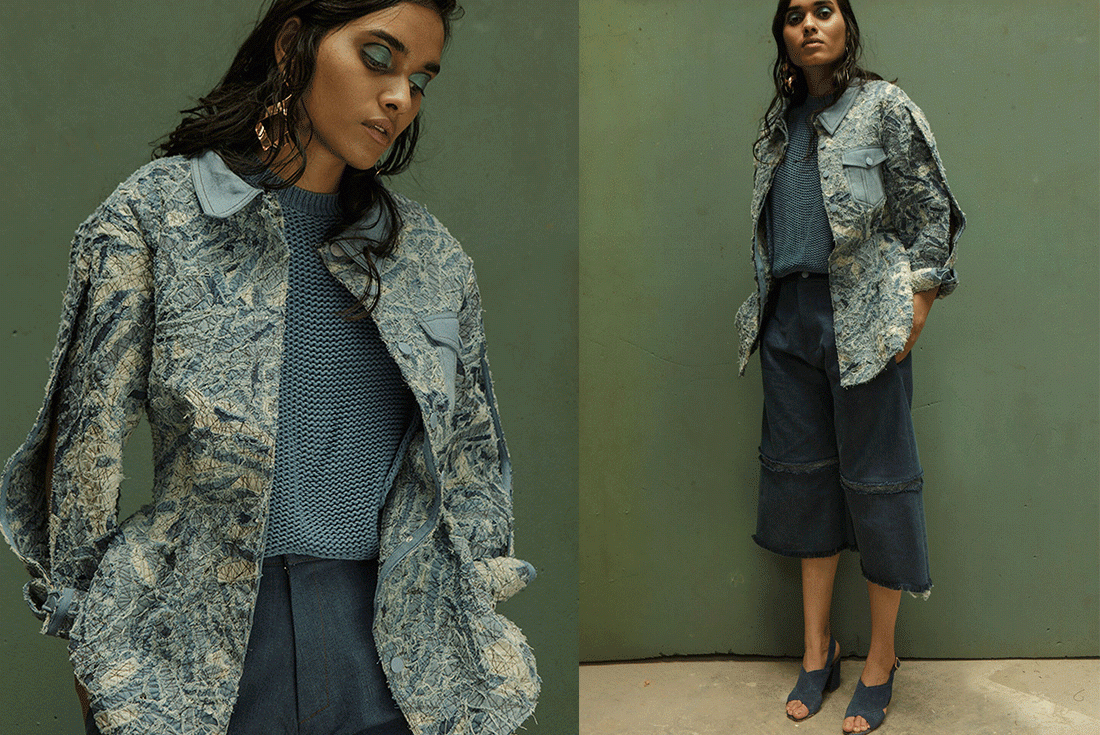 The Designer and the Label's inception
Kanika's fascination with fashion goes way back. As a kid, when her mother would make outfits for her, she would stand transfixed, completely enamoured by the creations. Delving into various trades after graduation such as Fashion Journalism, styling projects, design and some freelance work, she found her calling the minute she knew that she wanted to express her own unique voice rather than translate someone else's design language. Out of this desire, Kanelle was born. Kanelle provides her with a space where she can express her own design voice and find the joy of having women adorn her pieces with utmost grace and delight. She refers to her label as 'The complete DNA of Kanika Jain'.
The Latest Collection
Kanelle's Spring Summer 2018 collection draws inspiration from the art of scribbling. Scribbling forms a part of Kanika's daily work. Being a designer, one can expect scribbling to be an indispensable part of her creative process. The collection sees the juxtaposition of checks and stripes along with organic scribbles seen in embroideries. 'There are patterns which are stripes and checks so it's kind of taking you back to the basics, because checks and stripes are the most basic patterns that anyone has seen in the longest time and gives you some kind of parameters because of it's type. Check is more rigid and it gives you parameters and you can do as much in that space, the scribbling is seen in the details and it is all very free, there is no parameter to it. If you see the shapes in the embroidery, you will see it's all very scattered. It is very free and abstract. I like to call this a Parametric abstraction.' As I glance through the collection, I see relaxed silhouettes incorporating dramatic flounces and frills, which endow the collection with femininity and playfulness. She sticks with her signature fabrics- chanderi, cotton silk, khadi and a few more blends of the same.

The Ethos
Taking homegrown textiles and transforming them into edgy, feminine and wearable collections lies at the heart of the brand and the designer. When I ask her about her exact design philosophy, she tells me, 'I like to call it Tie. T stands for transitional- each and every garment can be transitioned from day to evening, you can style it differently and wear it to work during the day time and in the evening you can style it differently and wear it, to say, a friend's get together. I stands for inclusive i.e the collections are inclusive in a way that it involves each each and every body type, it's very body friendly, it includes a diverse age group, it also includes women who are also 50 and plus, that is why I like to call it inclusive and E stands for expressive because every collection kind of expresses and every design is made in a way that it kind of tells a story and that is why the acronym TIE.' She further tells me that although the textiles are homegrown, the ensembles emanate a contemporary vibe and can be worn with confidence anywhere across the globe. To add to that, 90% of her textiles are handloom, while 8-10% are power loom textiles though overall, she prefers working with natural fabrics.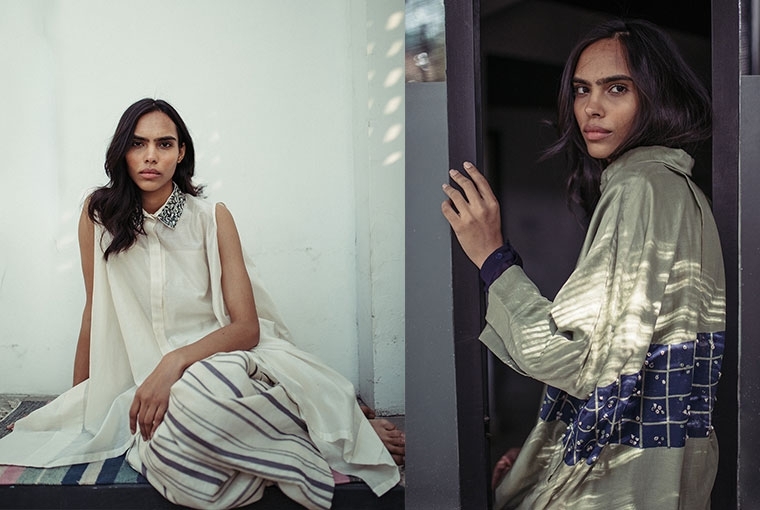 The Kanelle Woman
'Somebody who likes to wear fashion on an everyday basis. It's not just for an occasion, and they also feel very comfortable in terms of the textiles that we use, the shapes that we have and they also feel very special.' Kanika describes her customer. Her client base includes a diverse age group which enlivens her philosophy of being inclusive. 'The age group we target ranges from 25 to 50.There are also women who are 50 and plus who like to wear kanelle. They take to saris and sometimes other outfits as well.'

The Unique Streak
On asking Kanika about what sets Kanelle apart from the many other contemporary womenswear labels that exist today, she informs me that it's the play of surfaces that truly distinguishes it. She works a lot with texture, to the extent that one of the textured denim jackets that I admired from her Fall-Winter 2016 collection happens to be fabric made in the studio from scratch in order to give it it's unique texture.