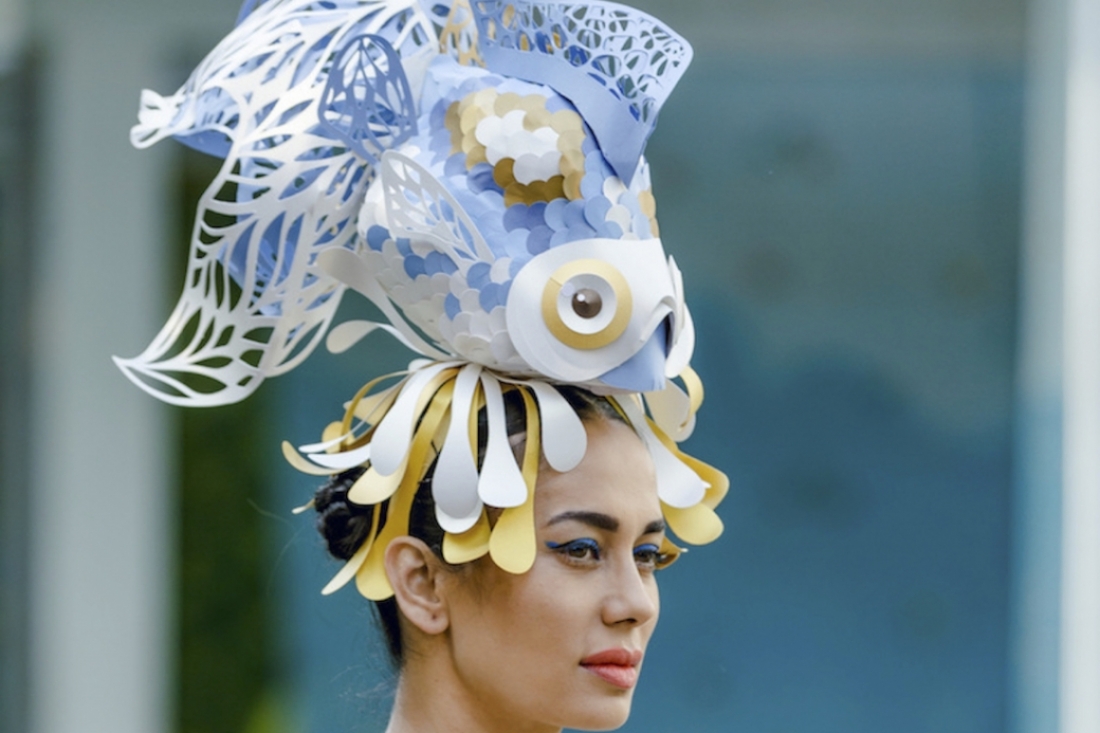 The Label
'péro' means 'to wear' in Marwari which is the local language of Rajasthan. 'péro' interprets international aesthetic using local material and skills,taking inspiration from what surrounds us, to make a product that connectswith people, wherever in the world it is placed. The indianess of 'pérorests in the textile process, where materials pass through the hands of onecraftsperson to the other, belonging to different parts of India carryingforward the Indian tradition of the hand made, and creating pieces that areat once unique.

The resulting garment evokes some sense of culture from which itoriginates, this culture communicates internationally in such a way thatthe wearer looks equally at ease in the streets of Paris or London, as shedoes here in India. The look is not about an age group or season; it isabout a mindset, a willingness to incorporate the effortless style of thelocal people in ones attire.
The Designer

The label is launched by Aneeth Arora, a textile graduate from NationalInstitute of Design, Ahmadabad and a fashion graduate from National Institute of Fashion Technology. She calls herself a 'textile and dressmaker' and what fascinates and inspires her most is the clothing anddressing styles of the local people, which makes them so effortlesslystylish and trendy, therefore making them real trend setters of the time.

Finding Péro Spring - Summer 2019 collection

péro spring-summer 2019 is a sublime story that runs through deep waters, capturing and containing the richness of underwater landscapes.This collection takes us on a journey through long lost islands and calmness of the deep blue sea, both under and above water. They borrowed the colors from the marine landscape and life; this season they focus on the blue hues from the ocean, beige from the sands of the shore, ivory from the shells, and breathing newness into these tropical tones are coral and mustard from the underwater life. Underwater motifs are drawn with a graphic hand and washed with powder blue and turquoise, so they appear as if floating in the ocean. The prints this season represent the unmethodical formations of aquatic flowers, to evoke the unpredictability of open waters.

Woven in various parts of India like West Bengal, Madhya Pradesh, Bhagalpur and Banaras, versatile across multiple categories this season their ginghams and tartans are lighthearted plaids featuring warm, upbeat pastels and neutrals together. Stripes are refreshed with wide widths in vivid contrasts, providing a contemporary vibe. Inspired by old luxurious French Brocades, they worked with 'kadhwa' weavers of Banaras, who embroider motifs on the loom, while weaving the fabric, hence the name 'kadhwa', synonym of 'embroidery' in Hindi.
Along with the simplicity of modern colors and prints are the decadent hand embroideries, meticulously crafted and luxurious with elaborate floral motifs etched into hand-woven tartans and stripes, along with velvets and linens. The shimmer and reflection of light in water has been captured by rendering these delicate aquatic prints of flora and fauna, through gradation of sequins, beads and threads on hand-woven grounds. They have explored the idea of mix media with carefully sourced sequins, individually wrapped in our textiles to create flowers of various forms. We also created flowers using French beadwork techniques and intricate cut work. Bold intense textures with frayed edge patchwork sit alongside delicate thread and beadwork.
The highlight this season is playful color blocking, they have also introduced frills and ruffles for a unique take on layering. Crocheted edgings and beaded fringes, developed closely with the skilled Afghani refugees, are celebrated to add to the whole Caribbean mood. Different materials are utilized for their textures including handcrafted ceramic buttons gingerly glazed in our hues.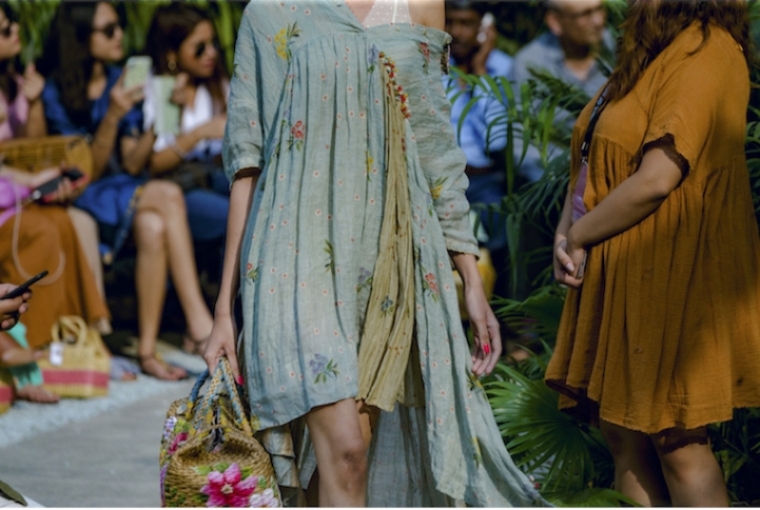 Found Péro

"We love these handcrafted water reed baskets found during our travels to Manipur, the North East of India." says Aneeth.So, they have added this craft to their found péro treasure and upscaled it by using their textiles, hand-made ceramic buttons, fabric flowers and beaded fringes, and hand-painted them with stripes and florals.