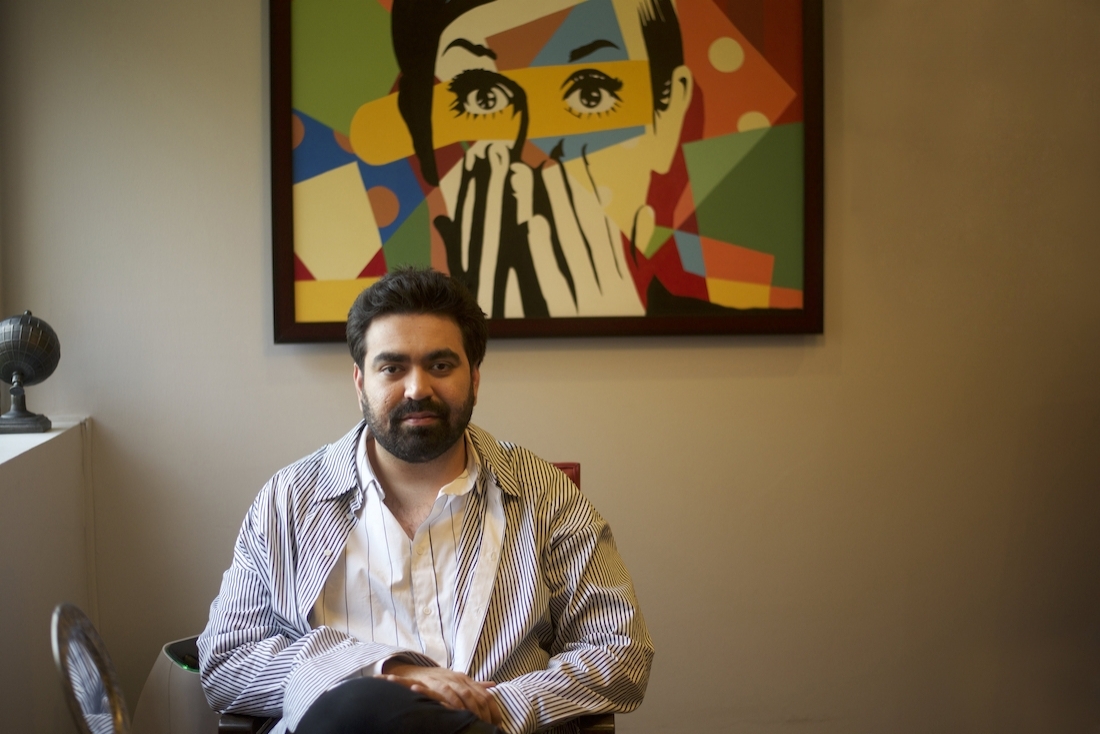 Not a pencil is out of place in the conference room at The Lalit in Delhi where I sit. The door opens and in strides a man in a flaming red kurta, green shoes as bright as grass, the coolest beard and the widest, most unrestrained smile. Meet Keshav Suri, who has broken each writ rule to create an exceptionally inspiring story in Indian hospitality and inclusivity for the LGBTQI community. He has stripped the boredom off the hotel business and gay rights activism and a brought a whiff of wild colour and a rare, powerful purpose to an otherwise black and white-gloved industry—all with pure love. 'Yes I ain't the one to follow rules!'
Keshav, who is the youngest Executive Director at The Lalit Suri Hospitality Group, launched the Pure-Love campaign in September last year. He describes it as a platform for all walks of life, in particular, members of the Indian LGBTQI community to come forth, share their experiences, seek emotional support and find economic opportunities for themselves. In one of the most impactful initiatives in the country, he filed a writ petition challenging Sec 377 of the IPC in so far as it criminalises consensual relationships between consulting adults of the same-sex. The Pure-Love campaign is in tandem with the United Nations Guiding Principles on Tackling Discrimination against Lesbians, Gays, Bi-Sexuals, Transgender and Inter-Sex people: Standards of conduct for Business, and aims to create an environment of inclusion of persons belonging to the community in corporate India. Through his campaign, he has successfully rehabilitated many people who belong to this community. The Lalit Group has not only hired LGBTQI staff members, but also held sensitisation training sessions and an expert and issued a fresh HR Policy with clear guidelines on handling discrimination & harassment. He introduced drag culture in India, inviting RuPaul's drag race winners like Violet Chachki and Alaska Thunderfuck 5000; and Derrick Barry to perform at Kitty Su, a game-changing nightclub that he founded. This also created a performance platform for local drag queens. Indian drag queens such as Rani Ko-HE-Nur, Maya-the Drag Queen, Kushboo and Betta Naan Stop now regularly at Kitty Su and their talent is being nurtured and appreciated with great acceptance.
'It's been a very exciting journey! My father passed away ten years ago, and that was a big catalyst for change. I started taking care of some of our verticals, introduced the Naan-ery and food trucks and opened the hotel in London last year. I grew a lot as a person and my team came to accept me over this course and was finally in agreement that I deserved to be in the position that I am in today. That has led to me to talk about my sexuality in public and run all these the inclusive and diverse programmes, not just to the LGBTQI community but also to giving medical insurance to same-sex couples and single parents with adopted children and children born through surrogacy,' he shares.
"Pure Love is not specific to any community, race and gender—it is for everybody, not just the marginalized sections."
And that love goes way beyond. Keshav hired country's first and only wheel-chair using DJ, Varun Khullar as a resident at Kitty Su. When Varun wrote in with his wish to play at the club, Keshav spent long months chiseling and training him closely to suit the job to T. He also organised a PowerWalk for acid attack survivors, giving their confidence a much needed boost. He personally funded surgeries and also supported transgender acid attack survivor Sonia's dream to open a beauty salon. Two of the acid attack survivors are also working with the hotel on an apprentice programme.
'Pure Love is beyond LGBTQI and gender diversity, as we have more if not as many women in my team—I don't need to talk about it as I have grown up with three sisters and my mother. Pure Love is not specific to any community, race and gender—it is for everybody, not just the marginalized sections.'
But changing the code with all these initiatives wasn't easy. 'The biggest challenge was changing people's minds—my own team's minds—that I am not sitting here because of my parents, but because I deserved it. When I created Kitty Su, I got rid of all doubts and so did my team—the character of Kitty Su was a drag queen, a caricature of what a human being should be. My team didn't understand why there were showers in the clubs, why scantily clad men were serving shots, all those brazen quotes…Kitty Su was basically me. I had to create this character to show my team that if you can accept that, you can accept me. It was a way for me also to also accept myself. As far as my sexuality is concerned I had come out to my family and close people even before I'd opened Kitty Su, but that was definitely the turning point.' In a country such as India, it is still not easy to be openly gay and stand up to the community's rights. But Keshav was clear he wanted to make a change.
"This pink power is too big to ignore across the world. Look at people like Tim Cook and Ellen DeGenres who are GDPs of small countries, look at LGBT tourism, the Irish PM or the head of Iceland who is openly lesbian. I've always said I'm not an activist, I'm a capitalist."
'I was part of the Niti Aayog discussion with the Prime Minister on what can we do to mainstream the LGBTQI community and then I thought, I will answer my own question. What have I done? I didn't want to be just anybody who complains that the government and the legal system is not doing anything for me. I am a citizen of this country and I'm just exercising my fundamental rights. I don't shy away from the fact that I'm from a privileged background and I'm far luckier than many more citizens. There have been a lot of people who filed petitions in the past, when the SC reversed the Delhi High Court's decision saying who are these miniscule minorities of people, more voices started to pour in. My writ came at the right time. Because the privacy judgment was being talked about. And it was said rightly by the Supreme Court that the centre does not have the right to enter a consenting adult's bedroom, and mine was the first writ that came in after that and it brought in the socio-economic power of the pink economy. This pink power is too big to ignore across the world. Look at people like Tim Cook and Ellen DeGenres who are GDPs of small countries, look at LGBT tourism, the Irish PM or the head of Iceland who is openly lesbian. I've always said I'm not an activist, I'm a capitalist.'
Despite pioneering and leading such an important movement that has a lot lined up ahead, Keshav still faces some frowns. 'Do I get discriminated on the way? Yes, but I try and choose to ignore it. Because my point is, talk to me about what you do, not what you show!'
And that's why, he says, 'I love drag. It takes gender and screws it on your head. There's no weaker or stronger sex—that was always created as a way of control. It's what Ru-Paul says— "You are born naked and the rest is drag!"

Text Soumya Mukerji