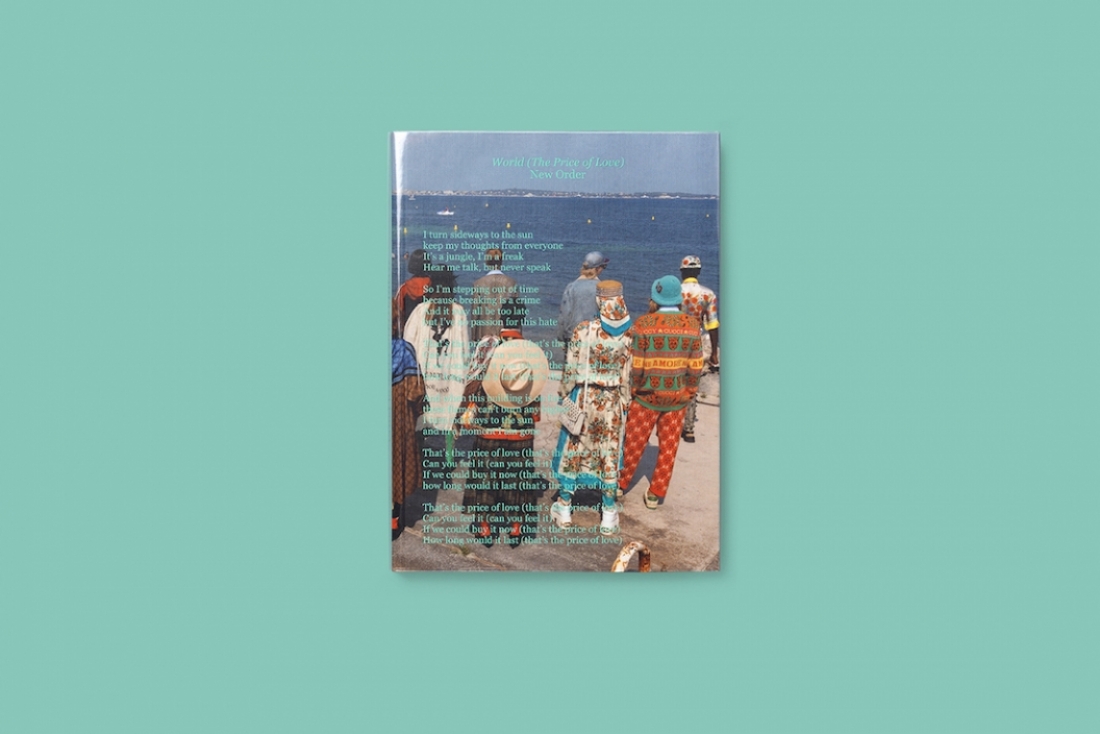 GUCCI: WORLD (The Price of Love)
Gucci has announced the launch of the latest in its occasional series of limited-edition publications, WORLD (The Price of Love), named after the song by British post-punk band New Order. Showcasing imagery of the Gucci Cruise 2018 Collection and shot by the British documentary photographer Martin Parr in Cannes, the book comprises a portfolio of pictures bringing together models dressed in Gucci with images of passersby and sunbathers as well as observational shots of the location, all seen through Parr's idiosyncratic, ironic lens.
Martin Parr is famous for his documentary photography, which takes a wry look at society. He is known for his vibrant use of colour and the gentle, satirical humour that characterises his spontaneous imagery. Though most associated with his anthropological commentary on British ideas of class, for Gucci's Cruise Collection, Parr travelled to France, where he captured the sun-worshipping world of the Riviera. Shooting around the city of Cannes and at the InterContinental Carlton Cannes Hotel and the Carlton Beach Club, Parr captured Gucci's young, eclectic tribe of models in among the parasols, palm trees and seafront balconies, immersed in a world of ice cream, inflatable beach toys and sun cream. The pictures are what we would hope for from Parr: witty, unusual and utterly memorable.
Martin Parr is a world-famous British documentary photographer and collector of photographic books. He has been a member of the Magnum international photographic cooperative since 1994, and has had around 80 exhibitions around the world dedicated to his work, including a touring show, ParrWorld, and a retrospective at the Barbican Arts Centre in London. There have been some 40 photographic books of his work, of which the Gucci project WORLD (The Price of Love) is the latest. Parr opened the Martin Parr Foundation last year in Bristol, England, with the aim of supporting photographers whose work focusses on the British Isles and preserving the legacy of those who have contributed to this oeuvre in the past.
For further information visit www.martinparr.com
IDEA
Angela Hill and David Owen founded IDEA in 2009. Initially focusing on rare vintage books, the company established a reputation as the fashion industry's go to bookseller. They began publishing in 2014 with Gosha Rubchinskiy's Crimea / Kids in 2014. IDEA distributed three previous books with Gucci: Disturbia by Peter Schlesinger (2018), Hortus Sanitatis by Derek Ridgers (2017) and Epiphany by Ari Marcopoulos (2016); and have now published over thirty books and print editions with photographers including Glen Luchford, Mark Borthwick, Alasdair McLellan, Collier Schorr, Willy Vanderperre and Brianna Capozzi.
Distributed by IDEA, the London-based independent publisher, WORLD (The Price of Love) is limited to 1,000 copies.
It will be also available at the newly opened Gucci Wooster Bookstore in New York, the Gucci Garden in Florence, through Dover Street Market in London, New York, Los Angeles, Ginza Tokyo and Singapore, select stores worldwide and via www.ideanow.online/store and is priced at £45, €55, $60 and ¥8,400 tax