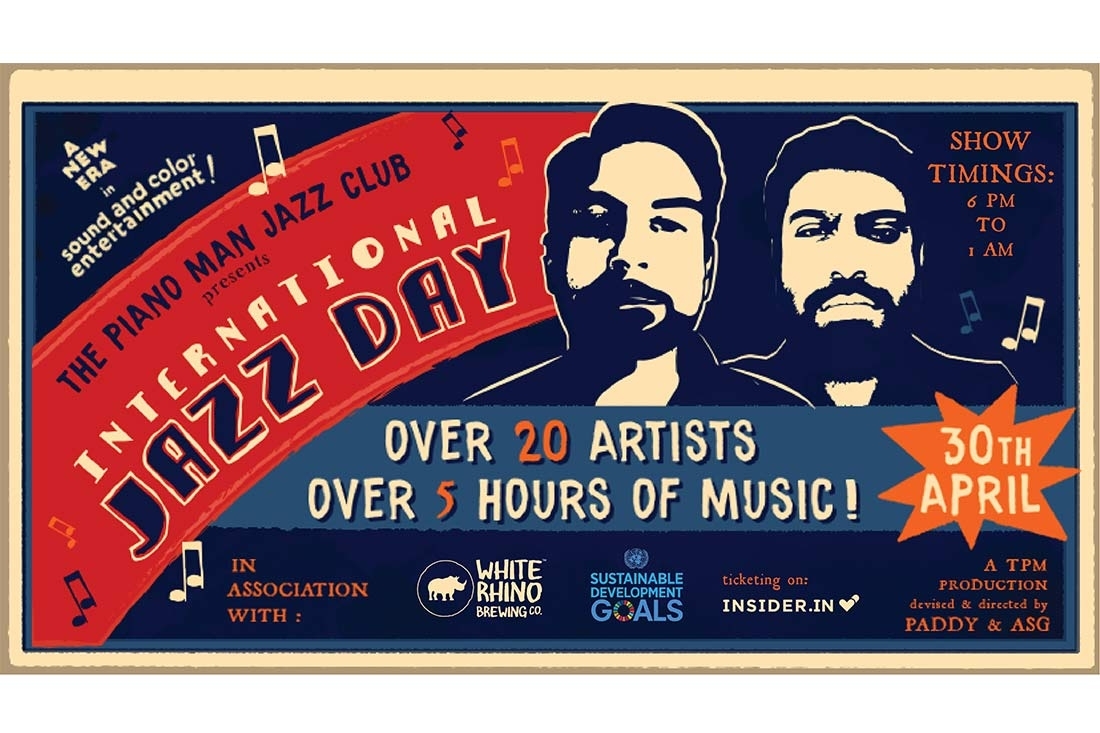 International Jazz Day
courtesy of The Piano Man Jazz Club (TPMJC), Monday 30 Apr - 1 May 2018
Venue: The Piano Man Jazz Club, B 6- Commercial Complex, Safdarjung Enclave, Opposite Deer Park, Near Mother Dairy, New Delhi, Delhi 110029.
Ticket: Available on insider.in for INR 300.
Time: 6 pm to 1 am.
The International Jazz Day is celebrated on 30th April 2018. In a world saturated with a plethora of diverse sounds and tunes that voice all of man's deep wounded emotions, this day stands as a testimony to jazz-its history, importance, contribution, and power.

International Jazz Day is chaired and led by the UNESCO Director-General and legendary jazz pianist and composer Herbie Hancock, who serves as a UNESCO Ambassador for Intercultural Dialogue and Chairman of the Thelonious Monk Institute of Jazz. International Jazz Day brings together communities, schools, artists, historians, academics, and jazz enthusiasts all over the world to celebrate and learn about jazz and its roots, future, and impact.

To celebrate this special day, The Piano Man Jazz Club in collaboration with the United Nations in India and UNESCO has organized an extravagant evening featuring 20 artists from different styles of jazz music, along with 5 poets performing spoken word. 300. The stellar line-up brings together artists from over 10 global cities and includes Sava Boyadzhiev from Bulgaria, Shary Rose from Cuba, Nikhil Mawkin from Delhi, Fidel Dely from Panama, Carlos from Venezuela, Pradyumna Singh Manot from Calcutta, Rahul Rai from Darjeeling, Parvati Mohanakrishnan.
Mr. Arjun Sagar Gupta, founder of The Piano Man says, "Jazz is alive! To celebrate it in its true spirit, we are bringing together incredible musicians to interact, to create magic on the spot and to share that with the audience. We are proud to partner with UNESCO, an organization which is instrumental in promoting culture the world over as well as to include social responsibility in our programming."

We talk to some of the prominent artists performing at the event - Harshit Mishra, Carlos, Pradyumna S Manot, Ankur Sabbharwal, and the founder Arjun Sagar himself, asking what their all time favourite jazz music is, and why.

Along with this, we have created a souncloud playlist containing handpicked jazz songs that will excite your senses, and also importantly save you from the stress of the week.
The Jazz Playlist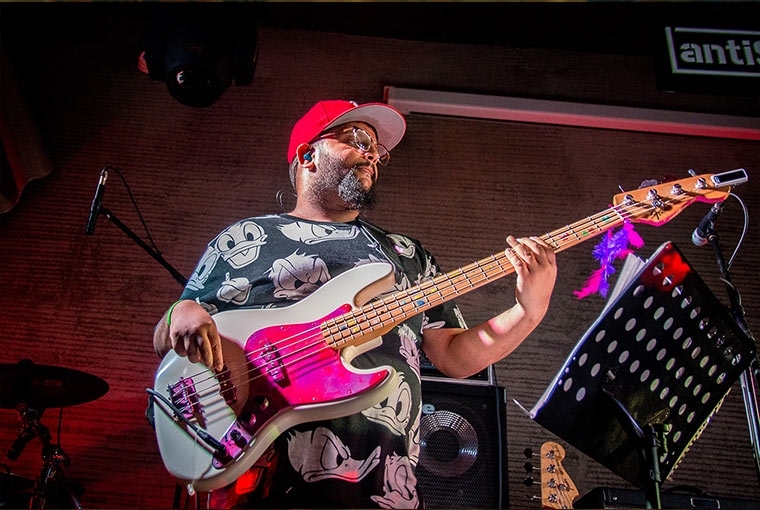 Harshit "Hashbass" Misra is an around-the-world in-demand bassist and a featured artist with some of the best companies in the business such as Fender, Gallien Krueger, Jim Dunlop. A graduate of the Musician's Institute of Los Angeles and winner of the 2014 outstanding bass Student award at MI alongside winning 2 prestigious scholarships, which saw him become a faculty member at the Musician Institute. He loves to bring all kinds of musical vibes and flavors to the table, which his musical inspirations clearly show as they range from Yellow Jacket to J Dilla to Gospel to Indian classical music.
Favourite Four by Miles Davis.
Reason I love Four because it's the first song I ever heard by Miles Davis and he changed my life forever.



Carlos David Capacho Hurtado, also known by the stage name "Capacho", is a Venezuelan Cuatro, Composer, and Bandleader. In 2016 he graduated with honors of Berklee College of Music.
Also, he was selected to study the jazz performance in the Global Jazz Institute with jazz legends such as Danilo Perez, David Liebman, Joe Lovano. He has performed with important national Artist and international artists.
Favourite Footprint by Wayne Shorter.
Reason I love it for the development of the melody and its changes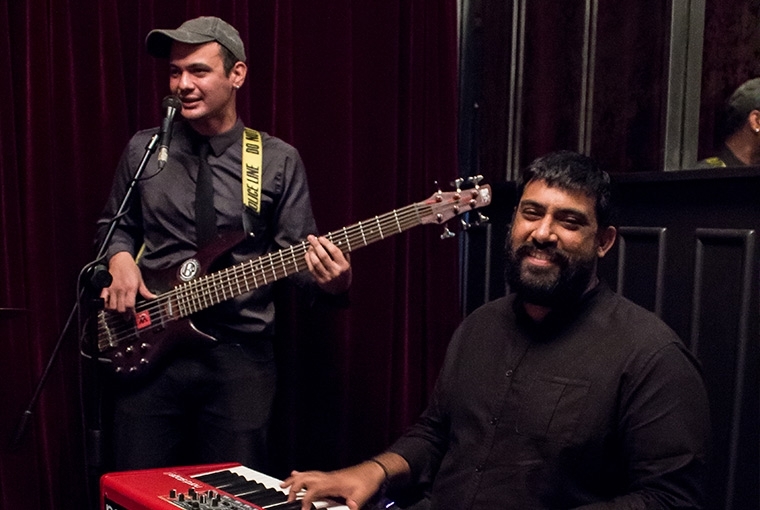 Pradyumna Singh Manot a.k.a. Paddy, is a fiery Latin Jazz Pianist, composer and music educationist from India.
Pradyumna started studying Jazz music at the age of 18 and at the age of 24 became a student of the late Madhav Chari with whom he studied for 8 years. He was a part of the Saturday Night Blues Band for two years and he co-founded the band Latin Jazz ensemble Los Amigos. Los Amigos was invited to perform at the Java Jazz Festival in March 2011. He is Founder, Director of Music Studies, Prime Mentor and Head of Departments of Piano, Jazz, and Blues at 12 Keys.

Favourite My Funny Valentine by Richard Rodgers.
Reason I love the way the melody and the chords meld together. It's so perfect and beautiful.
Ankur Sabharwal is one of the most prolific and talented vocalists in the music scene. From playing lead roles in iconic musicals like West Side Story, Grease, Evita, Fame etc. to being a recording artist for films and TV commercials, Ankur brings a special and evocative quality to the musical projects he is part of. His heart beats for rock and roll, however, his vocal repertoire encompasses pop, R&B, funk, and soul with equal ease. Tonight, he sings some of his favourite songs by vocal giants like Stevie Wonder, Freddie Mercury, Sam Cooke, George Michael, Steven Tyler and many others.
He is joined on stage by Shivam Khare (Keyboards), Sonic Shori (Bass) and Arjun Mathur (Drums) with a special appearance by Sahil Vasudeva (Piano) and Laura Santana (Vocals).

Favourite Red House by Jimi Hendrix.
Reason I love the emotion Jimi Hendrix puts into it. Also, it's a song that can be played around with vocally.
Gupta, the founder of The Piano Man Jazz Club, started his musical interest with a guitar. Later turning to the piano in his teenage years. Starting with a small keyboard with pre-recorded audio, he climbed his way to the Delhi School of Music.
Favourite ---
Reason That's an impossible ask. That's like asking a chef to choose his/her favorite dish.