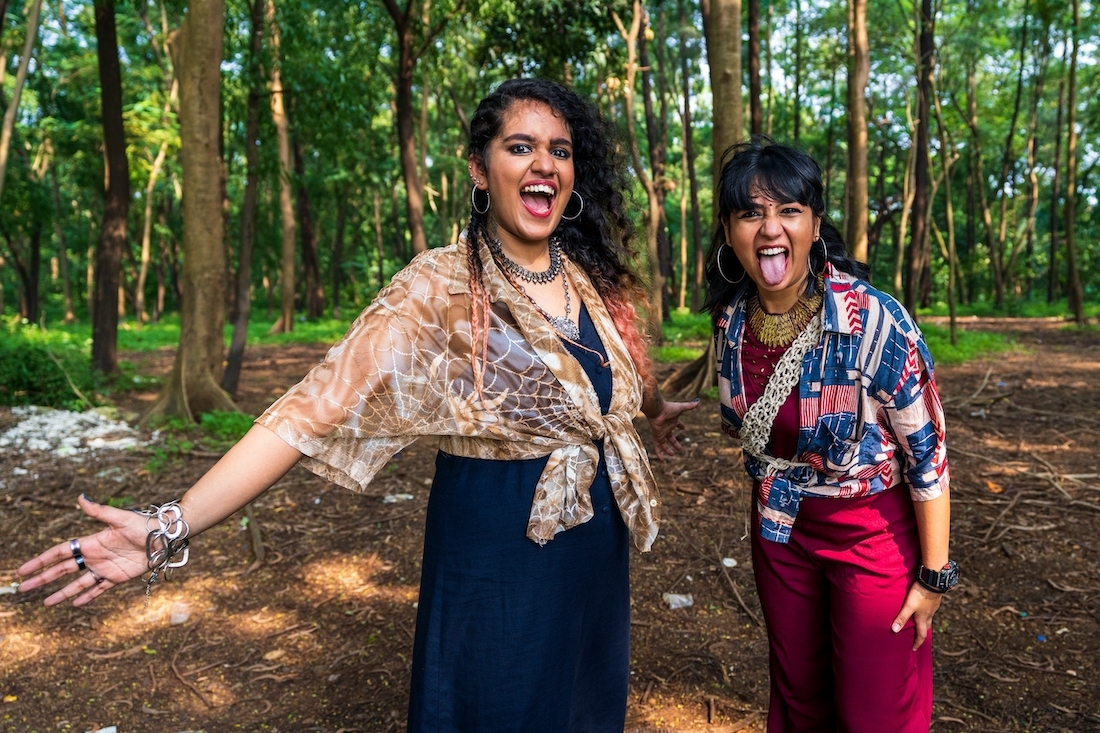 Won Tribe is a collective featuring Singer/Musician and marketer Pratika (MC PEP), and poet and communication designer Krantikaari. As two fierce women and working professionals, they've gotten together at a time in our country's history when feminism and gender equality movements have become an absolute necessity. Won Tribe is backed by Mumbai drummer and sound engineer PrabhuNeigh, who produces music for the collective. Below, the duo deconstructs their music for us.
How did you get together? Do you remember where you first met?
We both met at an online gig during the pandemic for a charity event. We liked each others' stuff almost instantly and decided we should definitely work together. We started off with a song Labels, but our combination mentally (when it comes to writing) and tonally (vocals) worked out to be a great mix as well. PrabhuNeigh had produced the very first song and we liked how we were taking a different direction sonically as compared to the usual hip hop out there. So it worked out well for all three of us!
How did music become the way of life, for both of you?
MC PEP: For me, music has always been my way of life. I started off with singing in a choir in church for a year or two, began volunteering at music festivals since I was 15, and got into the music business alongside playing in our then metal band Chronic Phobia. I've worked with companies like BAJAAO.com, Furtados, 4/4 Experiences, and Azadi Records in the past, and I've been involved in the business and artist side of life ever since I can remember.
Krantinaari: I've always been listening to all kinds of music for many years, but hip hop has always remained a constant for me. Design school has given me the exposure to blend music and art, so that's given me scope to think of how more mediums of art are connected to each other. There's a lot of musical intake when it comes to art as well, and it helped me explore both these extensions of myself — a poet/rapper and illustrator.
Why Won Tribe?
We believe in the power of emerging victorious as one globally, hence the pun on winning and one. A deeper meaning we derived was from the acronym using letters W O N — to express the Wisdom and Omnipotence of Nature, nature being not only limited to our natural environment, but also the nature of the mind, and the many ways it manifests who we are and how we live. So even though the latter came after some thought, we understand the magnanimity of life, and the power of our every move..
How would you describe your music sensibility?
We come from very diverse musical backgrounds, so let's just put hip hop, pop, rock and heavy metal into a blender and see what comes of it! Besides that, we'd describe our style as more conscious in nature when working together, owing to the multitude of different issues we face every day.
Tell us about These Streets are Mine? What inspired it?
Singer-songwriter and producer Ankur Tewari approached us to work on this track for Hyundai x MTV India's Sound Trippin' season three. We'd sent Ankur the song Labels when it was released, and he was very happy to see two women speaking up like this, holding back no bars. The inspiration for the track comes from our daily lives and how we feel empowered as women doing just this, being vocal about how we feel. So, since Ankur's approach to the song was about two strong female voices expressing themselves through rap, we developed our lyrics on that brief.
How was it collaborating with artists like Ankur Tewari, Lisa?
It was very smooth, and Ankur is a wonderful person to work with! We were also glad to hear Lisa featuring on the track, along with Sonu bbx, and it was an amazing opportunity for us to do this!
What are you working on now?
We have three tracks in the pipeline, and we're working on their release soon. We've been a little quiet for a bit in the process of planning, but we'll have stuff out pretty soon for everyone!
Do you girls have a creative process?
We decide a theme for a song and we work around it. It takes some time for us to research and come up with verses accordingly. We speak about current topics because that's most relevant and that's what activism is for us. PrabhuNeigh (producer) develops a beat simultaneously, and it's almost like working as a unit, like a band, as opposed to taking pre-made beats or choosing from a bunch of beats by different people. Putting these processes together brings out a release.
Lastly, what's next and the way forward?
We're just going to keep releasing more music this year, and work on ways to bring it to audiences in the best way possible, reaching far and wide. Both of us are also working on our independent single and EP releases, so there's collectively a lot to look forward to from us this year!


Text Hansika Lohani Mehtani
Date 15-02-2021