---

The Cinema Travellers
Photographer Amit Madheshiya explores the dwindling culture of the travelling cinema.

kalakaarihaath
An architectural and design blend like no other, kalakaarihaath works with craftsmen across the the country to build elements inspired by traditional handicrafts.
---
---
---
---
I feel an actor is lying if he is not putting a part of himself in the character he plays.
Ali Fazal, Actor
---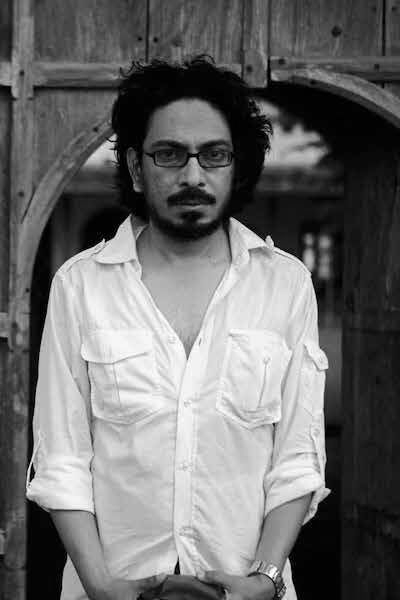 Short Take
Masaba Gupta, Fashion Designer

Contextualize yourself in one line.
Trying to find some sun in a shady place.

First memory of Fashion.
Sabyasachi sitting in the front row at my show.

One thing that a designer is not.
Taken Seriously. Sometimes.

Three things people will be surprised to know about Masaba Gupta?
I HATE going out. I cry easily. I love keeping my house clean and calling people home
---
What If_?
aswekeepsearching
---
pg. 25

Listed

Rukminee Guha Thakurta. Dhara Jain. Sumant Jayakrishnan.

pg. 19

Cover Story

V. Sunil and Mohit Jayal unfurl their design sensibilities.

pg. 33

Forecast - New Boys On The Block

Pratik Ghosh. Sajid Wajid Shaikh. Ramakrishna Saiteja. Young turks.

pg. 41

Photo Essay

Photographer Randhir Singh shifts his lens to Ahmedabad.

pg. 61

Literature

Poet Rupi Kaur on her second book, the sun and her flowers.

pg. 64

Inform

Jim Sarbh. The Madhatter. We get to know the man.

pg. 68

Fashion

Rinzin Lama and Shenali Sema tell us about their label, Untitled Co.

pg. 70

Film

Mostofa Sarwar Farooki on his debut film, No Bed of Roses.

pg. 80

Photography

Sweet Life by Sohrab Hura is haunting and beautiful. We take a look.

pg. 94

Life is Gucci

Bharat Sikka captures Gucci and its creative language.

pg. 140

Centrestage

Ali Fazal on his debut Hollywood venture, Victoria & Abdul.

pg. 146

3 Minutes

We dig into the lesser known side of designer Masaba Gupta.
---
Newsletter
Let the platform newsletter keep you up-to-date with all things art, fashion, lifestyle, design, film and music