---

Agnese Taurina
Her interest in Indian philosophy subtly percolates into her art, adding a sharp edge to an already well-defined aesthetic.

Blues Browns and Greens
Balaji's work is a strong narrative approach a surreal plane with different imageries formulating a language of its own which is highly eclectic in nature.
---
---
---
---
'What I really want from life is to write that one timeless song, and then I could die happy.'
Lucy Rose, Singer-Songwriter
---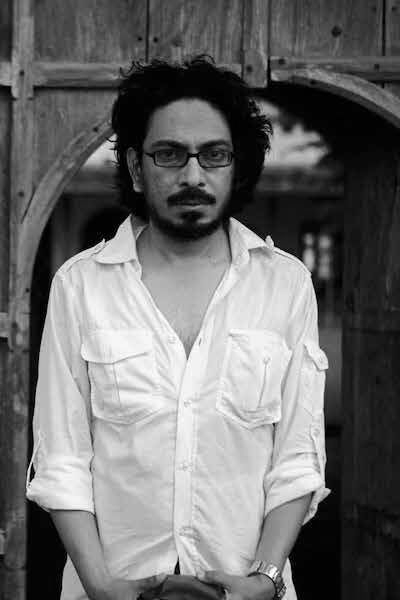 Short Take
Bharat Sikka, Photographer

First memory of photography?
The Railway Museum.

The one artist who you can't stop admiring?
Edward Hooper.

What is the one thing the world does not know about Bharat Sikka?
I do everything in multiples of three.

If you were not a photographer who do you think you would be?
An artist, a painter or a filmmaker.

Your coming-of-age moment?
My daughter's school admission.

---
Killa | Complete Soundtrack
Composed by Naren Chadawarkar and Benedict Taylor
---
pg. 25

Listed

Rukminee Guha Thakurta. Dhara Jain. Sumant Jayakrishnan.

pg. 19

Cover Story

V. Sunil and Mohit Jayal unfurl their design sensibilities.

pg. 33

Forecast - New Boys On The Block

Pratik Ghosh. Sajid Wajid Shaikh. Ramakrishna Saiteja. Young turks.

pg. 41

Photo Essay

Photographer Randhir Singh shifts his lens to Ahmedabad.

pg. 61

Literature

Poet Rupi Kaur on her second book, the sun and her flowers.

pg. 64

Inform

Jim Sarbh. The Madhatter. We get to know the man.

pg. 68

Fashion

Rinzin Lama and Shenali Sema tell us about their label, Untitled Co.

pg. 70

Film

Mostofa Sarwar Farooki on his debut film, No Bed of Roses.

pg. 80

Photography

Sweet Life by Sohrab Hura is haunting and beautiful. We take a look.

pg. 94

Life is Gucci

Bharat Sikka captures Gucci and its creative language.

pg. 140

Centrestage

Ali Fazal on his debut Hollywood venture, Victoria & Abdul.

pg. 146

3 Minutes

We dig into the lesser known side of designer Masaba Gupta.
---
Newsletter
Let the platform newsletter keep you up-to-date with all things art, fashion, lifestyle, design, film and music