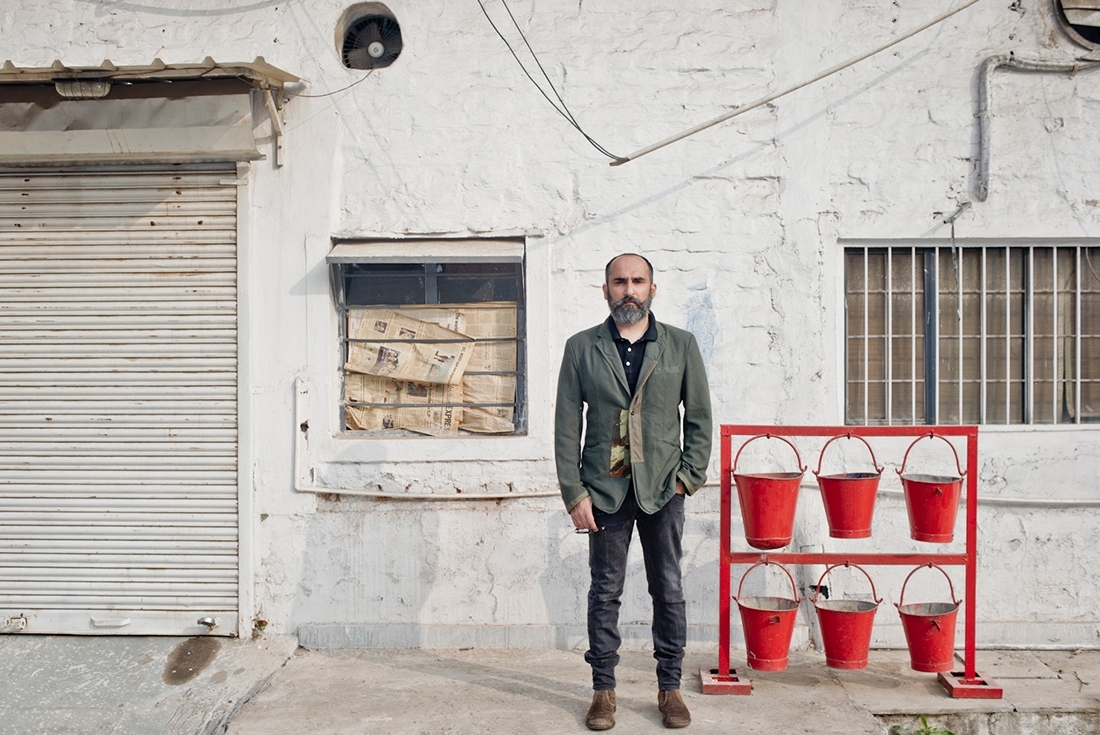 Interview of the Week
Photo courtesy Karan Vaid
Artist with a Camera

People, Communities, Landscape might be part of his repertoire but at the heart of it, the entire image is what resonates and draws him in. One of the most versatile Indian photographers, Bharat Sikka's artistry is intellectual, deep and captivating. Each image makes you think, feel, and builds a mystery, and that's the beauty of his craft. His style has undoubtedly influenced many photographers and his subjects have always had a story. 2017 will see him exhibit two completely differing bodies of work. Kochi will see Where the Flowers Still Grow a poignant expression of the beautiful valley of Kashmir, which will later be exhibited at Nature Morte along with a book on the series—his very first book. And Focus Photography Festival on the other hand will see The Marlborough Theatre that explores gender sexuality and freedom photographed in Brighton, once again a first for Bharat as through the series he explores another country and its community. The year will also see him take on the role of a curator for a fine art fashion photography show exhibited at Chatterjee & Lal. In a one-on-one I connected with him to learn more about his art, his process and his subjects.

The Kashmir Series – Where the Flowers Still Grow has been an on-going exercise what inspired you to photograph the valley and the people?
When I first visited Kashmir I was on a holiday with my family. Ameet, my wife was reading a book called The Collaborator by Mirza Waheed. She narrated the story to me and I was very taken in by it and then I saw this kid who reminded me of the protagonist she told me about in the story so I started photographing him and then I started photographing a lot of people. What drew me in was that Kashmir has been under extreme conflict for so many years so I wanted to explore the region, its people, and their thoughts and so on. At times I was very intimidated as well. So I did many trips over two years. First I photographed the men, and then as I got more comfortable I made the men more ambiguous. Then I began photographing landscape and still life. Each element gives you clues to the atmosphere felt in the valley. The series is going to be presented in a book as well which will be my first book.
Where the Flowers Still Grow
Can you share the curator, Peter Negy's note on the series that is on exhibit at the Kochi Biennale?
The state of Kashmir holds a mythic place in the mind of India. Long known as one of the world's most beautiful mountain valleys, since the late 1980s it has become synonymous with a political and sectarian conflict which strikes at the very heart of India's identity. Bharat Sikka first visited Kashmir in 2013, on a holiday with his family. While there, he discovered Mirzha Waheed's novel The Collaborator, which tells the story of a young Kashmiri man's struggle with his own sense of self buffeted by the exigencies of history and the present. This propelled Sikka to make numerous visits to Kashmir in 2014 and 2015, travelling thoughout the region to photograph the people who live there, to attempt to make some sense of their dilemma through his own personal experience.
The central core of 'Where the Flowers Still Grow' is compriosed of portraits, predominantly young men shot alone in the colossal grandeur of an unspoiled Nature which seems to know nothing of national borders and political rivalries. The men stare at Sikka's camera, which stares back at them, with a plea that their representations might break through a silence, might provide the one million words necessary to explain everything. We notice one specific rock, or a flowering stalk, within the image that feels as if it could be light-years away from both the photographer and his subject, implicationg our own existential conundrum as the viewer of the image. Where do the questions and answers lie within this image of a gaze locked within another gaze?
Having fused portraits of Kashmiri men with their landscapes, Sikka set out to record the more personal details of his visits, capturing relevant objects found in homes but also dead animals, abandoned buildings, and elements of nature. These details provide a mise-en-scene for Sikka's project, articulating a more nuanced interpretation of the region and its inhabitants. What we are ultimately left with is Sikka's emotional response to his visits to Kashmir, the residual evidence of traumatic events, and the mute witnesses to the convulsions of history.

Your second show, The Marlborough Theatre, being exhibited this year as part of the Focus Photography Festival, explores issues of identity and sexuality – what engaged you to work around the subject?
Actually, the collaboration came from the commission; so, essentially we were brought together and left to make it work however we wanted. Photoworks had commissioned me for this project. They had asked me if I wanted to collaborate with British photographer, Olivia Arthur where we would explore sexuality and gender equality within both the cities, which was Mumbai and Brighton. We started off the project in Mumbai then we both went to Brighton where I was really inspired and felt that I should base my entire show on just Brighton. My work is primarily always based in India therefore I wanted to explore another city, another culture and its people. Olivia on the other hand concentrated on the Mumbai story.
What was the process?
Olivia is a Magnum photographer, she has a more documentary style and mine is much more formal. Both of us shot on film on large format cameras. There was a lot of dialogue between us. The main premise of the project was based on three things – intimacy, fantasy and shame and we worked around these three emotions. There were many times where we photographed the same people as well at the same place. So there were moments where I saw how she worked which was quite beautiful as she is more fluid then I am. We also helped each other edit the works. In my view, Re:imagine was something we came up with together and with Celia Davies, the curator. We wanted a name, which would work for Olivia and for me and for our work when shown together. It plays around with people - how the people can re-imagine themselves in the photos, and how the viewers can respond to what they see. The project was first exhibited at the Brighton Photo Biennale in 2016. My part of the project is called The Marlbrough Theatre, which was an incredible bar cum theater in Brighton that was frequented by a lot of lesbians so I would just hang around there and meet these extremely cool people, we would talk and I would get to know more about their lives, dreams and hopes and that's how the project evolved.

What was the experience like working on two completely diverse projects?
I was working on Kashmir and Brighton back to back. Brighton was a super open society and extremely liberal and Kashmir extremely closed and conservative. So my headspace was oscillating between the two worlds. Kashmir was very beautiful but very claustrophobic at the same time. In fact in my whole Kashmir book there is not even one woman. Men are so much more dominating that I felt like releasing that emotion. At the same time Brighton was challenging as most of my work previously had been about India, so this was not within my comfort space. Furthermore, this project is about a sensitive topic. It was a challenge to get the pictures and stories out of each of the individuals, but what we did get in the end is very fascinating.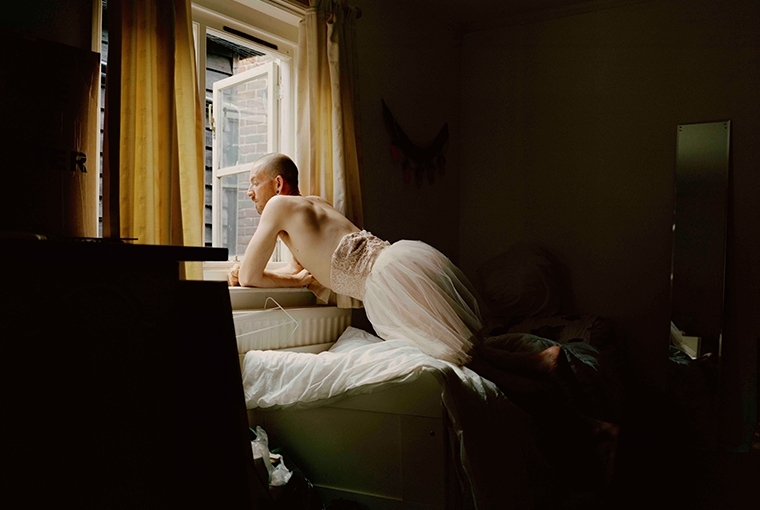 How important is it for a photographer to "connect" with his subjects to bring out their true self? And how do you form that connect?
Photography for me now is no longer about the connect because I don't see myself as a people's photographer anymore. I work conceptually more, as well as in an ambiguous way where I may or may not connect with my subject…as for me the totality of the whole image is far more important. The thought behind the image engages me more than the subject. And I am happy if I am able to bring out the emotion I am feeling in my photographs.

As an artist are you constantly in search of things from life be it subject, the perfect frame, the right light, the natural expression. Does your search ever stop?
Not really, but sometimes you are inspired and sometimes you are not. More than 99% of my work is based out of India as I find the country very inspiring in many ways. I have always tried to find a way where I avoid showing the stereotypes. For example any project I take up going back to Indian Men, I wanted to show them in a different light and not just focus on the maharaja or the slum, which is stereotype. When I photograph landscape I wanted to portray India beyond just the Taj Mahal. Similarly with Goa and Kashmir I explored the unexpected and created a very ambiguous and conceptual body of work. It's layered and each layer unfolds something new.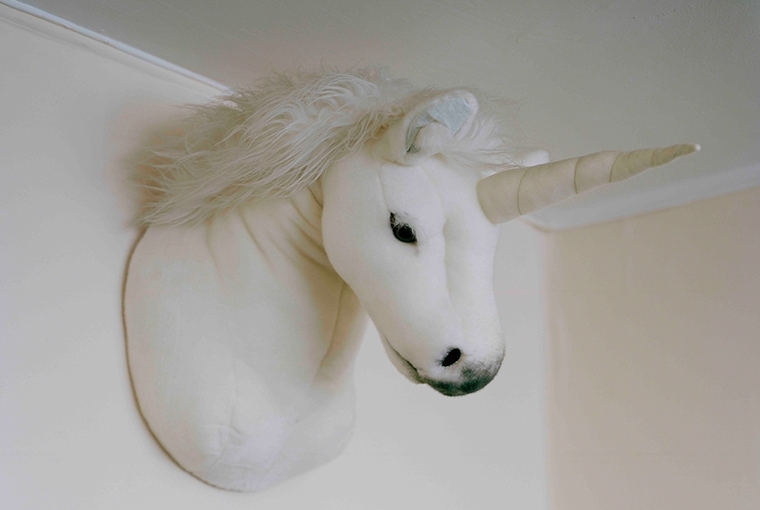 You began as a fashion designer then went on to fashion photography but have had a long-standing romance with life, fine art and people—when was the turning point?
Twenty years ago when I went to Parsons my sensibility towards photography changed. People have a misconceived notion about me being a fashion photographer but the truth of the matter is I barely do any fashion stories now. I came back after studying in Parsons because I felt this is where I belong. All my stories are created with keeping an emotion in mind and if I manage evoking any emotion in my viewer then I am happy.
Brighton is probably my first body of work that I have explored outside India and I am excited to explore other parts of the world too.

Lastly as a viewer, your images pull you in—what is it that you like to communicate through your images?
As a photographer I feel I need to be clear in my head as to what I am creating and leave the interpretations to the viewer. It's more exciting when you are drawn in by the image and it when it takes you longer to understand or draw your own interpretation.


Text Shruti Kapur Malhotra