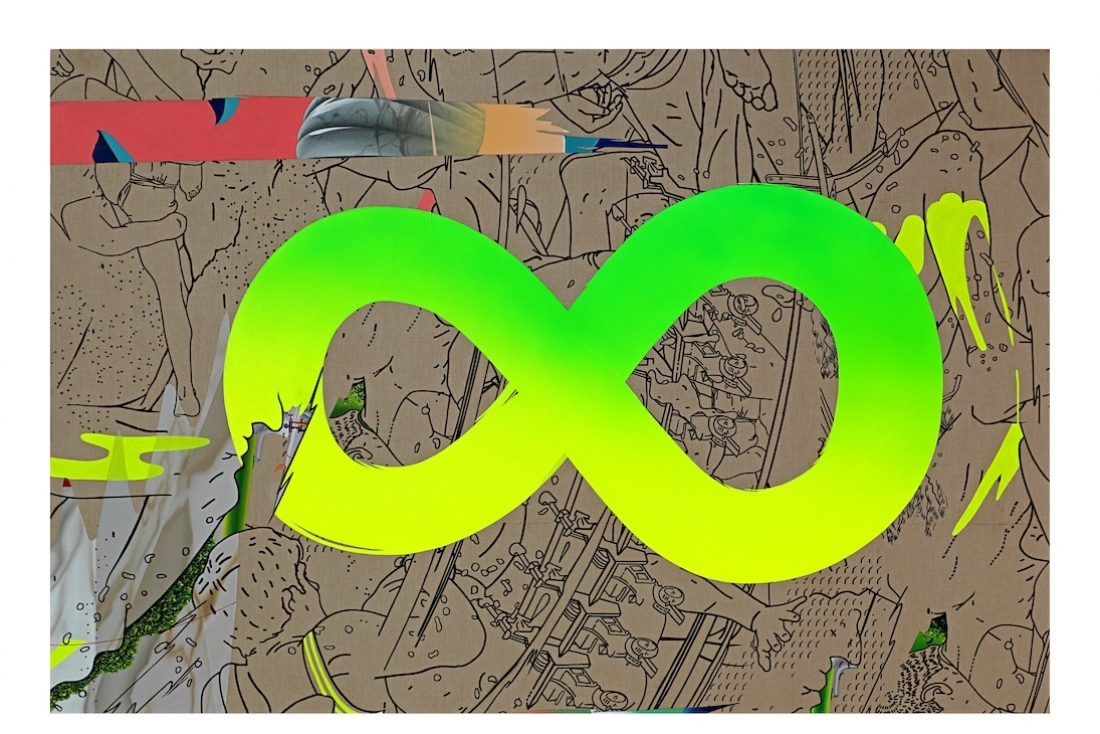 Distress Equation (Infinity), Oil on linen canvas, 72 x 48 x 2 inches, 2019.
Jiten Thukral and Sumir Tagra new solo exhibition at Nature Morte takes reference from the recent uprisings by the farming community questioning their rights, existence and daily survival in today's world. It also tries to comprehend the intricate details of the lives, trials, and tribulations of the agricultural community and illustrates this precarious aspect of the farmer's fate: a life which is suspended in limbo. The exhibition title "Bread, Circuses and I" attempts a 'self-absorption' of one's status in the midst of a severe social crisis. By making the viewer confront these distress equations, the artists continue their pursuit in social communication and attempt to address the gaps between the urban and rural ways of living.
As natives of Punjab, Thukral & Tagra delve into their own personal histories and memories to address the socio-cultural changes most visible in their home state. Shifting family values, a desire for 'escape' via migration, and changing middle-class aspirations have been recurring motifs in their work. The central installation in this exhibition will invite the viewers to act as protagonists, to acknowledge themselves at a juncture of socio-political and cultural emergencies. The metaphor of the wrester is employed to examine the ongoing struggle of the farmers, fighting the battle of survival against invisible policies and issues.
An Open Letter from Thukral & Tagra
Six months have come to an end and more than 31,000 people have visited the newly- launched Weston Gallery at Yorkshire Sculpture Park, UK. Our exhibition which inaugurated this space, "Bread, Circuses, and TBD," was conceived with sincere efforts and a humble approach by both of us, along with a dedicated team of two researchers and four assistants, to create this body of work which was in development for almost two years. The project was initiated by senior curator at YSP Helen Pheby, who asked us to create an exhibition in response to the inauguration of the Weston Gallery and suggested that we visit the National Arts Education Archive to research the collection of early 19th-century games of Sir Don Pavey, back in 2016.
Continuing with our interests to address the issues of today's socio-political scenarios, we were moved by the farmers' distress and agrarian crisis as a running commentary of the current time. We started our research into the lives, trials and tribulations of the farmers and their families. Hailing from Punjab but born and raised in an urban environment, we can hardly imagine a life in rural farmland and the difficulties the farming community faces. It is a collective failure of the system, policy paralysis, lack of implementation, lack of attention to the situation by the governments, and definitely effected by climate change.
As we celebrated our exhibition at a prestigious art institution, more than 12,000 farmers have committed suicide in the past three years. In India today, one farmer kills himself every forty minutes. Researching at the primary level, the explorations had us visit five villages in Punjab/ Haryana with the help of a local surveyor, where we met the families in grief, mourning for their deceased family members. Some of them had lost all hope, some had rescued themselves, some had taken odd jobs for survival, and others were just waiting for natural deaths. These conversations are important to us, and we are very sensitive to respect this valuable insight in the final outcome of our exhibition.
This is what we learned: Farmers and farming families are wrestling for their lives.

This three-part exhibition was initially showcased in Chandigarh at Punjab Lalit Kala Akademi in February 2019, then at Yorkshire Sculpture Park during the summer, and now in New Delhi at Nature Morte, for the month of October. We hope that through these exhibitions many more people will come to comprehend the scope of the tragedy. In addition to the exhibitions we will produce a publication which will detail the situation and document our artistic approach to it and examine the issues involved. As both of us have studied communication design, we don't expect to solve these issues but try to deliver knowledge and hope to raise public awareness through an empathetic approach. Will these self-initiated tiny projects help? Or are we just trying to see what we can do? These questions remain unanswered.
The exhibition will open on the afternoon of Saturday, 28th September at Nature Morte, New Delhi and continue to October 19th 2019. We would appreciate more people joining us to orchestrate the debate further with more conversations and a collective gaze. We have been questioning our own authority to address this subject matter and hope the exhibition will act as a catalyst to discuss our present failures as a creative community.