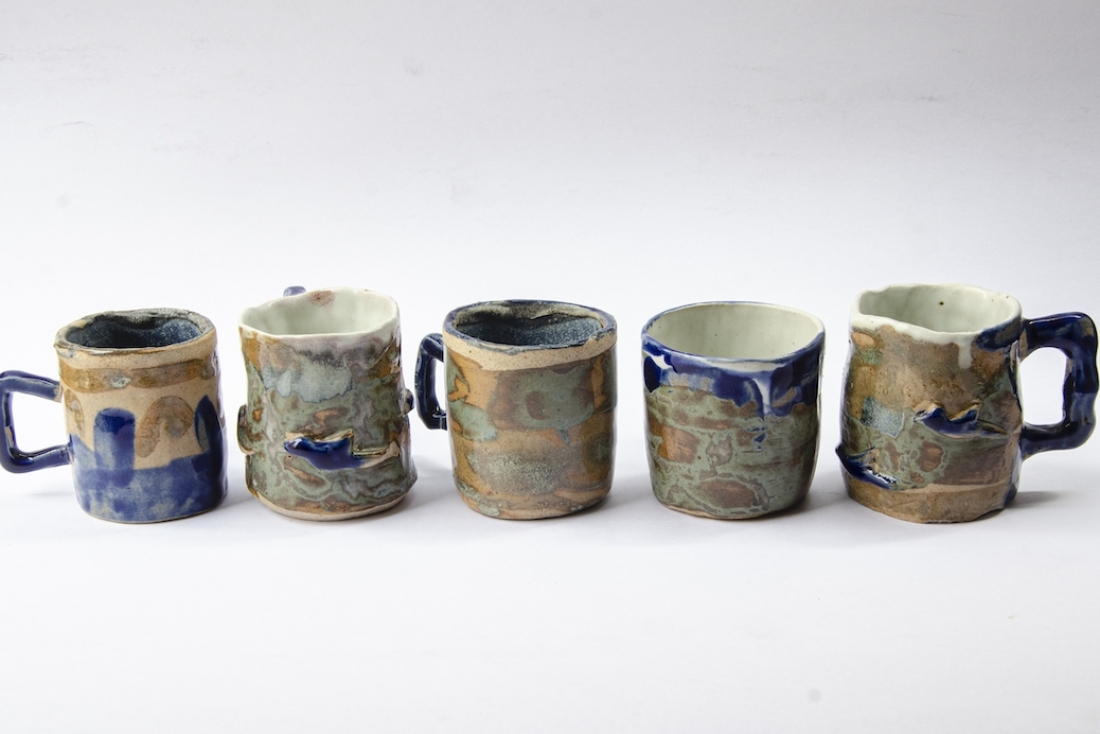 Children of Earth
Probir Gupta, SHAPE
As you walk down the stairs leading to Gallerie Romain Rolland at Alliance Française de Delhi one evening, you see artist Probir Gupta sitting outside with his black coffee, and breaking into a smile that only comes from sitting somewhat outside the system, knowing its ways and yet, looking it straight in the eye and doing your own thing. The 14-year-old artists he has honed for more than a decade have created some remarkable sculpture of everyday use that is exhibited inside – they may have been born underprivileged, orphaned or abandoned, but now, these young hands shape clay with a talent far richer than any material affluence.
SHAPE, the education initiative undertaken by the senior Delhi-based artist whose practice has always been guided by human rights and social change, provides utilitarian pottery training workshops for these children. He intends to not just equip them with skills that can help them earn a living in the future but also offer them therapeutic healing, an initiative undertaken by his project Muktangan. "Neuroscience explains the therapeutic impact of pottery - alleviating stress, enabling an optimistic outlook, and improving concentration and self-worth, among others." He believes these children need as much of this healing as possible for them to take on life and the challenges that will arise when they become young adults.
The works on display are inspired by nature, wildlife, Indian history and mythology, Islamic calligraphy, the unrestrained thinking of young minds – a snout shaped like a pig here, a man growing a plant from his head there. The works, all priced most affordably so as to raise money for these young artists, are rough, glazed, uneven, textured, coiled, raw edged, real and full of the rainbow colours of the earth. "You see, you cannot control the process," he says. One of the pieces that stands out is a large mug with the mouth of Mansa Devi, the ancient Hindu snake goddess. "A lot of ceramic practice of late has been inspired by Western sensibilities – it is important that we explore the depth of our own history and mythology and that was a conscious effort in the creation of this art," he says.
I learn from the note of information that over the years, more than twenty such children have been trained under his mentorship and some of them have endeavoured to become skilled potters while some have had to quit the learning in pursuit of other job opportunities as they turned adults. Currently, he is mentoring three girls and a boy with autism - Muskaan, Sanjana, Kaajal, Shinku, all of whom are in ninth grade. He intends to continue this project for a minimum of four years to enable these children to go to university and pursue careers in a similar domain with the same passion, sincerity, talent and perseverance they have shown so far. "We will therefore not just build a vision for the future for these children, but also aim to give contemporary pottery an Indian identity."
Not a single kettle whistles out its own beauty, not one of those fairytale ladles or quirky snouts – of which Shinku is an expert – jumps into your face. They all sit silent and graceful across tables – the largest one slanting between the works of Vivan Sundaram, Qamar Dagar, Sumedh Rajendran, Sonia Khurana, Ravi Agarwal, Ranbir Kaleka, Ram Rahman, Mudita Bhandari, Manjunath Kamath, GR Iranna, Gauri Gill, Ela Mukherjee, Dipalee Daroz, Amar Kanwar, and Alok Som, whose works supporting the exhibit line the walls around.
We walk across the entire gallery to arrive, at last, at a table of the quaintest earthware seated below two black and white superhero sketches by Vicky Roy, who, like many of these artists, also hails from the Salaam Balak Trust. It looks like Alice's tea party with an undertone of magic realism. "I call this the last supper," says Probir, picking up a fine tea mug with the daintiest blue flower on it. I'd like to believe, however, that this is far from the last – as the young artists grow in age and inspiration, there will be many more suppers infused with brilliance and chiseled ever more finely, and many more supporters drinking from that cup of socially conscious art.
The exhibit continues till October 18 at Gallerie Romain Rolland, Alliance Française de Delhi.
Text Soumya Mukerji