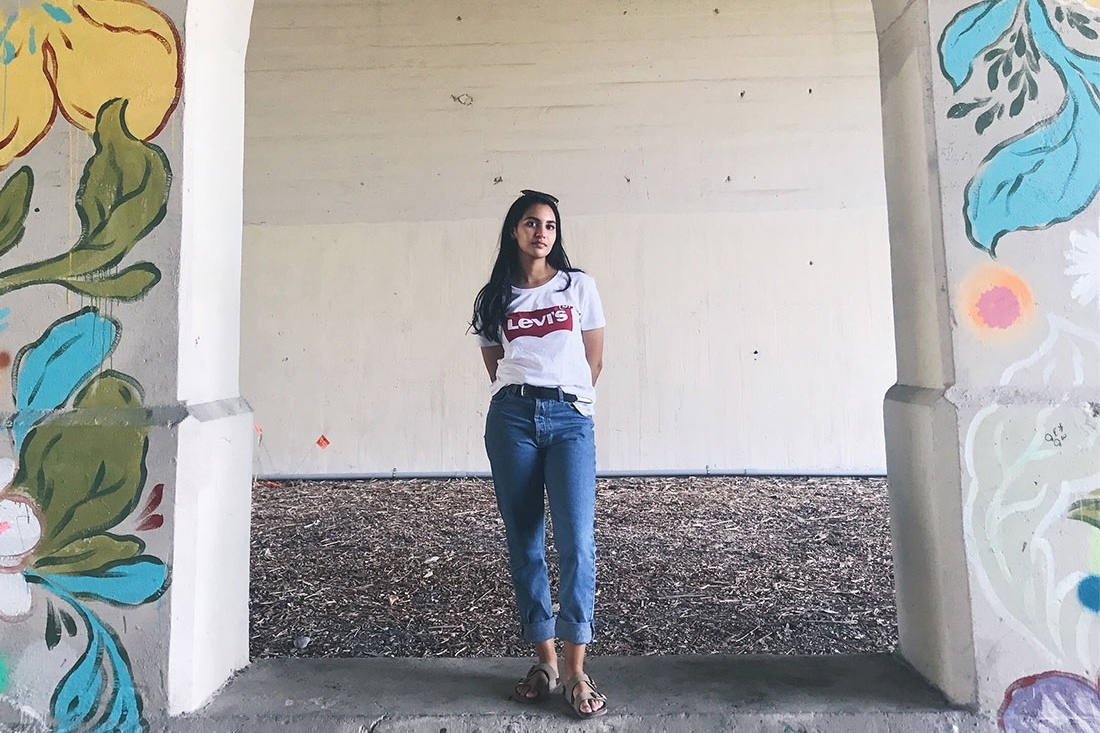 Layers of bold colours, clean lines, fine details and a hidden witty pop-culture reference make Emmen's Instagram feed distinguishable. Her chaotic use of bright colour and unique inspirations are what caught American comedian Hasan Minhaj's attention and his repost gave the illustrator a new boost of social-media-admiration.
As a young student based in Detriot, Michigan, she blends these elements to try and narrate the life of a first-generation South Asian American in the West. She tells us the story behind her traditional-current digital artworks.

The Artist
Born in Chicago, Illinois, Emmen's affiliation with art began with her first pack of crayons. Taking art classes as elective courses in middle and high school and attending art camps over the summer were instinctive to her as a child. As her curriculum intensively expanded, she wrote papers on art and developed techniques that would be evaluated. But it was never a career prospective she admits. 'Not until recently was when I started to dabble in digital art after I purchased the iPad Pro. I started by making patterns and then eventually grew into making whole figures.'
She realised her love for art during her first visit to the Detroit Institute of Arts with her parents, when they first moved to Michigan. At a young age she was enamoured by the European portraits and giant paintings that filled the galleries. It was the same museum that introduced her to Mughal miniature paintings at its beautifully curated exhibit dedicated to the subject.
Mughal portraits; Zayn Malik & Fawad Khan
The Work
Emmen's illustrations are borne out of symbolism and how it is used to reveal information about a subject in a subtle and clever way. As it takes her a lot of research into determining each element, she began using colour, expressions and body compositions to bring to share a message with her digital portraits. She adds, 'I like to use clean lines and add fine detail to make the image pop more as opposed to the fluidity and ambiguity of abstract art. The rickshaw designs are what allowed me to be more comfortable with using and layering bright colours together'.
Her use of bold colour translates into her captivating Intsagram feed that unlike most, isn't all one uniform colour that tries to fit an aesthetic. 'Mine is more encompassing chaos but it works out in my favour. It also made me more comfortable with colour in my own life. I used to be someone who had an all black and grey wardrobe and now I see myself gravitating towards colour.'
To keep away from getting creative blocks, she explores new physical mediums to break away from her comfortable digital space. 'I try to immerse myself in a new area of knowledge that I haven't looked at in depth before, such as trying a new physical medium like Gouache.'
The Inspiration
She draws inspiration from her Art Intensive paper that studies influences in Mughal Art, such as how Chinese or Dutch art influenced Mughal portraits in terms of symbolism, style, and choice of color. 'I loved the visual representation of the fusion of different cultures and that it can also represent through the suppression of culture through colonialism.'
Her artworks are also heavily influenced by activism and social justice as a mechanism to express identity. Whereas the colourful, expressive, witty and comical elements are drawn from a mix Bollywood and pop culture.
She also shares the story behind her humorous interpretations of Mughal portraits. 'My Mughal Drake piece was a mistake through playing with Snapchat and cutting and pasting Drake's head onto a Mughal body. What started out as a clever joke turned into a full series of "Modern Moguls".'
Her keen interest in rickshaws and Pakistani Truck Art are other subjects that she explores with because of the colors and playfulness they can deliver. Emmen takes these traditional elements and throws them in a modern mix with a rap lyric or phrase to make it amusing and relatable. Her process is meticulous. 'I compile images and make color palettes so that I have all my resources with me, and I draw out a black outline where I can then just color it in. That system for me makes it less daunting and more simplistic so that I can make it more intricate by layering on details into the framework.'
What's next?
She cannot stop herself from adding more to the pop inspired Mughal portrait series, but cannot say who is next. On the other hand, she is working on artworks that are closer to her heart and experiences. 'I want to encompass someone who is royal and rich in character and not in power and money.'
With more self-exploration, bigger collaborative opportunities, brand developing and more meaningful art as opposed to just images, Emmen's year ahead looks very promising.

More of Emmen's works here.

Text Garima Gupta