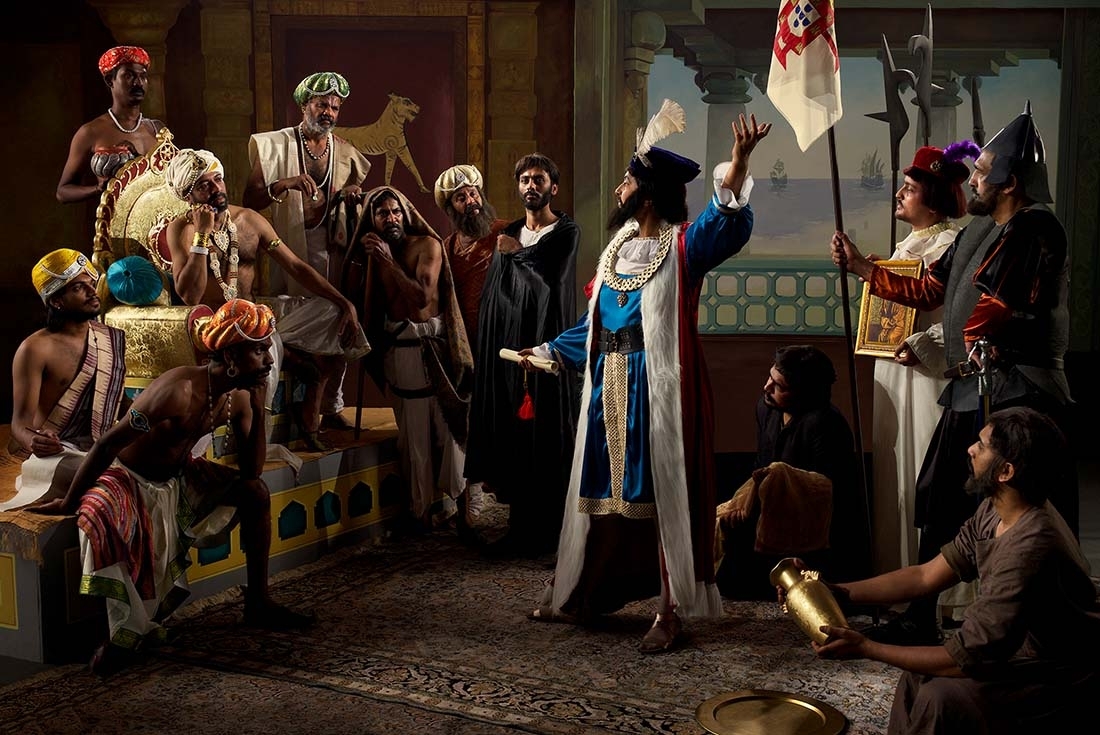 Goa: A Time That Was
Pushpamala N.
Goa: A Time That Was is an exhibition of photographic works by Pushpamala N., Waswo X. Waswo and Ipshita Maitra. Produced by patrons Dipti and Dattaraj V. Salgaocar, the show depicts three periods in Goa's history and will become the starting point, from where perceptions of belonging and identity are questioned and re-negotiated. At this show, Pushpamala will, for the first time in her practice, present a video and live performance lecture. Her performance titled, The Arrival of Vasco da Gama, is a choreographed re-enactment of 1898 orientalist painting by José Veloso Salgado. The audiences will see her transform into the male buccaneer, as she playfully examines the authenticity of facts associated with the arrival, constructed within an imagined setting. Recreated as a photographic tableau alongside accoutrements like a wooden desk, globe, texts, process photos, red walls and wood paneling that resemble a museum setting, the work examines the historical legitimacy of Salgado's iconic painting. In conversation with the eminent artist.
Define your practice as you see it.
I do different things—I'm a trained sculptor; 20 years ago I started working on photography and video; I also write, speak, act and curate—at present I'm the curator of the Chennai Photo Biennale. I have also worked with sound. These are all the ways in which I engage as an artist with the world. I try to keep in touch with the most progressive thinking of the day and also with the most progressive thinkers of the day. I think you need to be aware of what's happening around you and everything you do, enters your practice.
What inspires you?
I don't think artists are inspired as such. What you do is you constantly observe and collect—I collect a lot of things in my head and call it a pseudo archive, or sometimes even physically or virtually from the Web. It's about constantly researching and collecting and everything I do is adding to my archive. Sometimes it could be the conversations you're having with people. I still remember a conversation I had in college 40 years ago and I laugh at it and that adds playfulness to my work. I like jokes, I like the vernacular, I'm interested in theory.
How has your work evolved over the last 20 years?
I try to do something different each time so I push myself, push the edge so that I don't keep repeating myself. For example, the first one I did was a black and white thriller on the city of Bombay, the second one was about a nervous breakdown somebody caused. That was also photo-romance but then I hand-painted it. Either technically or in terms of subject matter or theme I try to push it in different ways. After Phantom Lady, I did a video. Immediately after that was Indian Lady— I was doing video for the first time and I was doing photo-performance for the first time. So it gives me a challenge and I push through these difficulties that come up.
Can you take me behind your creative process?
For my research period, I withdraw into myself and then I come out and discuss ideas with people then I go back and write. When I shoot, I like to work out the image in my head but there's a lot of improvisation. Then I work with people to create and edit. It goes back and forth. You close it in and then you expand it, and then close and expand again. And then the final existence of the work is when you present it. I'm very interested in the audiences. That's very important for me. Different people engage with my work in different ways.
Which one of your creations proved the turning point for you?
I usually do a series of works so when I was an MA student, in my final year I painted a plaster of paris sculpture that was the turning point for me. That was when people started looking at my work. Then later, I got two major awards for my terracotta work. Another turning point was when I did Phantom Lady, my first photo-performance work, in 1996-98. Also, Native Women of South India: Manners and Customs was a major project which is still showing, is a major international intervention.
How is Goa as a character, constructed in this performance?
My performance will be in Sunaparanta. The patrons Dipti and Dattaraj Salgaocar work tirelessly in bringing the arts and culture to the sunshine state at their centre in Panjim / Panaji, the capital of Goa. It is not about tourism. The performance will be about the arrival of the Portuguese argonaut, Vasco da Gama in India, which is the subject of my installation in the show. It is an important moment in world history because it marks the beginning of the colonial power of Europe and its later prosperity and dominance, and the colonisation of India and South East Asia. Through the form of a lecture performance, I will keep exploring the different histories and contexts around it, coming to the present day. Goa will of course be a part of these explorations since Vasco da Gama came to Goa and it became a Portuguese colony. I have never done anything like this before and I do not usually do live performance so it is an experiment. I am happy that Sunaparanta is commissioning this. I am still reading and researching for the performance text and I will know only at the end what I will do exactly. It will be a surprise even to me.
Like you mentioned above, for this performance at Sunaparanta, you will, for the first time, present a video and live performance lecture. Can you tell me a little more about it?
The video is part of the performance. It will be played during the performance and I will perform in front of it. They will work in tandem. I constantly use Russian filmmaker Sergei Eisenstein's theory of montage, in which he says that, when two different kinds of things are put together, they give a third, more complex meaning. The video, which is also performative, will have its own independent existence, and will be shown in the installation after the performance. I have only recently started doing live performances, though I have been performing in my still photography and experimental videos since the 1990s. This is a plunge into something else. I give lectures often, but this time I will be doing it in a different way, as performance art. I am still thinking about how to construct it. It's complicated because it is historical but it cannot be a dry or academic lecture and I have to work on the very interesting material that I am gathering to give it an entertaining artistic form.
What do you think the next big thing in art is?
Artificial intelligence? But right now it is definitely activist art.

Text Platform Desk