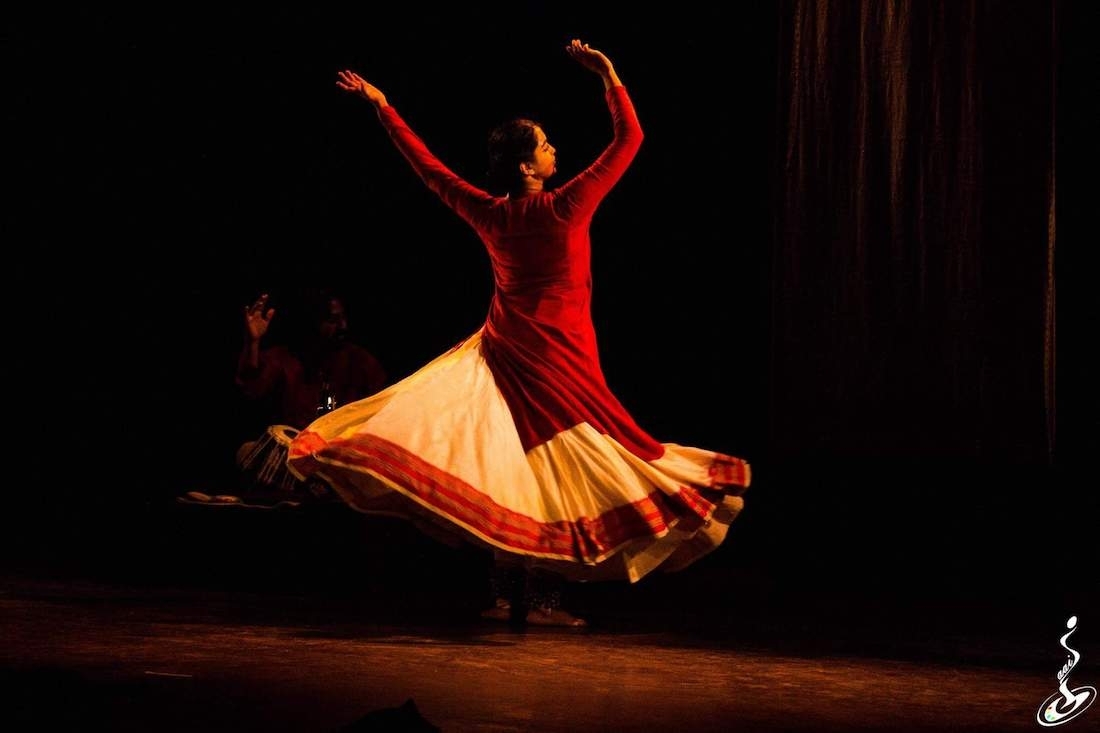 Perhaps, the thing about poems is that words have to be separated to be consolidated together, The pauses, with commas, full stops, hyphens and empty spaces have to be mindfully placed, each communicating its own story. In a manner, the process of writing a poem is a lot like weaving. In this process of weaving, the pace of what is said and what is left unsaid has to find a pattern. With voices from the heart, the soul and the gut, Jheeni communicates these very patterns – the 'holes' between the poems.

In the intimate space of the Odd Bird Theatre, the performance begins as warm yellow light dazzles on Sanjukta Wagh, Shruthi Vishwanath, Hitesh Dhutia and Vinayak Netke. Their four individual selves diffuse themselves into the performance to create an amalgamation of dance, music and poetry – the body, the voice and sound, and the words. Sanjukta is a trained Kathak dancer. With years of training in Kathak under Rajashree Shirke, she received her training for Hindustani Music under Pandit Murli Manohar Shukla. Shruti has a grasp of Carnatic music and finds herself immersed in the world of mystic poetry. She has spent years learning under Sangeeta Kala Acharya, B. Krishnamoorthy, Komanduri Seshadri among others. The guitarist, Hitesh Dhutia freelances and has recorded for various films and ads. On the tabla, we have Vinayak Netke who is a percussionist, music and composer. Often in the dark, but shining light on the performance is Deepa Dharmadhikari who studied lighting designing at University of Minnesota – Twin Cities while completing her BFA in Dance. It would be ideal to say that with their intellectually constructed production, all five of them put up a performance with a primal ecstasy.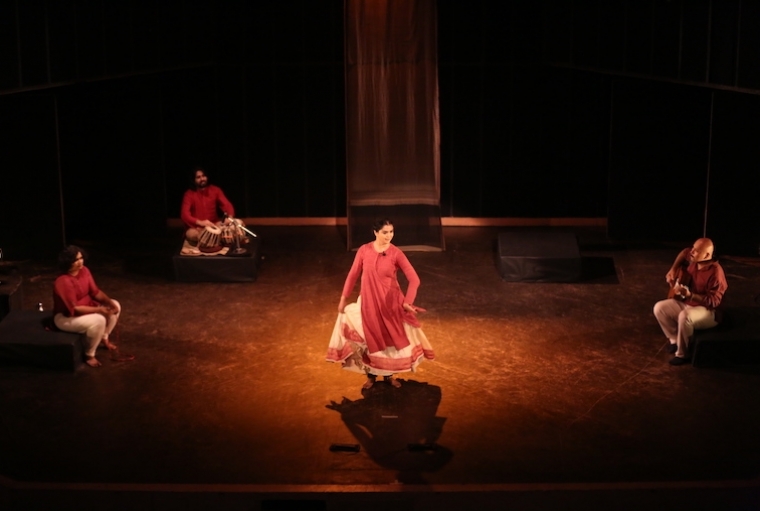 "There are poems, and there are poems", they begin. Borrowing Arundhathi Subramaniam words and pauses, Jheeni weaves together poems by Kabir, Janabhai, Chokamela, Ambigara Chowdiah and Tukaram. From these introductory lines, we know this performance is going to be a gathering of poems from different languages – Braj, Hindi, Marathi and Kannada. Each whispers its own secrets translated through English. And what is lost in translation is held onto by Sanjukta's eloquent movements – her body turning to a freely flowing piece of cloth, taking on what form it is given in a rather jheeni/ subtle manner. It flutters like a cloth, with the mudra of her fingers knitting air almost like needles. One knows she's fabricating a narrative. Fabricating because the jheeni chadaris a fabrication. Kabir's Jheeni Chadariya/ a delicate tapestry is a metaphor for the body itself. Woven together in indicative duration of nine months, this chaadar is always exposed to human naiveties, and consequently often finds itself lost in a net of fabricated narratives.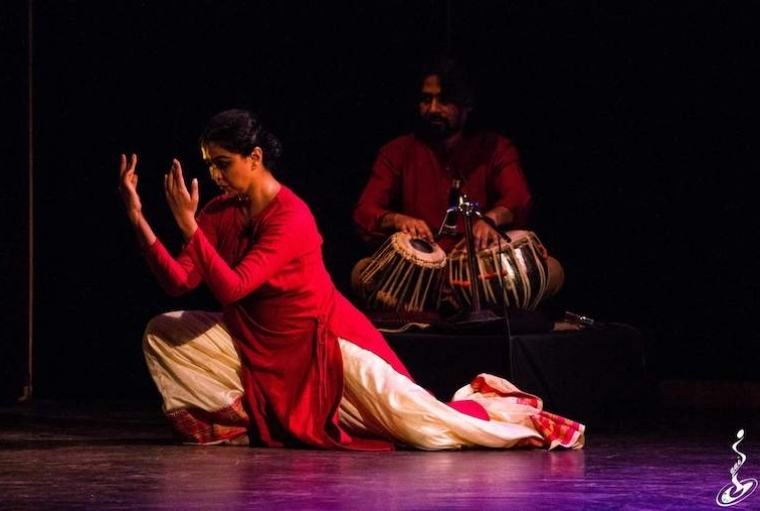 These fabricated narratives alter as we enter Janabai's Doicha padar ala khandyavari/ The pallu has slipped from my head to my shoulders. One sees Wagh fiercely, yet symbolically undo her sringaar, almost as if we, as women find ourselves undone by the imposing structures of the world. But with music that provokes, and Vishwanath's poignant voice, Wagh stands with a robustness. Her fluttering body, transformed to rigidness. Unrelentingly poised, she is ready to walk through the bazaar with cymbals and veena in her hand without caring for any structural impositions.

With a jheeni/subtle transition, Kabira and Kumara Gandharva call for a ferry man without a body. Blue lights entwine the stage as Wagh turns the human body to an elongated boat, with her arms rowing. Vishwanath's voice and expressions add an undercurrent, it is the water that Wagh's body floats on. And the boat flows swiftly, "Naiya mori neeke neeke chalat lagi". The music, the voices and the movements take the audience "to the great flowing river", and the viewer reaches a land beyond words. But what does a land beyond words mean? Are words all that language is made of? Right from the beginning, Wagh and Vishwanath are telling us to move away from these words, and pay attention of the music. It is the silence of the poems that is resonant in the tabla and the guitar played by Netke and Dhutia.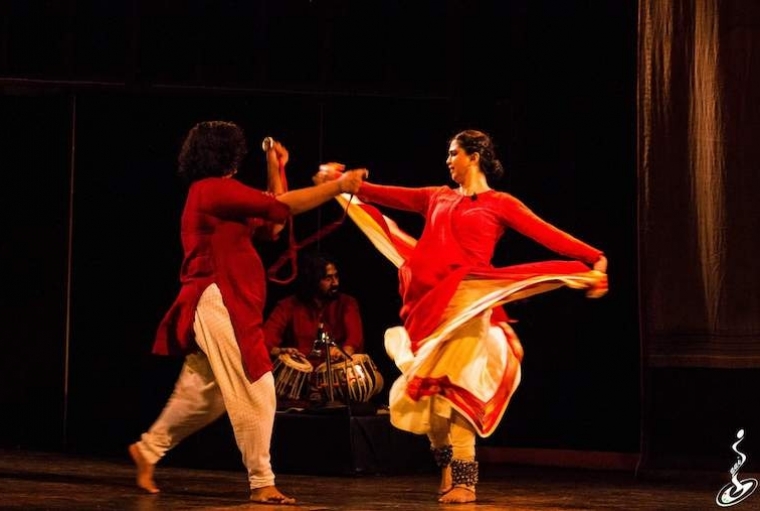 Leaving us with a contemplation about language beyond words, the last poem is a collapse of control. It is a tempest. Tukaram shows how devotion can drive the devotee to a frenzy. Devotion then, is not easy, rather, it is cumbersome. Through Wagh's and Vishwanath's communicative articulations, Tukaram reflects the rise and fall of this turmoil. The devotee Chokhamela, born into a lower caste, wonders how he might get a glimpse of the lord when he isn't even allowed to cross the door. This devotee loses himself to a trance, chanting the name of the lord repeatedly- "Vitthala, Vitthala!"– the mindfulness of the performance, finally resting into a peaceful rapture. The audience stands, the rhythm of the applause reminiscent of the holes in poems.
Text Muskan Nagpal