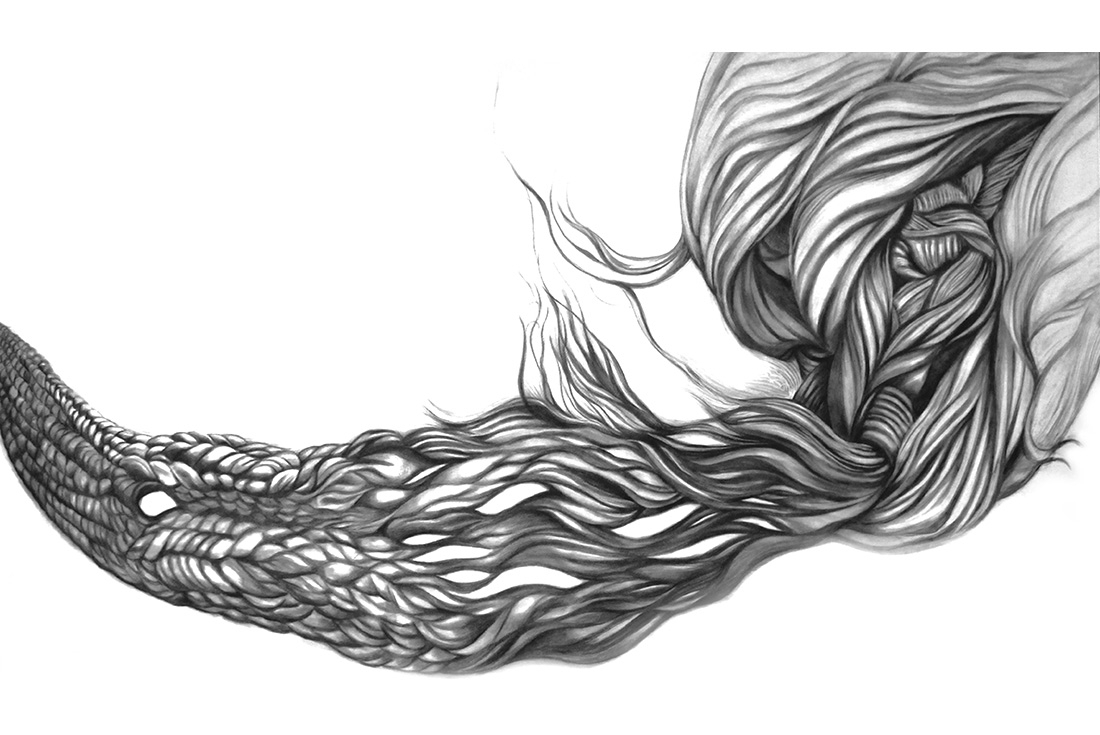 Mane Point
Ritu Kamath, artist
A girl with a ponytail swings her head; everything around her is swinging out of control. Her nylon band comes off and the swirling strands rise, like flames, in all directions, rotating on the wildfire that is raging in her atlas.

'There was a video that I shot back in 2015 that was the beginning of this series,' Ritu Kamath tells me, as I build that picture from her words. It is not part of the display at i-seek, but it is the pivot of what marks the artist's shift from her signature reds and blues into streaks of charcoal on canvas—balls of fire, entangled, mysterious, fierce, flowing, flying, weaving, climbing, split-ended, knotted, free…

Isn't it our hair that speaks more of our lives than we can?

'I came from a conventional family where we were not allowed to leave our hair loose. And that stayed with me for a very long time, just like I couldn't wear sleeveless or short clothes in front of the male members. I started doing those things much later, after I got married,' says Kamath, whose beautiful Peshawari hair hang free from the burdens of her past now, finding an outlet in the powerful patterns on the walls before my eyes. She walks me through the myriad forms that are her large black-and-white canvases, horizontal frames of used x-ray and polycarbonate layering, and the most interestingly painted 3D canvases, with each side telling part of an everyday story. Simple and striking, these easy-sized works are filled with humour, sarcasm and life. An elephant walks through a door, head, torso and tail one at a time; a girl pushes her car on the road. A wife balances her husband mid-air in yoga—you have to turn to the other side to see the next chapter.
'I find it extremely boring to work with flat surfaces; it is like serving everything on a plate, with no challenge of imagination involved. Even the charcoals were supposed to be layered, but Anoop [her husband] told me to leave them as they are, and they were complete that way,' she shares, describing her deviation. Equally endearing are the slice of life titles of her works.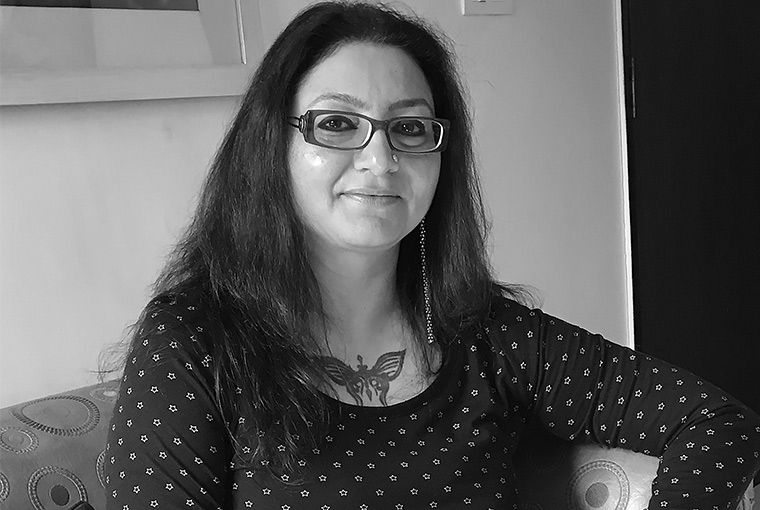 I go back to watching her complete a work in her home studio as former neighbours, and it is all there in different forms—the wing that she was drawing that day, wild and free strokes of hair, horns, imperfect bodies reveling in abandon, some crouching to take flight, skeletal remains still determined and strong, struggles of daily living…a life of liberation despite struggle. All it takes sometimes is to let your hair fly in your face.

The show continues in Delhi's Lalit Kala Akademi today and travels to Gallery Beyond in Mumbai thereon.


Text Soumya Mukerji