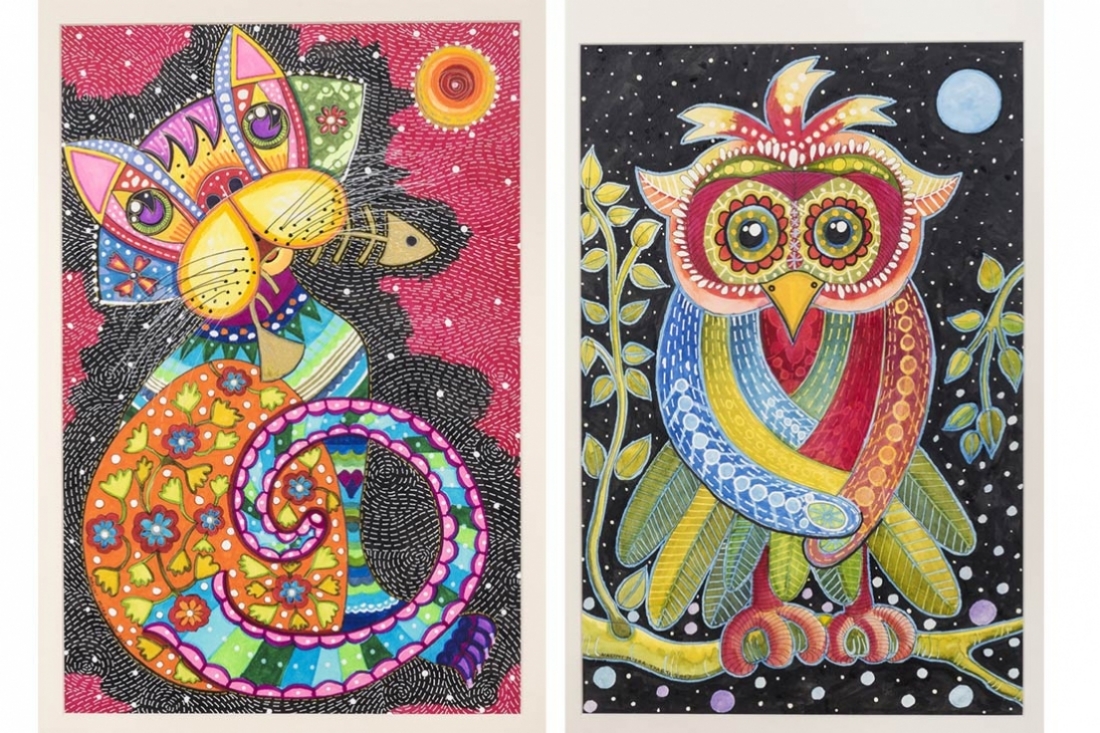 'Macavity', mixed media on paper, 'Oscar', mixed media on paper
Mojo Nama
Artist, Misra Tyabji
"Owls and fowls and crows and birds and, some bulls and monkeys few, I also see some leering cats, and Gods in their heavens too!" So sums up Delhi-based artist Nalini Misra Tyabji whose joyous, colourful and whimsical canvases are bound to transport you to a land of fantasy and fun and rediscover the child within you. Titled Mojo Nama, this solo exhibition of 64 works in mixed media on paper & acrylics on canvas will be held at the Convention Foyer, India Habitat Centre, New Delhi from February 10 to February 14, 2018, 10 a.m. to 8 p.m. daily.

Replete with imagery of playful little girls, cheeky clowns, mischievous cats, ogling owls, flying fish and much more, Tyabji's canvases are like scenes from fairy tales – providing us escape into a world devoid of acrimony and rancor. "From time immemorial, all great artists and scientists, discoverers & inventors have refused to see things as they have appeared to others. They have seen things as they could be or ought to be. I think what sets them apart is their vision, their dreams, their whimsy, their wonder and curiosity, their ability to question and experiment, their fearlessness, their indefatigable spirit and their soaring, unfettered, child-like imagination, all unencumbered by dull conformity.
Picasso, one of the greatest geniuses of our times, has said that he was desperate to paint like a child because he wanted to experience the freedom of form & colour that only a child possesses. So, I love the whimsical in this world, and like to look into things not at things."

For instance, a mixed media work titled Fly Me A Fish has a little girl flying off into a world of her own ("I like to imagine the impossible"), another work I am the sun, moon and stars depicts the thought that each one of us is complete in oneself, while being connected to everything around us. The Conjuror has a clown in playful posture, a play on Tyabji's own self, as she cooks up magical tricks for all to enjoy. Macavity, unlike the evil cat in T.S Eliot's poem, is depicted as your homely, friendly feline, as Tyabji believes "there is a positive side to all of us". And then there is The Bard and Raslila, which depicts Taybji's fascination with Krishna, not just as a religious figure, but as friend whose blue form is about infinite peace and happiness. At the same time, almost all paintings have dots and circles, Tyabji's take on the bindu or the full circle of life. Kantha like stitchwork inundates some of the works depicting her interest in textile and fabrics as well.
The Conjuror, acrylic on canvas
A self-taught artist, Tyabji recalls being drawn to art from a very young age. Experimenting first with large, coloured beads that she would string together in various shapes in her childhood, she then preoccupied herself with a pair of scissors! She would cut everything she could lay her hands on - whether it was a flower, a tree, sun or the moon. "I would make up my own stories based on what I had cut and glued the picture to creates pop-up story books." As she grew older, sketches and drawings began to feature in these books, paint was discovered as a teenager, but it was finally watercolour that satisfied her soul. "I was 15 when I started copying the Kangra miniatures and my love for the Krishna form has endured till date, I am also heavily influenced by Chinese masters whom no one can match in the execution of watercolour."

No wonder then, Tyabji's colour palette itself is clean and intense, the strokes minimal and precise. Her works have always had a bit of something – from folk to figurative, from landscape to abstract, from flowers to fauna and the choice of medium has been as eclectic – watercolour, pen and washes, ink, acrylics and mixed media.

Though she initially was only painting part-time, being a businesswoman and a teacher, it was a sad turn of events that converted her fully into art. "I lost both my parents in quick succession. And needed to distract myself so I started to nurture the seed that had been painted in my head by a friend – to have a show again! I began to paint, at first seriously, then furiously and in February 2014, I did my first solo show after a long hiatus of 32 years."

She had before that shown in a two-woman show in 1979 at the Shridharani Gallery, and since 2014 she has had a solo show every year – Nascent in 2014, Whimsy Nama in 2015, Wonder Nama in 2016, Tell Tales in 2017 and the latest being Mojo Nama.

Being prolific comes naturally to Tyabji. "Since I am not trained, I am comfortable with arduous hours and the inevitable mistakes. If I do cats, I keep painting them till I can't think of any other posture. I am inspired by everything and anything and I hope my art will appeal emotionally. And as long as it invokes a smile, I am happy."
Revisit Your Childhood with Nalini Misra Tyabji's Joyous, Whimsical Art: To be exhibited in a solo show titled Mojo Nama at India Habitat Centre: Feb 10-14, 2018