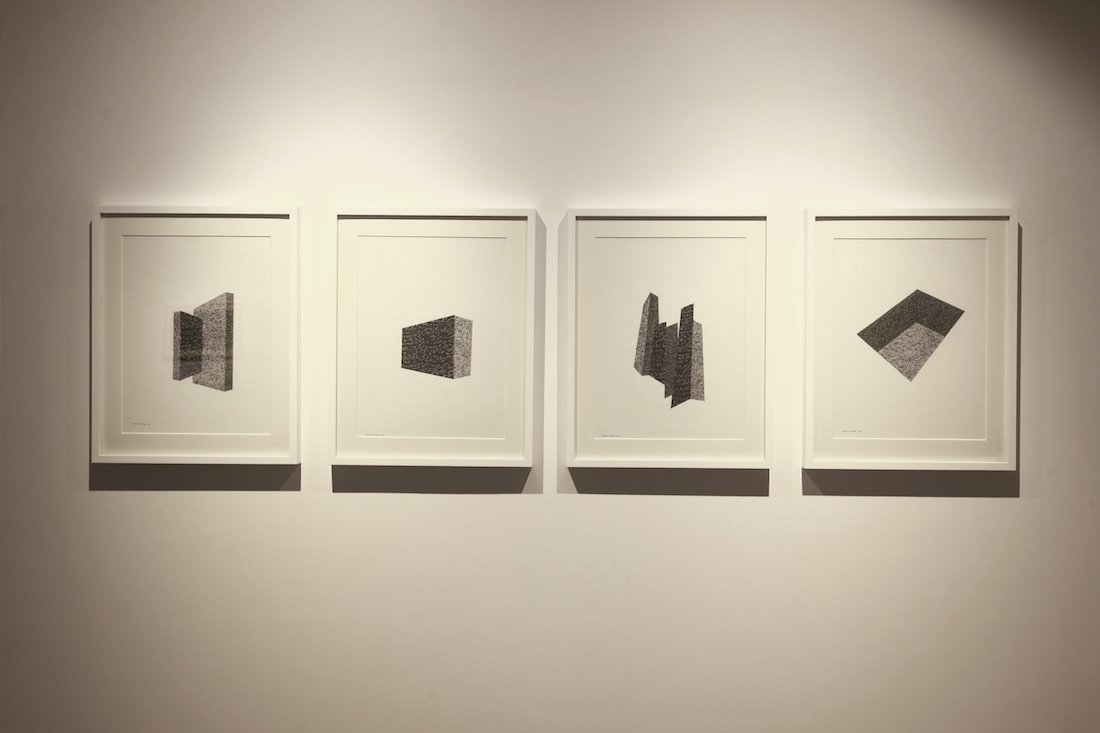 TARQ. In letter and Spirit. First floor installation image. 2016
The Exhibition
In this current moment, we find ourselves physically restricted, yet connected more than ever before from within our four walls. Suddenly our private spaces are turned (both physically and virtually) public,as we work, eat and socialize all within the confines of our homes. It is in this reality, that one cannot help but think of the role of architecture in all our lives. As we grapple to understand what a socially distant world will mean, it's time to reflect on the once transient histories that echo in our stories.
After looking at the effects that the quarantine has had on the outside world in the first exhibition, Resurgence, the second online show, Navigating Geometries, is decidedly inward looking. Through a single work each by the artists Boshudhara Mukherjee, Muzzumil Ruheel, Pratap Morey, Saju Kunhan, Samit Das, Tanmoy Samantaand Vishwa Shroff, try to continue to explore, contextualize and make sense of our current landscape.The exhibition will be accompanied by a series of live conversations and a talkthough of the works on Instagram, in an attempt to recreate some of the physical programming that we are all missing out on at the moment.
The Artists
Through her meditative and almost hymn-like woven canvases, Boshudhara Mukherjee creates, recreates, and distorts patterns into new unexpected forms.While she paints the canvas using acrylic and oil she also weaves the canvas, transforming its very nature as a carrier of paint. The destruction is almost necessary, reminding us that though scars remain, in order to rebuild, we must keep moving forward. In many ways, the canvas is the protagonist of Boshudhara's art practice, going beyond its usual purview and becoming a space. In the work, 'Getting home', Boshudhra recreates the stairs in her house in Kurseong, where she grew up.
TARQ. Getting home. Boshudhara Mukherjee. 2018
As a storyteller, drawing primarily from Urdu calligraphy, Muzzumil Ruheel creates his own fictional narratives. His works vary in medium as per his interactions with time, space and history. These visual vocabularies act as metaphorical interpretations conveying particular events, private conversations, and stories close to the artist. The rigorous use of calligraphic words amplifies a sense of mystery for the viewer, where we can read the text buta coherent meaning cannot be extracted from any of the texts. Speaking about Concrete Realities in our current context, Muzzumil says, "material constructions create spaces. Spaces that sometimes contain and sometimes confine our lives.
Pratap Morey uses digital prints and archival material to create intricate matrices exploring the constantly changing geographies of urban spaces. The Superimposed Series articulates problematic themes such as construction, redevelopment and displacement, that not only resonate with current times but are immediate concerns in our urban landscape. The structural nature of his works act as a tool to create an almost new parallel to reality.
From small scale multimedia drawings to wide panel works, Saju Kunhan uses wood and archival images to articulate the voices of the unheard. With maps and spaces, he creates a mythical world built from history, and prompts questions of where we are, how we got here and where we will go from here. The active movement in this particular landscape, reminds us of those laborers displaced, and the voices that go unheard, in need of care and reconciliation.
TARQ. Portraits in Time, First floor installation image, 2017
As an artist, archivist and historian, Samit Dasuses various mediums to highlight his deep fascination with documentation and the archive. As an archivist, his deep interest in documenting time and space leads to the creation of multi-sensory environments through art and architectural artworks.This work, Kinetics of Ruins was initially part of a solo show titled CE and explores a moment of a country's past and brings it back to life. With remnants of Surrealism and Dadaism,
Tanmoy Samanta's practice captures notions traditionally associated with sculpture, through his use of tempera on paper and drawing from memory and imagination. Samanta begins a painting by layering rice paper onto a thicker base, using a series of colours going from dark to light. His work revolves around the ideas of belonging, habitation and the slow transformation of spaces.This minimalist style evokes within the viewer an immediate sense of remembrance and nostalgia. In Obscure Objects, the playful nature of the ordinary objects act as windows or an escape to the everyday.
With drawing as her medium, Vishwa Shroffuses architectural forms to uncover our relationship with space over a period of time. Usually, she uses her architectural drawings to explore the narrative potential of spaces and objects otherwise considered banal –inconspicuous corners, walls, and floors. Her work reaffirms that time does not stand still for architecture and the documentation of these structures become indicators of the lives lived within these spaces. The work, Bari ma Babli serves as a compelling take-off point for a deeper contemplation on memory and our relationship with the outside world temporarily paused.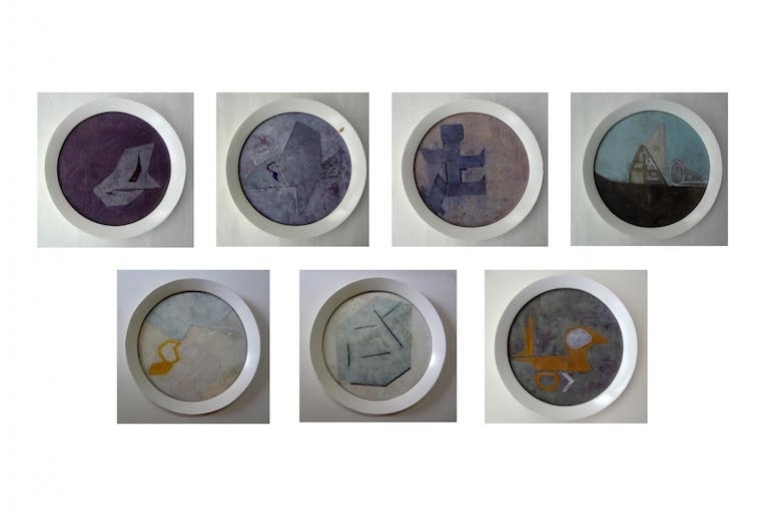 TARQ. Obscure Objects. Tanmoy Samanta. 2015