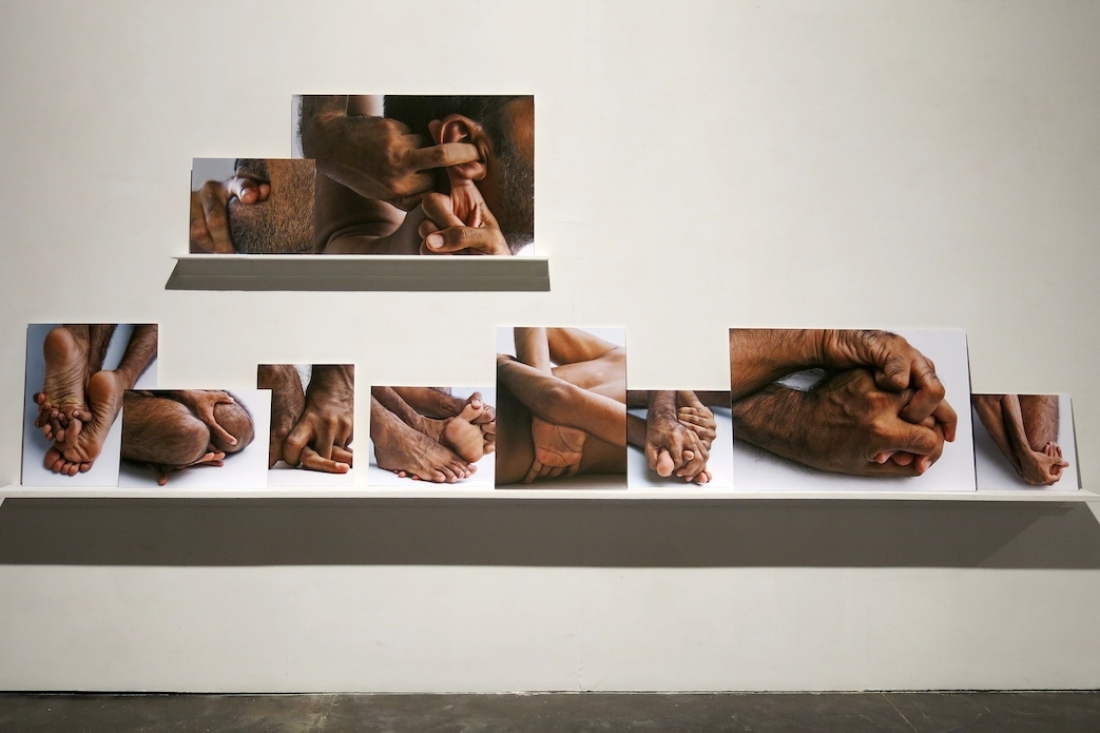 Nothing is Skin Deep
Skin, Georgina Maddox
It is a day that has washed Delhi sparkling green after rain. I walk down a flight of stairs into Gallery Threshold, tucked deep inside a thick canopy of plants and trees – blessed skin – that it explores inside as the subject of its ongoing show.

Skin - The Finer Nuances features the artworks of nine artists that reference several aspects of skin, from the personal, erotic and playful to its larger socio-political connotations. It examines the deep-rooted problematic practice of skin differentiation embraced by both the oppressor and the oppressed. It also delves into the philosophical aspects of skin and goes beyond the surface. More in curator Georgina Maddox's words.

Why skin?
From an art perspective, I have always found the idea of skin rich in meaning and open to several interpretations. One can look at it politically, personally, aesthetically, erotically as well mystically. It is fragile yet resilient and constantly renewing itself. There are so many aspects to it that I felt it would be ideal for artists to interpret. On a personal level, I have always been aware of the politics of skin because of my mixed ancestry, with an Anglo Indian Mother and Indo Burmese father, growing up was culturally and ethnically a diverse, rich and complex process. Hence the topic resonated with me.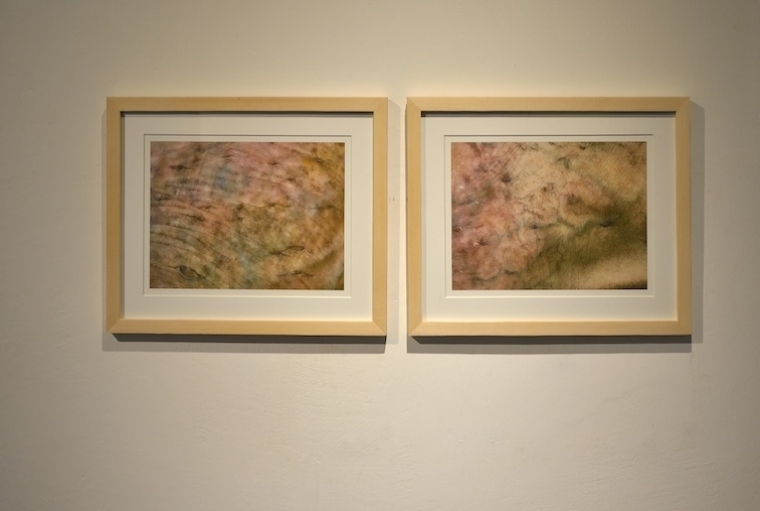 Prajakta Potnis Terrain 1 and 2
What is your first conversation with an artist that you are considering?
I have had various conversations with artists over the six odd months some personally others over email. My first conversation was with Achia Anzi, the Israeli artist who has been living as an immigrant in India for many years now. He responded well to the idea given his diverse cultural background, though he chose to interpret the theme through the metaphor of architecture adding to it that element of spiritual mysticism.
I have been following Mithu Sen's work for many years, and her exhibitions like Black Candy and I hate Pink were so powerful and politically loaded while maintaining a humorous overtone that I felt she was perfect for the show. She also chose to interpret the theme obliquely through childhood braids. Hair is part of the integumentary system and a marker of youth and virility and Sen's work evokes questions about the fragility and ephemeral nature of life. Shibu Arakkal, and Shivani Aggarwal have been working directly with the idea of skin, so it was an easy conversation with them. Baptist and Prajkata too have been working with the metaphor of skin to talk about the political. Baptist's case where he references the idea of the body as a fortress and the physical and psychological need to protect itself by forming a mesh of interlocking body parts after his experience of living with and speaking to the soldiers at Siachen Glacier in the Karakoram range in the Himalayas. Prajakta's work is deeply personal since she has painted upon the photographic image of her father's birthmark. Both these artists have been sourced from Project 88 so it was a bit of a collaboration to get them on board. Rahul Kumar who is a ceramist, explored the theme along with me through a long process that involved visiting his studio to see the works as they progressed.
Megha and Shormii were suggested by the gallerist Tunty Chauhan and I responded well to their work as they were both strong feminist artists working with natural mediums like paper and gourds found in nature. We all discussed the theme over phone, email and in some cases over cups of coffee!
Take me behind your curatorial process.
I wanted it to be a mix of academic and personal. Being a writer and curator text does play an important role. I included texts from Neha Mishra's paper published at the University of Washington, titled India And Colorism: The Finer Nuances and In Our Own Skins: A Political History of the Coloured People, Richard van der Ross, to cull out the proposal letter for the artists. I also referenced Jeanette Winterson's novel Written on the Body as I wanted to include the personal and the erotic aspect as well. After the artists responded to the theme and we had most of the names on our wishlist, the next process was going back and forth with the artists and their process. The show design was evolved once the works began arriving. This process was collaboratively done with the gallery and the artists, though in some cases some tough decisions were taken of editing and placement. Finally the show was mounted. The invites sent out to the guests…the rest as they say is history.
A curator has a complex relationship with a gallerist. Your experiences and views.
It is a bit of a balancing act. The gallerist has a certain vision for her gallery. She also has a comfort level with some artists and there are artists she is not comfortable working with, because of aesthetic sensibilities. So we did a lot of back and forth on the final list of artists. We also did a lot of back and forth on the editing process where various factors of representation had to be taken into consideration. Balancing egos and temperaments…I think it was a very enriching experience, even though there were some uncomfortable conversations that had to be had. Some gallerist often put pressure on the curator to include certain 'saleable names.' In this instance it was not the case, which is a huge relief. The theme of the show sometimes gets diluted when one includes works that are good commercially but not necessarily speak well to the theme. It is very rare to get both.
Each of the works tells a very powerful story, undoing the superficial connotation of the title seen in isolation. Is the writer in you an advisor to the curator – do you wear all hats at once?
I think that writer and the curator in me inform one another and it's a very seamless and organic process. In our contemporary art scene it is very rare that one does not wear multiple hats or perform multiple roles. Although I think in my instance, my identity as a writer does overpower my identity as a curator. People known me more for my writing and it is an easier medium as it does give one more autonomy and solitude. Curating is a much more collaborative process and there are many logistical issues to be taken into consideration as well as the dealing with the actual physicality of manifesting the installed works.
Where are you headed from here?
I guess more exhibitions, more writing and more travelling.

Skin is on view at Gallery Threshold till August 20th 2019
Text Soumya Mukerji