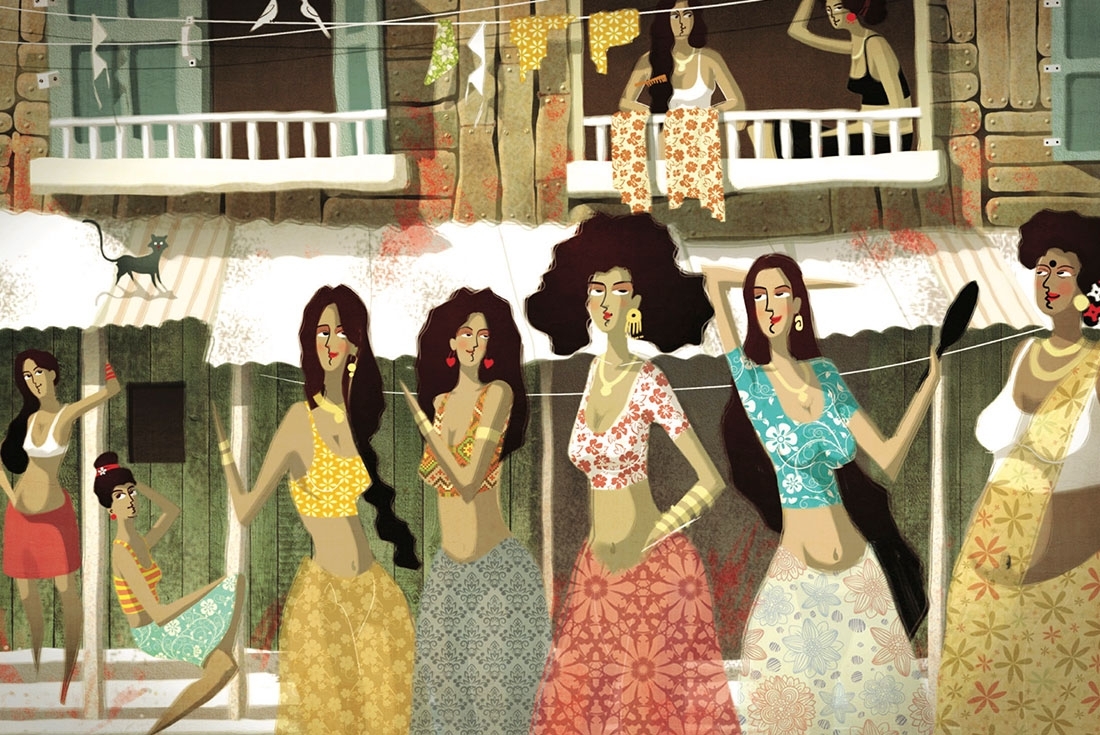 The Artist
Pavan Rajurkar is one the notable ones who got featured among the '200 Best Illustrators' in Lürzer's Archive magazine in 2016. His illustrations are a burst of colour and detail. Both endow his work with a liveliness which strikes the eye at a single glance. He developed a deep interest for art in his early years. Fascinated with cartoons as child, his notebooks would be filled with drawings of them. 'My parents recognized my interests and would buy me story books and coloring books when I was in 3rd - 4th standard. Sometimes they would even pose for me and I would draw them. They sent me to a number of drawing competitions. Soon enough, I started to enjoy drawing much more.' He would also sit beside a street artist for hours at length to watch him paint and sneak into sculpting workshops to see sculptors work.

The Work
The inspiration for his work comes from a culmination of Indian Culture, people and folk stories. His surroundings play a major role too. 'I try to get inspired by what surrounds me. Hence, you will find a lot of influence of colors, culture and people that dwell in the Indian region.' He adds that he tries to keep his work contemporary, constantly exploring new styles and mediums which further enrich his work by bringing in a global appeal. His visual language is evolved and individualistic, but how did it get here? 'I keep doing what I like and what comes naturally to me, but I also keep looking at other artists' work, which inspires me. I keep learning by merging my skills with their techniques. However, I am more inclined towards Indian art forms, cultures and elements. It is this penchant for something Indian and local that has helped me find my own style and visual language.'

The Artists he looks up to
'I am a great fan of old artists such as Dušan Vukotic, Norman Rockwell, Dinanath Dalal, Hayao Miyazaki etc. Among new artists, I like the works of Rand Cano, Joan Cornella and Kim Jung Ji to name a few.'
Advice to aspiring artists
Pavan's advice to younger illustrators and artists is deeply rooted in the understanding of one's own culture and most importantly, one's own self. 'When you start understanding yourself, things start to get simple. It's a good thing to take inspiration from other artists but it's important to show what you stand for, in all of this.' The role that practice plays is crucial and Pavan unquestionably testifies the same. 'It's better to handle micro projects than a humongous one. It helps you give importance to small things, explore and sharpen your skills. In every field 'practice' is the most important thing, but it's equally important to understand and involve yourself in your work as much as possible.'

The Future
'I am working on some personal projects right now. Some of them are illustration series on mythological stories and Indian villages.I am also working on a comic which is based on an incident from my life; an animated short film which is about human nature and relationships' He also has one client project up his sleeve to complement his passion projects and aid his survival.