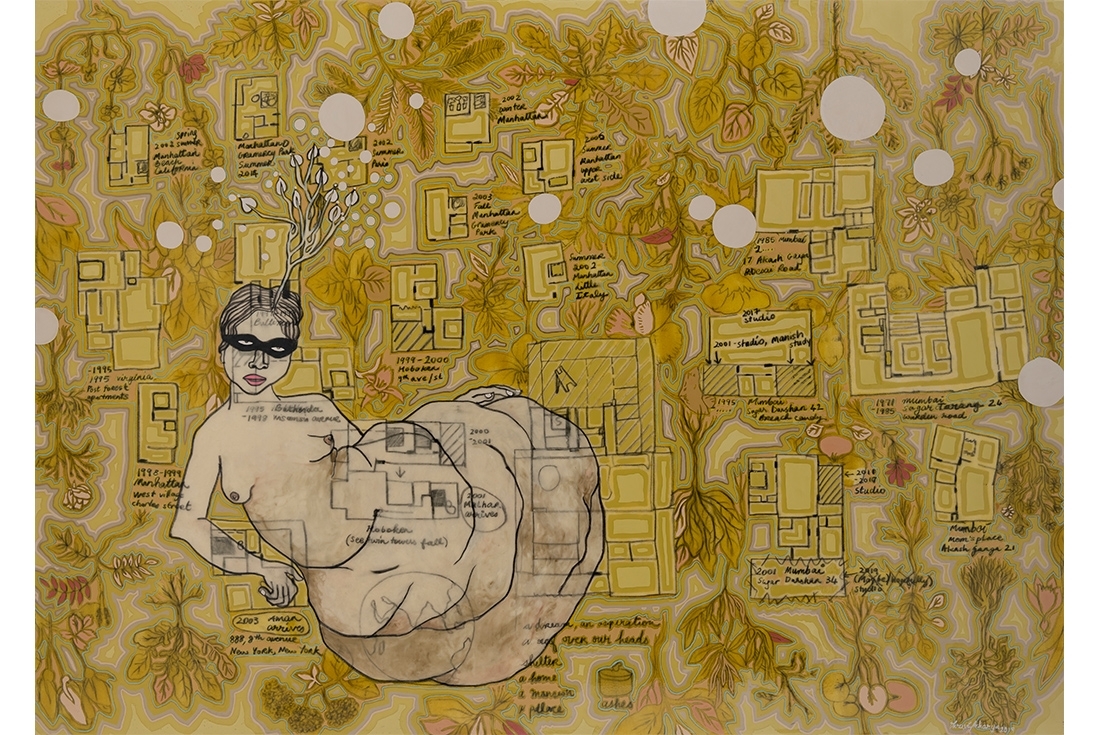 "Living with death is an odd experience." – Dhruvi Acharya

Nature Morte plays host to the second solo show with Dhruvi Acharya. The centerpiece of the exhibition will be a soft sculptural installation which was first shown at Chemould Prescott Road in Mumbai in 2016 in her solo exhibition entitled after the fall. The work is a meditation on living after the sudden, premature death of the artist's husband. The installation takes the form of a bedroom, its elements rendered in fabric and its walls covered with hundreds of small drawings. Within this space past, present, and future merge; dreams, nightmares, and reality become interchangeable.
A group of major new paintings will complete the exhibition. Continuing with Acharya's figurative language, these new paintings explore the negotiations that take place in the artist's mind in order to get through life. They also address the gnawing awareness she feels of her own mortality, juxtaposed with the "joys" of navigating life and the world as a middle-aged female. The paintings are darker and more sinister than her earlier works, often involving complex patterns that may allude to psychological states.
'I'm not trying to depict real life. I'm depicting what happens in the brain, I am painting emotions. The body is morphing into or is becoming the emotions. I have seen in real life that when you are mentally disturbed it shows; the mental affects the physical.'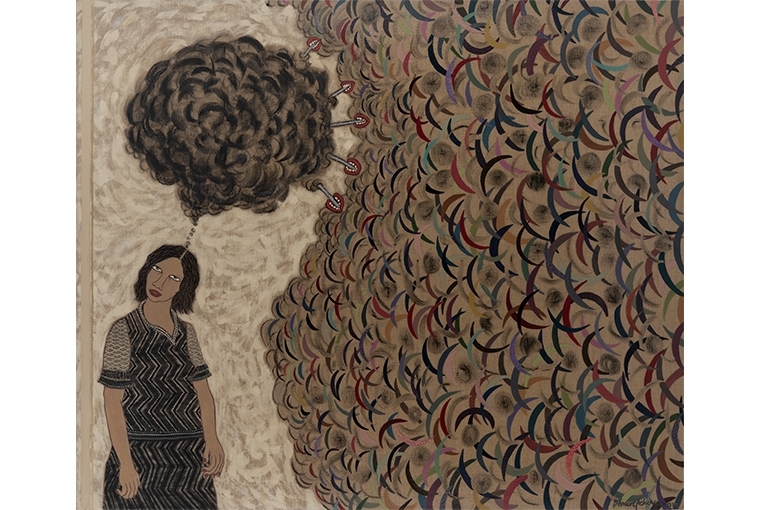 Dhruvi Acharya was born in 1971 in Mumbai. She received an MFA degree in 1998 from the Hofferger School of Painting, Maryland Institute College of Art, Baltimore and spent ten years in the US before returning to Mumbai where she now lives and works. Her works have been exhibited in a wide variety of galleries and institutions in India and the United States, with ten solo shows to her credit.

Nature Morte is located at A1 Neeti Bagh, on the main Khel Gaon Marg, between Siri Fort Auditorium and Ansal Plaza. The gallery is open every day, from 10am to 6pm, but Sunday by appointment only.