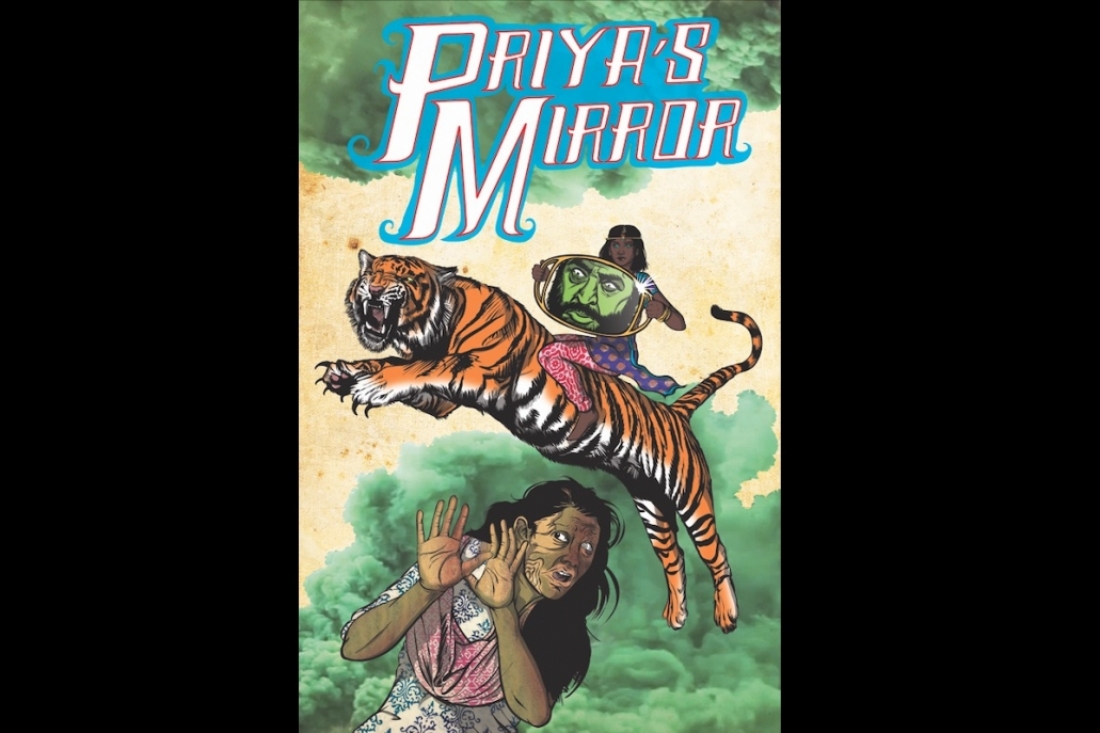 Kaleidoscope Digital Art – KDA and curator Mukta Ahluwalia present for the first time in Delhi – Priya's Mirror: a ground-breaking exhibition using interactive comic book featuring India's first female superhero Priya Shakti who is a rape survivor, and named by UN Women as a "gender equality champion." In Priya's Mirror, she helps a group of acid attack survivors to find their strength and conquer their fears – similar to how she overcame her fears after surviving a brutal rape. The show at KDA makes use of augmented reality to bring the 2D world of the comic to vivid life and unlock a number of interactive story elements. Featured are interviews with acid attack survivors, whose real-life accounts helped formulate the characters, and the mythological films that inspired the story.
Priya's Mirror has been created by filmmaker and popular "Sunday Mid-Day" newspaper columnist Paromita Vohra, and Sundance Award winning documentary filmmaker Ram Devineni, and actor Shubhra Prakash and Eisner Award nominated comic book creator Dan Goldman.
Launched in 2014, Priya's Shakti was a first-of-its-kind fusion of augmented reality, comic books, and social engagement. The story of Priya, a rape survivor and modern-day superhero, shattered taboos that exist in India on the subject of violence against women. The second volume of this ongoing series, Priya's Mirror sees the heroine joining forces with acid attack survivors to take on the demon king Ahankar. It is a story of courage, and over coming societal ridicule, shame and indignity leading to emancipation from disabling restrictions imposed by an unempathetic society and self.
Priya Shakti has had over 26 million readers and over 700 news stories published since 2014. Formore information: Website: https://www.priyashakti.com
The artist Ram Devineni explains, "I was in Delhi when the horrible gang rape happened on the bus in 2012, and was involved with the protests that soon followed. Like many people, I was horrified by what had happened and angered by the indifference exhibited by government authorities at every level. At one of the protests, my colleague and I spoke to a Delhi police officer and asked him for his opinion on what had happened on the bus. Basically the officer's response implied that she probably deserved it, or at least provoked the attack. I knew then that the problem of sexual violence in India was not a legal issue; rather it was a cultural problem. A cultural shift had to happen especially views towards the role of women in modern society. Deep-rooted patriarchal views needed to be challenged.
Talking with several rape survivors, I realized how difficult it was for them to seek justice and how much their lives were constantly under threat after they reported the crime. The burden of shame was placed on the victim and not the perpetrators. This comic book creates empathy and identification with rape survivors so they can pursue justice without shame.
I began researching Hindu mythology to formulating a new mythological tale where a mortal woman and rape survivor would seek help from the Goddess Parvati — only after she had nowhere else to turn. Although Lord Shiva and other gods get involved, eventually it is up to her to challenge people's perceptions. I wanted to create a new Indian "superhero" – Priya, who is a rape survivor and through the power of persuasion she is able to motivate people to change. Priya is the catalyst for change. In the second edition, Priya's Mirror, she helps a group of acid attack survivors to find their strength and conquer their fears -- similar to how she overcame her fears after surviving a brutal rape."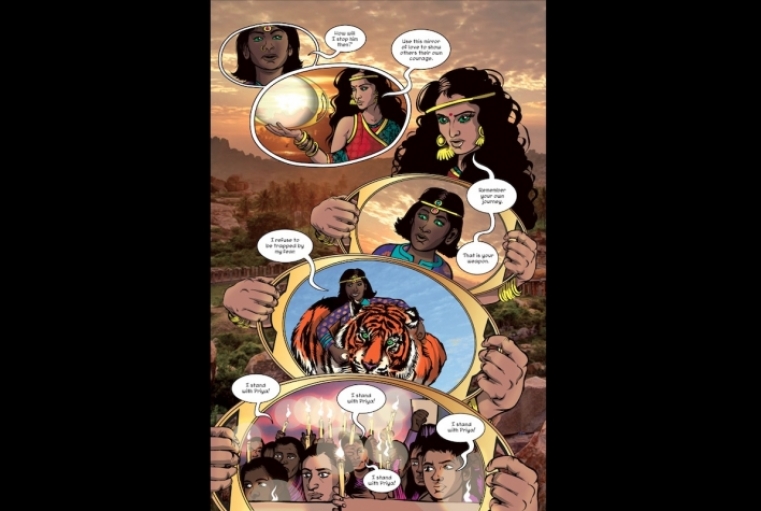 The exhibition will be held at:
Kaleidoscope Digital Art
Triveni Kala Sangam
At 205, Tansen Marg, Mandi House, New Delhi 110001
From 27th December 2018 to 9th February 2019.