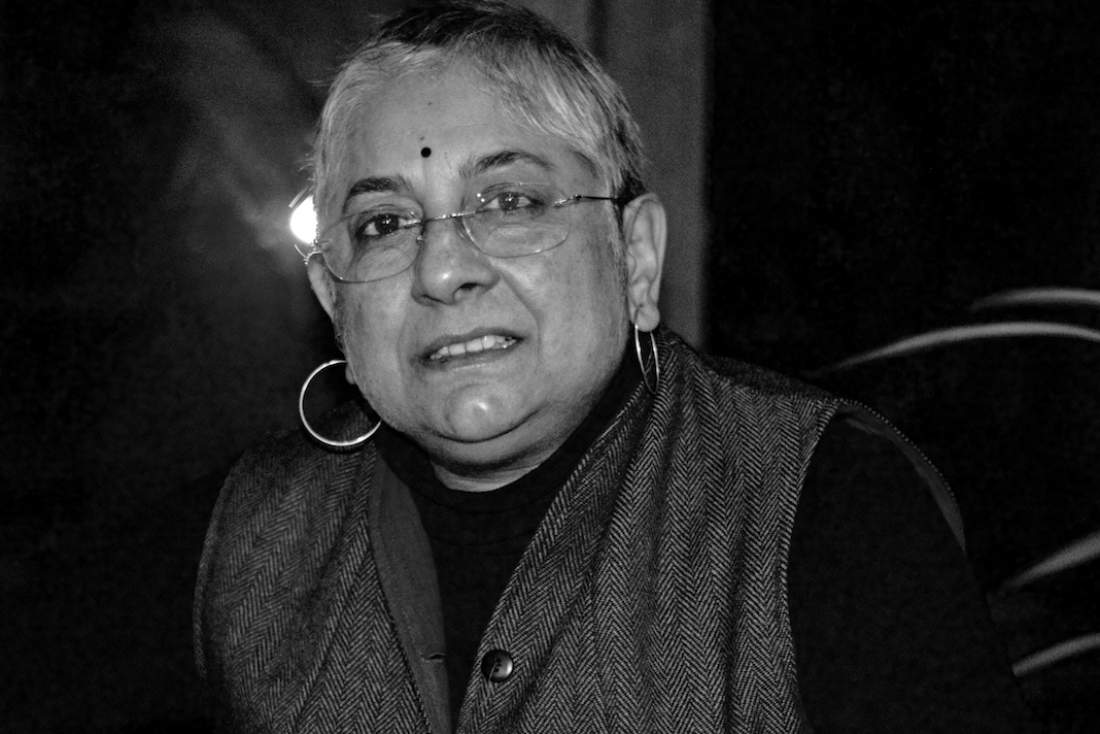 #ThrowbackThursday with Anita Dube
Born to doctor parents in Lucknow, Anita Dube became an artist by accident. It took her 10 years to establish herself as an artist more than a writer. Conceptually rich and politically charged works— her artistic practice reflects a lot on her daily concerns, thoughts and surroundings. She hates boundaries. She hates confinement. And her main ideologies lie in taking art to the common man; she wants to make art more accessible, more interactive and more communicative.
This year will see her as the fourth Curator of India's largest art event, The Kochi Biennale; like her practice she wants to make the biennale a more inclusive affair where she wants the viewers to have a dialogue with art and each other.
I caught up with her to know more about her practice, artistic concerns and her plans for the biennale.
How and when did your romance and fascination with art begin?
I think everything happened by accident. I came from Lucknow to Delhi to study History at LSR [Lady Shri Ram College for Women]. While here I got interested in theatre—not doing theatre but seeing theatre—and I would go for art exhibits, write a little bit of poetry, so the contact with culture began at that stage when I was just out of Lucknow doing my BA. I had the freedom; I was not really interested in the subject I was studying so I started looking at different things and I knew I loved art and liked writing poetry so the two options were either to study comparative literature at Hyderabad Central University or to study Art History at MS University Baroda or Shantiniketan. I applied, I loved the atmosphere and that's how it all began.
You said in one of your interviews that you could never imagine that you would make art one day—when did you realise you could make art?
It is only when I actually came in physical contact with material that I realised I could make art. I started to mould a little bit of clay, I made a monkey figure in cement. When I started to do those things I knew there was something there that was more real for me rather than being a researcher and writing text. Research did not come naturally to me; I had to struggle much more with that than with actually making things. It was hard; it took me almost ten years to kind of establish myself as somebody who people would take seriously. Before that, even though I'd had two solo shows, I was always introduced as a writer. So it took a long while for people to shift attention and to think that I was making work that they would be interested in.
Can you tell me a little about what informs your practice and how much of your own reality is present in your art?
Art is everything around you—your experiences, your surroundings. My art is my world. I am concerned about what goes on around me and I address these things through my art. My art is personal but the personal gets fused with the political—that's on one hand—but the politics is also personal because you are imbedded in it, you are imbedded in the world. Even if you keep your doors closed it still affects you. So there is correlation between the two. Sometimes things effect you and I deal with that through my work.
Every time when I am working with a particular medium, I am fully with it. You cannot do one thing all your life. Earlier on artists used to do that but we are a generation that is so restless and we want to experiment; sometimes I think my whole practice will be a series of experiments. I am happy to be considered as someone who is experimental all of her life. In the near future I would possibly like to explore film, which I have not done so far.
You have just completed your studio— what was the thought behind the making of it?
The studio is probably the only building I am ever going to make, so I told Anagram, as they were the architects on the job, that I wanted a very open space that is not a private studio. I wanted possibilities within the structure, which if you want can become private but is mostly a community space. I wanted a place where I could invite artists and friends of mine to stay and make work together. So the whole thought was to create something that makes you live a happier and fuller life.
"Art is everything around you—your experiences, your surroundings. My art is my world. I am concerned about what goes on around me and I address these things through my art."
What are your Artistic concerns?
I like to live in the time I am living in, which means I am surrounded by various things that are happening around me—how history effects me, if I am angry I need to express that, I need to express sensuality. I need to express anger against whatever is happening. I need to do these things and it's almost like I do them because I need to get them out of my system. It's cathartic, therapeutic in that sense, and then it becomes something you speak to other people about. For me catharsis is not just my emotional life; my emotional life is tied up with the world around me. Everything affects me quite madly.
As an artist the first person you are really responsible towards is yourself. Artists most often speak to themselves first. I am interested in the voice of the public intellectual also. Whether or not I get there is another matter; I always appreciate it when other artists speak in that voice where you are really concerned about everything and where you transform your personal thoughts into something larger.
You are the Curator for the fourth edition of The Kochi Biennale. You took a day to give your answer on whether or not you would sit on the curator's seat— what were your thoughts through that day?
The magnitude of it, was I ready to do it? And then there was the excitement of being able to work on such a big platform. If you have ideas this is a great place to execute them, where do you get a chance like that?
It was a seesaw between the magnitude and whether I would be able to handle it and then the excitement of such a great opportunity and possibility of being able to do something on that scale which, possibly, I would have never been able to do. The foundation and the boys have set up a platform, and on my own I know I would have never been able to do that. Kochi has a very nice atmosphere where you don't feel any tension between communities, you feel very welcome as they are very accepting of difference and this acceptance of difference makes you comfortable.
You have viewed the biennale as an artist before and now you are viewing it as a curator—how different is the experience and where would you like to take the fourth edition of the biennale?
I was exhibiting at the first biennale and went as a visitor to the second and third. What's exciting is that you can envision all the works by other artists that you have been seeing over the years through your travels and at home in these spaces. It's a fabric and you have to weave that fabric, so you already begin to see how you will weave it.
"It was a seesaw between the magnitude and whether I would be able to handle the biennale and then the excitement of such a great opportunity and possibility of being able to do something on that scale which, possibly, I would have never been able to do."
What is your curatorial process for the biennale?
It would be great if I can get people from not just being consumers of culture, to kind of inspire them to become producers of culture. It's an ambitious agenda I have at the back of my mind—how to take people away from being consumers to being more creative, so that means they become participants in culture within themselves. It's a tough task and it's this that I am juggling with in my curatorial process.
The umbrella theme is possibilities for a non-alienated life; I want to explore what the possibilities are. We are getting too wrapped up in ourselves; there is too much narcissism. I am horrified and my curation should be able to read that disease and find an antidote as a thinker as well, as that's also the way I make art.
My edition will be connected to the way I work as an artist. Where are we going? We are alienated and only speaking to each other through our phones and laptops. Over-dependence on anything is bad. We need to use it but use it to connect people face to face, and that's what I want to do in Kochi as well. And I really believe that we need to do that to become better people.
There will be all kind of visual arts mediums of course. A lot of filmic component, video, photography, performance, multi-media. It's an open forum but I will lean towards middle-aged artists and women.
Lastly, as an artist, how do you think the experience of curating will affect your own work?
What's interesting is that when you meet so many artists and observe their different practices, sometimes you are inspired and are in wonder. I am sure some of that will illumine my way of thinking but you know how it is, you need to take it all in, chew it and make it your own for it to really affect your practice.
I work in the present but after Kochi, I want to occupy my studio and do work there which is the next agenda.
TEXT Shruti Kapur Malhotra