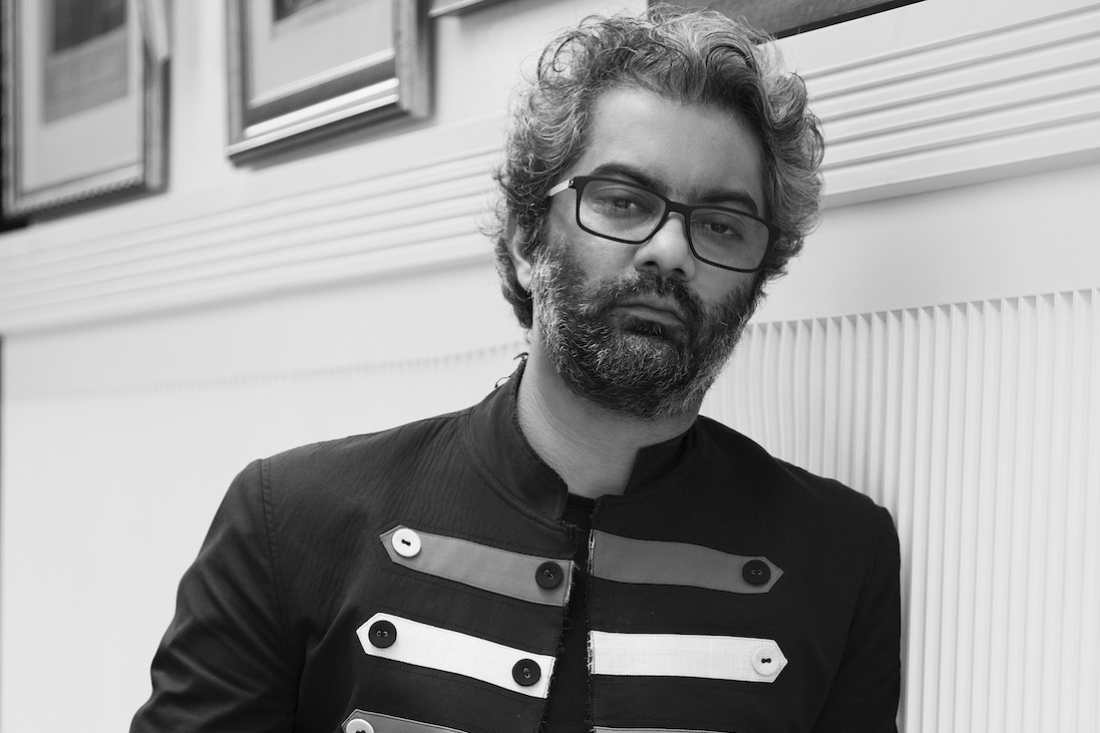 Dimensions, Discipline and Design
Akshat Bhatt, Architecture Discipline
Mapping blueprints for his powerful design narrative, architect Akshat Bhatt of Architecture Discipline strums his love for guitars into the discipline of architecture, as he voyages into creating larger than life pieces for the global landscape. Planting seeds of sustainability into modern building, Bhatt breaks the shackles around multi-disciplinary design studios. We talk to him about his practice.

Tell us about your firm, and the making of the logo in the visual of a bar code.
Architecture Discipline is fundamentally an architecture studio that covers design spectrums across architecture, urban design, city regeneration projects, product design, installation art and public art. Our primary objective is to create things in the public domain that have an intellectual impact in the minds of the people, in a positive manner.

The logo is actually very simple. The name of a studio is meant to contain all that is essential to describe it. In this case the Bar code; once you scan it, it not only provides details of the name of the firm, but also where the firm is located, the website of the firm, and more. It became a logo because it was instantly identifiable at the time it was done; a thought that pondered my mind one evening back in the year 2007. At that stage, it was binary- when you stretch a bar code, it looks somewhat like a skyline. And so, Architecture Discipline kept that bar code as its logo for plenty a reason, but fundamentally because if we were a studio that was to be ordered, the bar code was meant to mean that.
What design philosophy does the studio follow?
Architecture is about people, process and place, and how that comes together in terms of time-space, and/or time-region. For good hygiene, as an architect, you want to be able to construct narratives for sustainable development. And by sustainable development, we don't just look at saving energy, but also space, and giving land a direction for future transformation of any kind. Our construction and detailing ideas are firmly rooted in British high tech, which is to have relaxed details- to minimise material consumption, have extremely efficient structures and spaces, but also have them be expressive. It is the poetics of minimalism married to the poetics of tactile detailing.
Do you believe there's been a shift in architecture in terms of projects being given to design studios over architectural corporates?
Yes, and No. There is an increase in the visibility that you see in terms of the a plethora of publications, who are willing to talk about what is out there. But upon critical inspection, you'll find that large township projects, institutional developments or commercial building developments, are still going to the large or foreign firms, more so than they earlier were. In todays day, a client is spoilt for choice. The cost of hiring an architect is a small fraction of the project cost. And once a client is mature enough to realise that, they'll be reeling in the best. Having said that, even the bigger housing projects go to the corporates.

Small studios have their work cut out from the very beginning. And while they do lend a more personal, tactile and detailed approach, the fact is that large studios are becoming more and more competent and conversant in handling that. The difference of course, is that often a small studio will not let go of certain things in a project because it is an essential project to them. A large studio on the other hand, unless and until they are really bought into the project, may give into a strong clients demand.
As the principle architect of Architecture Discipline, what style of architecture are majority of your projects inspired by?
There is a lot of learning from traditional structures, spaces, forms, and even the use of material in response to a particular city, climate or zone. Modern day building programmes require a very different approach. We look at the culture and the people of a space, and learn from it, for a continued expression of the region. But we work with the intensity and efficiency of a large studio. That is they key difference in how architecture discipline works- it is an outfit.
At some level it does work at the regional level of understanding and deriving influences, but in terms of delivery, I believe it has to be at par with an international large practice. So our understanding and ethos is tactile detailing of physics, and performance is firmly rooted in British high tech traditions. But the expressions and traditions are derived and borrowed from the regional composition of a space.
Given multi-disciplinaries use lighting, furniture, designs and more to configure a space, do you at some level think they're competing with conglomerates like IKEA?
There is a large part of what used to happen (such as the design of a small apartment) that would go to a young practice. That does not happen in todays day, to a stylistic person who is aware of what they do. There is now a structured system available. While earlier you would be condemned to visit a local market or shops to put something together, today you can go to brands like IKEA to configure an entire space for you. That element of design commissions have definitely been impacted, or would be impacted by such companies.
Collaborations between such brands and studios are already happening, maybe not at the giant level, but with small, regional shops. Architecture Discipline itself has collaborated with furniture, lighting, fabric shops, and more, to give their fullest to each project they endow.
In terms of the copy culture wrapping a thick blanket around architecture, what element of design do you see being borrowed the most?
At many levels, architecture is a practical profession. True poetics in its engineering are about making it rise beyond the mundane- it is larger than the sum of its parts. It is a form of cultural expression. Its an anthropological science more than anything else. In keeping with that, the individual capacities to express the people and their societies is becoming an emulation of traditionalism. Interior styling, and the selection of furniture and artefacts is the most copied element of design.
What are Architecture Discipline's upcoming projects?
We're working on an old city regeneration project in Jodhpur, a large social housing project near Delhi, and a series of hotels set to be the largest luxury hotels in India. So while these projects run parallel (on one hand theres regeneration, and on the other on of India's largest projects), each project has to be addressed with the same amount of attention, care and intensity. Be it a small doorknob, or re-thinking the plan of a city, they happen at different stages of your personal and professional evolution and hold a special place in your head and your heart.

Text Deviyani Gupta