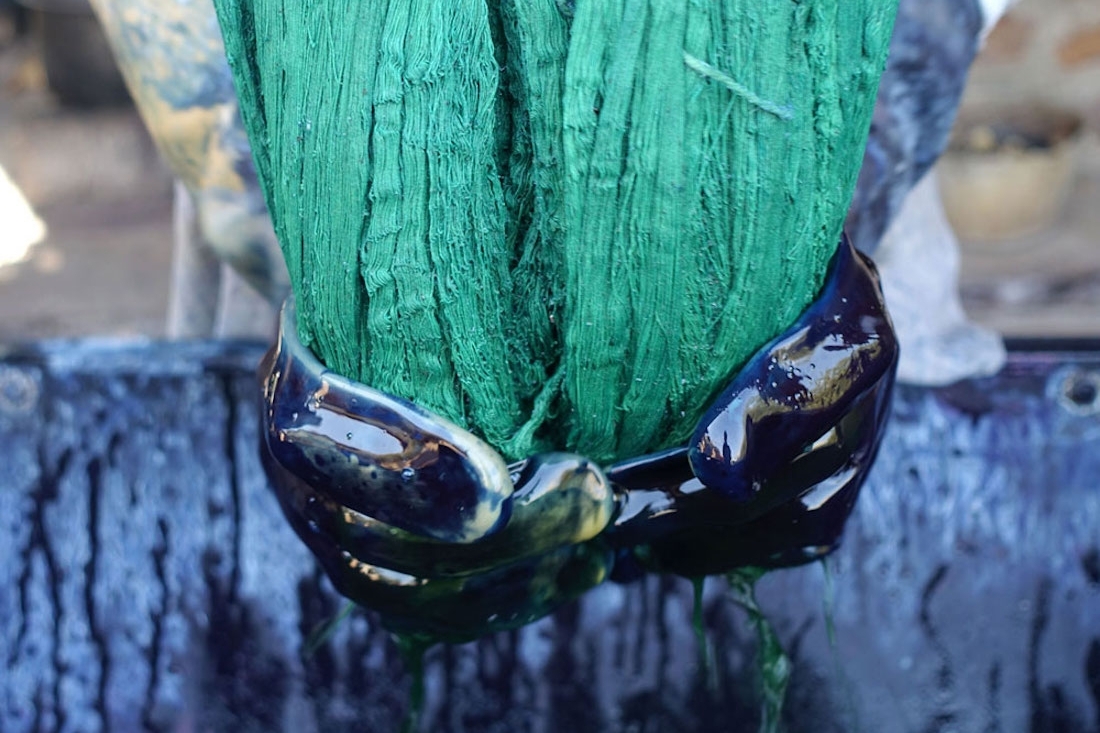 From Glasgow to Chennai: Studio Tolsta
The clash between tradition and modernity is not a new one. There is always this urgent need to keep pursuing the 'new', often leaving behind the more 'outdated' techniques. As the world moves on relentlessly towards artificial intelligence, discarding traditional skills and practices, Catriona Maciver's Studio Tolsta, a homeware and travel goods label, has found the perfect balance between the two dichotomies. Her products are modern in their minimalism, yet have been constructed using traditional textiles that uphold utmost comfort, due to their simple forms.
Catriona was always the 'artsy' kid growing up in her hometown, Glasgow. She had a habit of cutting up and making things, which led her to study Graphic Design at Central Saint Martins in London. Talking about her experience at university, she adds, 'The course also had quite a wide interpretation of design and allowed me to explore photography, typography, art direction, web design, illustration, letterpress and screen printing. At that point I wasn't quite sure what my thing was, and the biggest challenge I've had as a designer is to consolidate these varied interests in my practice, without watering them down.'
L: The Harris Tweed Bag; R: The Piri Cushion
Catriona has always been obsessive about specific objects, a rather peculiar habit of hers, which eventually led her to foray into product design. The warmth and reassurance of a favorite blanket or a cup provides, defines her approach towards design. She elaborates, 'I think well designed and carefully formed objects have the ability to make life more enjoyable. Especially as a part of small everyday rituals, the experience of having that first cup of coffee in the morning is enhanced when it's from a favourite cup, with a familiar texture and shape. I think my approach towards design has been about trying to recreate these attachments into simple forms and comforting textures. I'm attracted to a minimalist aesthetic and the harmony that comes from experiencing objects that are balanced and well considered.'
From Scotland, to finally setting shop in Chennai, Catriona has had a few stops along the way. She was initially working as a graphic designer and after her stint in Delhi, she eventually moved back to her ancestral village in the Outer Hebrides of Scotland and started experimenting with form and texture, playing around with ceramics, textiles and bags. The name Tolsta emerged from the name of her village. A chance invitation for a six month residency at Tara Books landed her in Chennai and one thing led to another -- she met her husband and decided to settle down.
L: The potmat; R: The Konam Quilt
Catriona's inspiration comes from everywhere. Back on the Isle of Lewis, her muse was the natural environment -- the plethora of textures and colours found on heather, or the moss on rocks, rusted gates and barns and patterns left behind on the sand when the tide receded. She further explains, 'While working with Tara, I had the opportunity to engage and interact with a range of different artists and traditional artforms in India. It then led to further explorations of various craft practices. I feel incredibly lucky to be able to spend time in the environments of two such different and special places, and I guess my work has involved comparing, contrasting and juxtaposing them in various ways.'
Placing emphasis on the process of creation is equally important. In the age of fast fashion, when the workers are completely dehumanised and treated like commodities, Studio Tolsta has a completely different approach. Catriona doesn't believe in alienating the worker from the products they're producing, she rather helps build a constructive dialogue between the artisan and the designer, between the varied materials and techniques. She has a small workshop and unit in Chennai via which they further collaborate with artisans and NGOs across Kutch and West Bengal.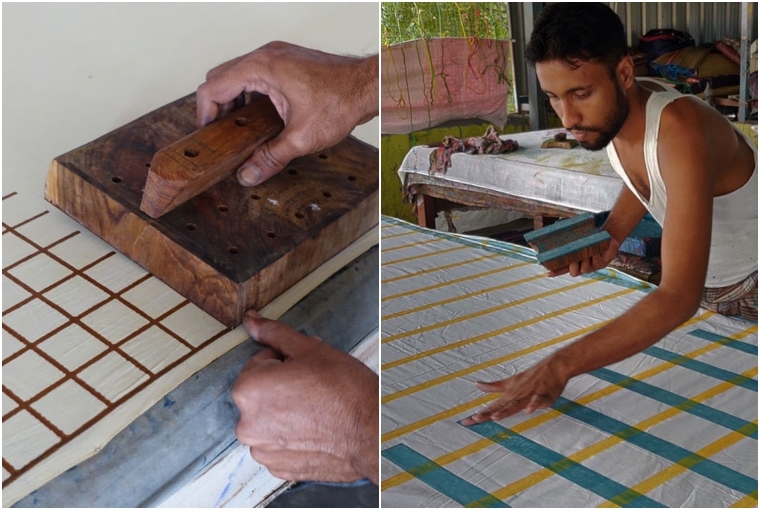 Block printing in Chennai and Kutch
They work with suppliers, weavers and block printers, all based in South India, in order to maintain their quality. She adds, 'Working through and evolving production processes has made it clearer to me that the studio should not just be about finding people who can realise my vision as a designer. We rely heavily on input from our tailors on how best to construct something, and are always curious to know their personal preference for a colour, pattern or placement. Vinodha, our first full-time tailor, is instrumental in coming up with better ways of doing things. She often sees things in a different way than me. It's refreshing to have another perspective and to be able to push each other forward, as we work together in creating something.'
The pandemic has affected some more than the others. Supply chains have been disrupted and industries world over are being forced to rethink their practices. As the world is struggling, Catriona understands the fact that promoting cushion covers and bags seems like a futile practice, but her larger understanding of the situation is to support and celebrate the craftspeople and their skills. The production is at a standstill, but despite being a smaller organisation, their orders and events have been delayed rather than being cancelled.
The situation has also pushed certain fundamental truths out in the open, she explains, 'All productive activity being brought to a grinding halt has further highlighted the stark contrasts that exist between rich and poor. Migrant workers, daily wage earners, craftspeople have been the most severely affected. Now seems like the right time to revisit the Gandhian notion of supporting local small industries and strengthening craft traditions. Now would be a great time to start rebuilding structures and industries that value people and their environments, over relentless growth and maximizing profits.' The ugly truth that is finally seeing the light of the day -- nothing is cheap, someone is paying for it somehow and it's usually a social or environmental cost, hidden from view. It's important now that we question our practices which benefit the producers, not just the consumers.
Text
Unnati Saini