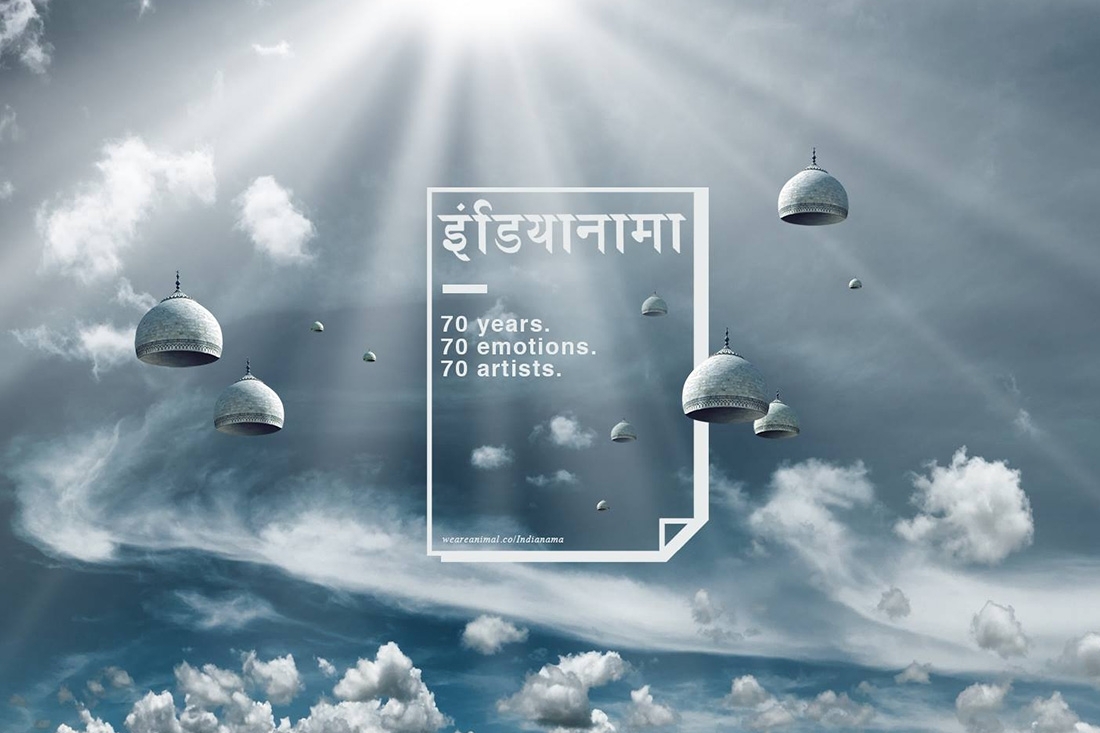 As the clock struck midnight and India turned 70, a certain museum tucked away in Jor Bagh came alive with trippy, dramatic GIFs and artworks. Indianama, a project driven by Animal, set forth for a second time, to look back and reimagine the stories and events that led to the India that we live in today. Last year, Animal brought together 69 artists and they illustrated one significant moment from each of the 69 years of independence. This year saw them shifting the lens as they focused outward, testing the waters with a novel approach. 70 artists came on board to conjure up their own version of what India means to them, creating travel and tourism posters that move. In doing so, Indianama moves beyond a mere art and graphic design exhibition, to being a socio-cultural experiment, breathing life into the identity of a country that was long left to rust.

Kunel Gaur, Co-founder of Animal lets us in on what went into shaping Indianama 2017.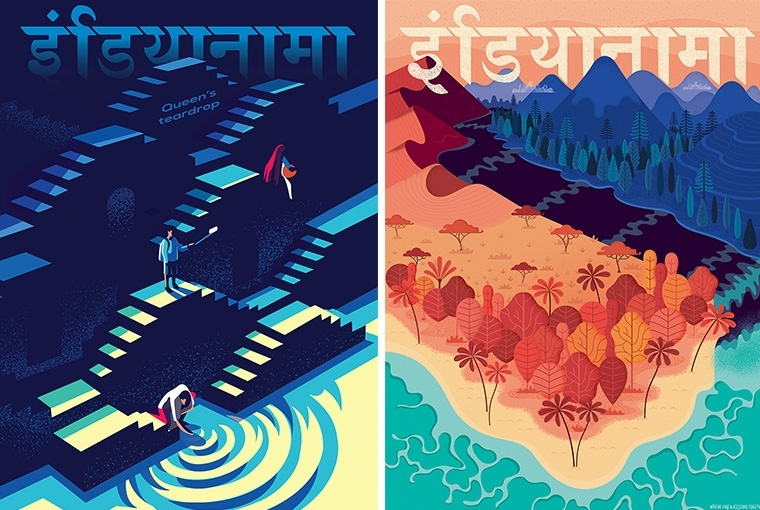 [L] Artwork by Ranganath Krishnamani; [R] Artwork by Debarpan Das
To start at the very beginning, what sparked the idea of Indianama?
We have been curating a lot of design and art related projects, but a lot of it was global, or brand oriented work. Last year when Independence Day was about a month away, a germ of an idea over coffee transformed into a discussion amongst the team about curating a contemporary experience around the history of India simply because of the lack of it, and Indianama was born. We had less time, but unending enthusiasm to just let the idea go. So we asked a couple of close friends who loved the idea and picked the years between 1947 to 2016 they most related to. The next day we opened it out to everyone.

From its first edition last year to today, how has the project grown?
It's grown exponentially because firstly, this time we knew what to do. Last year was more of a great idea we wanted to try out, but this year there was a purpose to it. We broadened our spectrum of artists by using the medium of motion posters. So, we have creative minds from across the spectrum participating and collaborating with each other this year.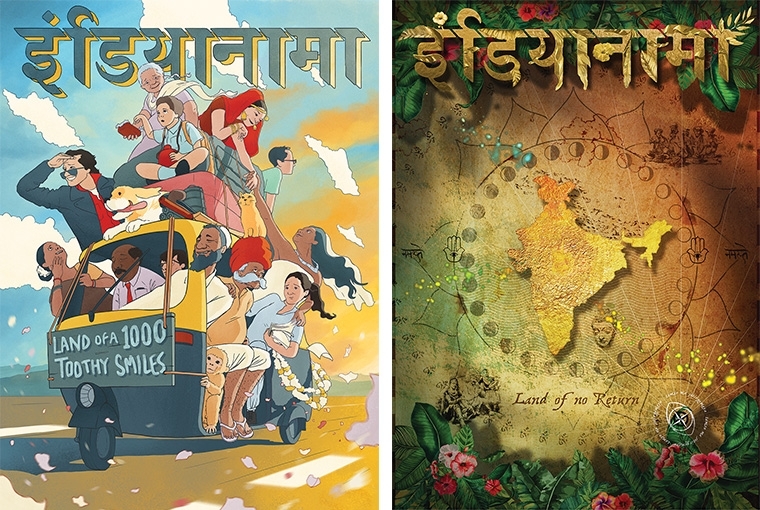 [L] Artwork by Vibhav Singh; [R] Artwork by Sreshth Vardhan Gautam
Tell us a little more about Indianama 2017. What sets it apart?
While last year focused on documenting Indian history one year at a time, Indianama 2017 focuses outward, portraying India as a tourist destination by highlighting the various aspects of India in the most beautiful way. But we wanted to take it up a notchj, creating 70 tourism posters that also move. So this year we had motion designers, illustrators, film-makers and artist duos creating animated artworks that loop. We wall projected all artworks making it an immersive experience at Kona.

Can you give us a blurb on the artists on board this year and the themes that the collective will explore in its latest edition?
The themes vary from The Forest People to Artful Romance, and from the Land of No Return to the Land of Love Making! We've tried to cover each little unique aspect of India that could be translated visually, of course.

[L] Artwork by Shivam Thapliyal; [R] Artwork by Naveed Hussain
How do you see the project grow? Where do you want to take it in the future?
Going forward Indianama will not be an event that takes place once every year around the Independence Day. After all that we have seen and discussed over the possibilities, I feel there's a larger scope and task at hand. And so we're converting it into an entity that will curate and create experiences and exercises related to design in India. Good design is not just for media, advertising and corporate branding it's for everyone. We're going to be talking about this a lot more soon. Watch this space for more.

There has been much talk about the responsibility of design and art to push our collective sensibilities forward. But when it comes to the India of tomorrow, what according to you is the biggest role that young designers have to play?
Those roles have to begin at the grass root level. They have to be built around not looking for a job but creating a career out of making something awesome come alive. But first and foremost, the government should consider design as something to pursue rather seriously. Design isn't just print and moving picture, it's the whole experience of a place, or a city. It's been 70 years now and I feel we could do away with old sensibilities in design and approach it with a fresh perspective.

[L] Artwork by Rishidev R; [R] Artwork by Broti Bhattacharya and Dhruvi Tolia
What's lies ahead for Animal?
We are moving towards a more experiential treatment of design. We are now more driven to create products, and not just projects. We have always had a new-first approach, and that automatically translates to a digital-first approach. It's obvious that the world is shifting in that direction, and we have barely scratched the surface of digital's potential. We are also looking at expanding our studios nationally, and internationally - so that's definitely exciting!

Indianama 2017 moves to the London Design Festival from 6th to 24th September, and then to New York. There is talk of a coffee table book with all 70 glorious artworks in print. Watch this space for more.

Find Animal's work here.


Text Ritupriya Basu