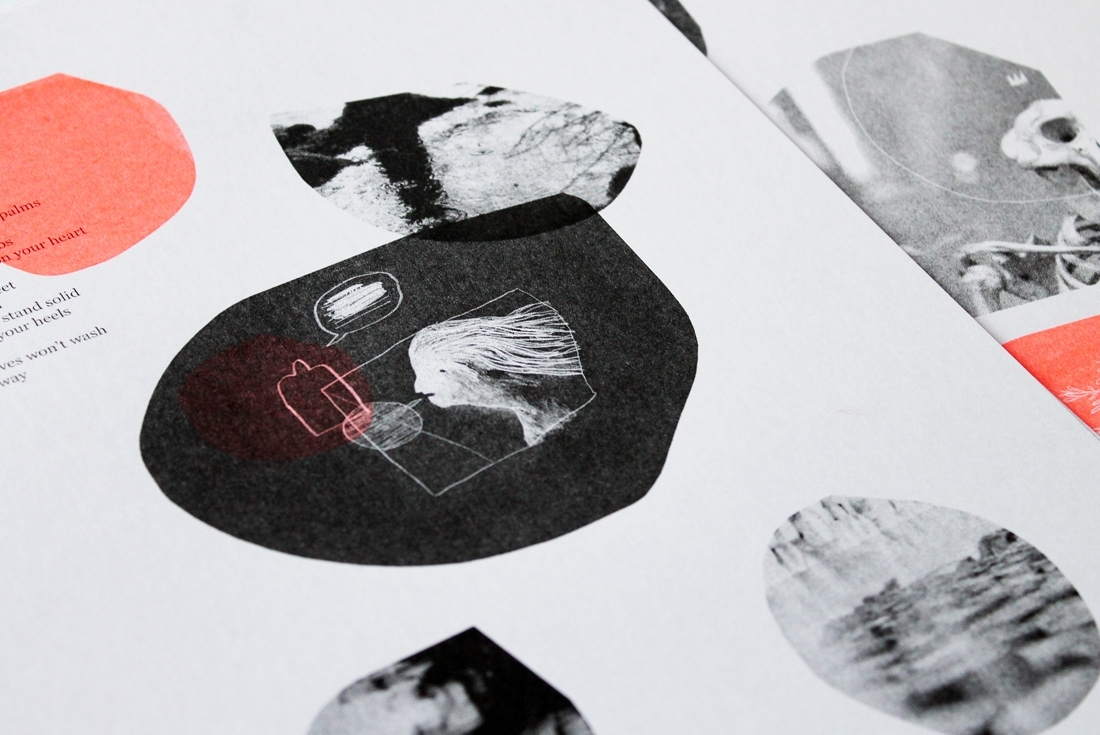 Peony Gent is a storyteller with an idiosyncratic illustrative style that likens her work to quiet, unassuming graphic poetry. Punctuated with sketchy line-work, her lyrical illustrations reflect her ability to stay well away from overt minimalism, and yet not lose the simplicity that - like a common thread – strings her work together. At the core of her practice lies her driving force – emotions. How do you visualize a feeling, or a passing thought? For Peony the real challenge lies in translating the intangible into a beautifully layered, emotive piece. Her comics hint at a maturity far beyond her years, as she dexterously balances a considered use of colour and composition. Flavoured with a line or two of her musings, Peony's illustrations are the kind you don't just shuffle through, but stop, read, and carefully tuck into a corner to come back to anytime.

I connect with her across time zones, and together we dig deep into her craft and the things that drive her.

During your years growing up how did your relationship with art take shape?
Drawing is something I've always done and always appreciated - it's something of a safe haven for me, where you can stop overthinking and just concentrate on the drawing you have in front of you. It's not something I ever considered trying to make a career out of until quite late in my life, and going to university to study illustration was something of a last minute decision in the end. One I'm very glad I've taken though, as whilst not everyone finds academically studying art to be of much use, for me it was really important in terms of how I approached illustration and how I approached the act of drawing.

Was there a certain moment when you realized you had found your illustrative style?
Finding my illustrative style was a long, slow process that I honestly wasn't too aware of at the time, but looking back you can see the progression quite clearly. I guess a lot of my style comes from what I've always appreciated most in other peoples' art, which is a capturing of emotion and sense of place, rather than a realistic depiction of it. Therefore my art style started to get very expressive and faster and faster in the way I worked - I often will draw the same thing again and again until I'm satisfied I've captured what I wanted from that scene.

I also do remember a time during a project at university during my second or third year where I truly realised I'd found something of a true 'style' I really felt was mine, and not just an imitation of someone else's. It was the first project I'd done where I just properly made what I wanted to, and had created this experimental narrative primarily for me as opposed to the tutors. And that commitment and passion in that work was so much more visible than in anything else I'd done up until then.

That said my illustration style is still transforming and shifting all the time, and probably will change a lot more in years to come. Often this will simply be to what materials I've got available to me at the time (for example now I've left university my work is almost entirely pencil and digital, whereas I used to work a lot more with printmaking and paints), but also a certain degree of change to keep your style fresh is quite important too in my mind.

Where does inspiration come from?
I do a lot of observation work and definitely take a lot of inspiration from that - I'm very interested in trying to represent the world around me in a stylistic way that captures the way a place really feels like, rather than just the way it looks. The automatic quick process of observational work is also very freeing, and tends to be the place I experiment with my illustration style the most.

I also read a lot from the work of other narrative illustrators and writers - currently I've been looking a lot at the work of Adrian Tomine and Ali Smith, both people who are very good at evoking a sense of emotion and sense of place in non-traditional narrative ways.

You work across editorial illustrations, comics, identity design and zine-making. What is the most challenging and the most rewarding aspect of juggling these different mediums?
Each have their own different challenges to be honest, but the one I personally find the hardest yet most rewarding is definitely doing sequential narratives in my comics and zines. Whilst it can get very frustrating for me when I'm not quite able to convey on paper the ideas I've got in my head, when I manage to get it right it's incredibly satisfying. They're also the pieces of work I feel have the most of 'me' in them - the writing in all of my narratives are all mine, and often autobiographical. The positive responses I've received from these more personal works therefore end up really meaning a lot to me, and very much spur me on to make more when they connect to someone else in that way.

However that said it is very important to me to keep those areas all in balance, as much as I love narrative illustration I don't think it would be that good for me for it to be the only area I work in. Having stricter time limits and more goals to meet in commercial jobs gets me out of my visual comfort zone, and forces me to think more analytically and experimentally sometimes. I also find if I work only on my self-authorial work I can get in a bit of a rut, obsessing over the same details without really moving anywhere because I don't have that incentive of a deadline to make me just get the work done.

A large chunk of your work deals with editorial illustration. What about this medium intrigues you the most?
Despite talking earlier about my love of working on narratives and visual poetry I do find editorial work a very enjoyable challenge. Having to find a visual representation or a clever twist for an idea or chunk of text I've not picked myself is completely different to the freedom of self-authorial work, and a nice balance to the complete freedom that kind of work gives. The restrictions in editorials can end up making some lovely pieces of work just because of those limitations forcing you to work in a way you otherwise never would.

As an illustrator, what kind of themes do you find yourself gravitating towards?
Emotional honesty is something I'm constantly searching for in my work - I value art of any kind that communicates some kind of feeling in any true sense of the word. I also am very interested in the visual representation of memories, and how ephemeral and subjective they can be. Because these are both such difficult things to pin down visually I find myself returning to them again and again, never quite getting what I want down on the page, but hopefully getting a little closer each time.

Personal connection is also very important to me, what I most value in others work is the sense I'm getting an insight into the individual world of that person, and so it's also what I'd like to communicate with my own art.

Tell me a little about your latest poetry zine, There is Pleasure in the Pathless Woods. How did it come about?
There is Pleasure in the Pathless Woods is an attempt by me to capture a sense of my sketchbooks in an accessible format - it's a collection of poetry, drawings, and observational sketches all collated together in one place. Interestingly enough one of the printers who risographed the book for me commented he thought it felt like a love letter of sorts when he read it which wasn't my intention at all, but I do like the idea that an open narrative is there for you to read into if you want to see one. I premiered it at ELCAF in London this year and got some lovely responses to it, and it'll be up on my online shop soon.

What are you working on next? Where do you go from here?
The next goal for me illustration wise is definitely a long form comics project - it's been something I've wanted to work on for such a long time, and I've finally come to accept that I'll probably never find that one perfect storyline I've been waiting for, so I'd better just get making something and see what comes of it. In the past two years I've also been getting into ceramics in quite a big way, and I'd absolutely love to get a regular production schedule for that and maybe get into using a pottery wheel instead of hand forming to speed up the process.

Also, I'm actually moving to London this year, leaving Edinburgh which is where I've been for the past five years. i found myself at that point in my life where I needed a change, so I'm going to study at the Royal College of Art, which should be a really good chance for me to experiment and push my illustration even further.

Take a look at Peony's work here.


Text Ritupriya Basu