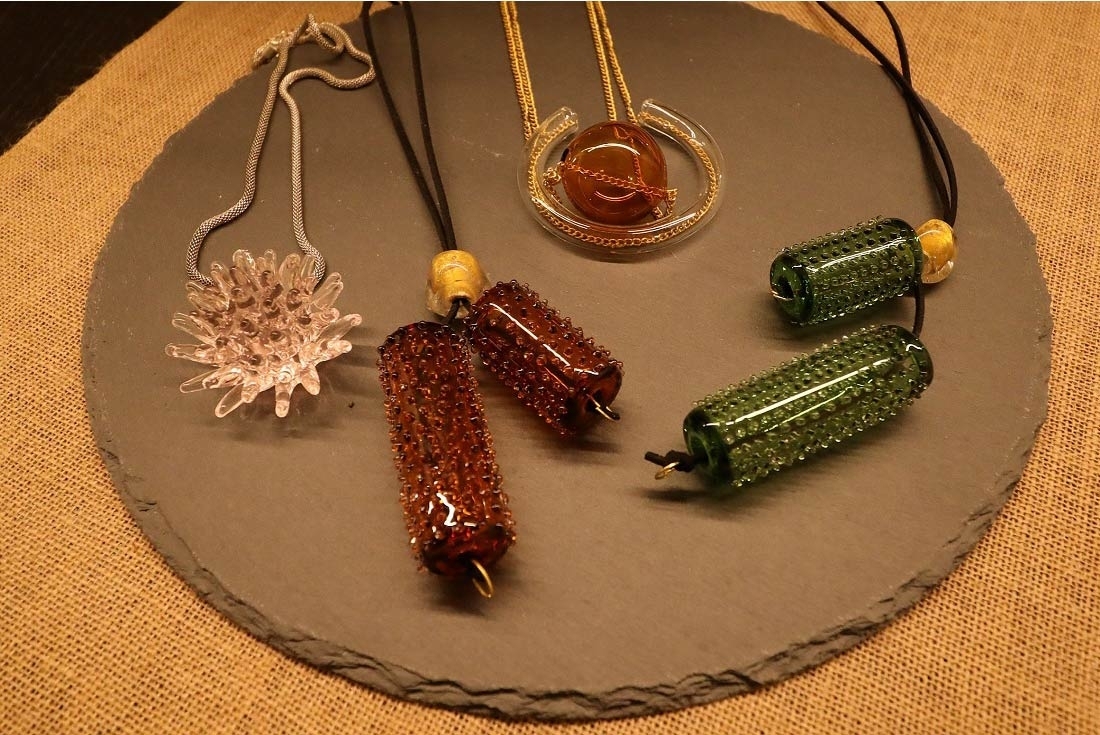 The very eloquent Reshmi Dey is a force to be reckoned with. A glass designer by profession, she could very well be a motivational speaker. Her years of experience traversing through a fairly male dominated industry all by her herself lends her authenticity that is hard to find. We got in touch with the entrepreneur and talked about her journey, the new jewellery collection and much more. Here's what she had to say...
What was your childhood like?
I grew up in Assam and Kolkata. Assam is my place of birth whereas Kolkata is where I spent a considerable part of my childhood before going back to Assam since my father was in the railways. We moved around to all sorts of weird places because of his postings. I completed my education in Assam all the way until graduation. I studied Economics and Mathematics in college. After graduation I was expected to prepare for UPSC exams or an MBA. I chose to pursue an MBA. I used to watch television and in all the international shows women would be dressed so smartly, wearing high heels and pencil skirts. I was attracted to that. I wanted to enter the corporate world without having a clue of what it would be like. I came to Delhi to apply for an MBA itself.
Glassblowing is slightly eccentric for a profession. With aspirations for an MBA where did the glass come in from? What is your first memory of engagement with glass?
Glass happened for me in the blink of an eye. It happened just like that. For a while I was lost, I didn't go for the MBA. I was working in travel trade to sustain myself. But I knew this was a mere pit stop in between and not what I wanted to do for the rest of my life. I felt there was always a leader in me and I'm also very passionate about travelling. I was juggling between ideas, if should apply for a job as an air hostess or if I should try my hand at creative writing. Good writing for me is storytelling, there are people out there who will fix your grammar and other things. I also wanted to apply at IIMC. I was enamoured by advertising and PR. Being with people and telling them my own story seemed very exciting at the time. I was very confused for two-three years trying to figure my life out. When I sat down to make a decision everything ended up being blank. I suffered from a completely blank state of mind for another year or so. Then one day I saw a teal green, single stem flower vase. It looked like when you chop a bamboo on one side and the round bottom. I had never seen coloured glass like that before. The moment the light came onto it and the process of refraction occurred is something I remember so vividly. It was a magical moment for me. One afternoon in the beginning of 1999, I found my calling but without really being able to understand what it was.
I read you went to Firozabad earlier in life. Talk me through that experience and how it shaped your perspective.
I decided to travel to Firozabad to find out what glass and it's production was all about. I decided to take a train. I didn't have a car, it was either a bus or a train. Since my father was a railway officer I was used to travelling first class. Here for this journey there wasn't even reservation available. As soon as I got off the train I was taken aback by the surroundings, I wanted to get on the next train to Delhi. It was a very chaotic scene that played before my eyes. When I started visiting the factories I wasn't received very warmly. It was a challenge but a creative calling was there and I refused to give up. I see my work as functional art, art is the story we narrate. Design is the element through which we connect our craft and the narrative together.
When you visit Firozabad now do you think you have that respect that was lacking in the first visit?
This is also something that I tell people. Once I got back from England post my education things started changing for the better. If someone ever told me this can't happen, I would tell them how it's done. Thereafter I spent my time teaching the people out there. Whenever I'm engaged in any project I have a very hands on approach when it comes to technique. Whenever I go to Firozabad I have a process in mind. Although the infrastructure is still very poor and they want to get everything done very quickly but I sit at the factories and talk through the entire process with the craftsperson there. My knowledge in the field helped build respect for me in the eyes of the workers. I usually walk in factories and nobody stops me from entering. I have over the years become a part of their family.
You travelled through different countries and gained some experience in the field. Did you make a conscious effort to incorporate those practices in your work here?
That is something what I'm trying to do. When it comes to glass in India the industry is very commercial and industrial. It's never considered to be a part of art or design. In India the standard includes getting everything done through machinery. The workers don't learn this way, it's merely business. There are people out there who don't understand the g of glass and have made a business out of it for themselves. But for me it is about understanding the material and how it works with design. That has helped me stand differently. I do this hand texture on glass that enhances its quality which isn't done anywhere. So the knowledge and exposure that I possess helps me. I help out the workers in Firozabad as often I can, they always reach out whenever they don't understand a particular technique or style. Whenever I travel to different places, I sit with the artist and the glassmaker, my interest lies in learning and not in trading.
What inspired you to start Gappei?
We have been working on this collection since February and it took nine months for us to put it across. During ID we were working with textile and glass together. One of those days a team mate of mine who's now pursuing her Master's degree asked if we could work on some jewellery. We also have Vishnu who keeps working on something or the other. During the process if we see something that has taken a beautiful turn, it becomes a piece. As creative people we keep curating, so all the thoughts, emotions came together to form our collection. The initial few pieces were based very specifically on the North Eastern regions of our country. I decided to do a simple, crafted collection, something from my in-house artistic team. Something the craftspersons can call their own as well. We're constantly working on the pieces as well. In March we added more to the collection. Almost every day we were coming up with new pieces. The collection is an amalgamation of our thoughts, ideas, emotions, the fun we were having in the studio together. We wanted to put this across as it is. We researched what amalgamation is in different languages. When I bumped into Gappei in Japanese, I loved it and that was that. The collection also points towards the fragility and the strength of glass. As a woman I have a dialogue with glass when it's fairly malleable. I can connect with it and I'm sure other women can also connect. We are fragile but we are also strong. As a woman I feel we multitask. We can get moulded like glass. With love and warmth we give up so much in life. As women I think we're not easily breakable. We also tend to endure a lot of pain.
Do you think glass jewellery will make it big in fashion? Where do you think acceptability lies?
Yes, I think glass jewellery can go big. The thought process also needs to change around it that if it breaks we might get hurt. We can get hurt by metallic jewellery also. How one approaches jewellery is the designer's or the brand's call. Creating a new market is always challenging. Metallic jewellery has also been a part of our tradition. Time is changing, the acceptance of people and global markets are also going through a shift. People are travelling, being exposed to newer things and are bringing back this acceptance. I'm not saying it has a mass market but it has potential, especially with the pieces that we are doing. We're considering women from 15 years of age to about 60-65. Women across all age groups are moving ahead. They want to express themselves with their clothes and jewellery. We want to define ourselves the way we want. From that point of view, it is a fantastic time for glass jewellery to be in the market. Glass also incites curiosity in consumers. While it might take some time to be fully accepted, it eventually will make it big. This collection is also for independent women who know who they are. They know they can be different and have the edge for it.
Finally, what's next for you and Glass Sutra in the new year?
We are hoping for various different collaborations. We might be collaborating with two Czech companies. The Czech embassy is also planning to do something in the studio with us. We have a few exhibitions lined up. Since we consider ourselves to be trend setters, we're hoping to create certain statement pieces with textiles as well. We hope to work around more artistic pieces in the coming year. We want to create pieces for art shows and galleries. I want for people to look at glass and think of it as craft, design but more importantly look at it as a work of art. Other than that more travel is also on the cards for me.
Text Unnati Saini