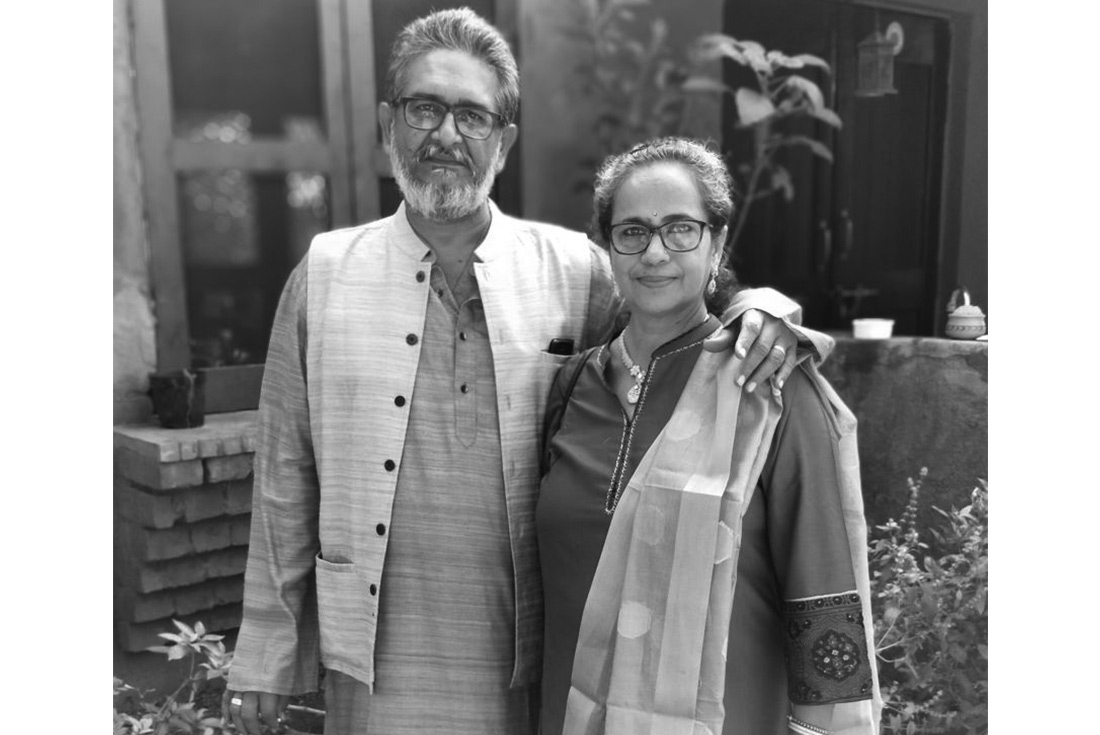 The two who built Timbaktu
Bablu & Mary
While most of us were caught up with the race, changemakers Bablu and Mary made a place with farms, forests, animals, man, schools, latest technology and the simple, good life all rolled into one. An example in a minimal, sustainable manmade habitat that spans 32 acres and embraces 21,000 families in the Anantapur district of Andhra Pradesh, this off-the-grid ecosystem is what the country has been craving for. I go over the journey of building a community that shines as a beacon of hope through our modern-day holocaust.

What defines you and connects your thoughts?
For quite a few years, I have been trying to understand and define what is a good life and how we can live equitably and share our resources with all the denizens of this beautiful planet. I would consider myself as a humanist, but at the same time, a naturalist. I am also a dissenter. To me what connects my thoughts is definitely dissent.

What informs and inspires your practice, the Timbaktu Collective?
I believe that people must come together to live a good life. All that I have tried to do is build an organisation that is non-hierarchical, build peoples organisations that are democratic, and can sustain over a period of time. All my work has been on issues of sustainability. How does one sustain oneself? How does an organisation sustain itself? Sustainability is the common theme when considering the houses that we have built, the organisations we have nurtured or the agriculture we practice. How can we live our personal lives without using the main grid electricity? So, whether it is energy use, land use, natural resource use—all of it has been designed and implemented keeping sustainability in mind. The core of a good life is the idea of sustainability.

We started Timbaktu after we finished a Permaculture Design Course [PDC]. The whole idea was to try and zone the place. We also wanted to bring in all the aspects of how communities live together. So, we built spaces for ourselves, then for others, and then for a small school. We had to determine where and which should be the public and private spaces, which should be the forested places, which should be the agricultural spaces, where should the animals live etc. That is how it slowly started growing.

How has it evolved through the years?
We started off without a blueprint. As we started moving from one project to another, the whole initiative evolved organically. It is not that one had already an idea or a blueprint in mind, and then worked towards it, but rather, worked with what was required at that point in time, and slowly organised oneself to work in that direction.
"The core of a good life is the idea of sustainability."
What are some of the projects that have helped shape you and contributed to your design journey in important ways?
Building and promoting people's Cooperatives and building alternative systems that can challenge mainstream systems of relationships, money, the market, the earth, soil etc.

Timbaktu [agro-forest habitat] was my learning space. When I started working in Timbaktu I started working with the land. In the process, I began to get an insight into nature. I began to understand how this world requires healing. In the first 12 years of my working life, I was working on a rights-based approach and on an agitational politics where I was demanding for rights. When I started working with the land and with nature, I began to understand that I don't demand but rather I create my rights. This world basically needs healing and not divisiveness. It does not require any more violence but requires understanding and cooperation. Timbaktu, the land, taught me that. That was the place where I learnt, experimented, and began to really evolve my craft of working with people—we started creating a community of people, we worked with the land, we tried to live as minimally as possible, living off-the-grid etc.

What is the role that design plays in the development of a country, and how far have we gotten with it?
I believe that central to any country or nation-state is how humans live in relation to the rest of the denizens of the nation. All design, therefore, must be so that we do not exploit but rather, support the growth and evolution of all species, all land, all water, all air.

We don't seem to be going in that direction. Not only us. Modernity is bent on trying to exploit. All of nature is finite. Humans have removed themselves from nature and have been trying their best to colonise and expropriate from nature, not realising that by expropriating from nature they are expropriating from themselves. In the process, they are dehumanising themselves.

"When I started working with the land and with nature, I began to understand that I don't demand but rather I create my rights. This world basically needs healing and not divisiveness."
This is not just the Indian nation-state, but all nation-states that have decided to follow this exploitative path of infinite growth. They are actually moving away from living and creating societies that are harmonious, sustainable, and peaceful.

Sustainability is the central piece to the future of humanity. By sustainability, I don't mean it in the narrow sense. I mean it in the sense that we have to be able to live in peace and harmony with the rest of nature. We must consider ourselves to be a part of nature, rather than something outside of it.

What is the single-biggest challenge you've faced along the way while bringing about a design shift and how did you overcome it?
Staying positive. There is so much negativity all around. The challenge is on how to keep maintaining a positive outlook. To keep maintaining that within oneself is not easy. You keep getting pulled down and it's important not to lose faith and keep going on and on since this is a long journey.

We want to find a middle path. We are not talking about a path that is full of poverty neither are we are talking about a path that is full of extravagance. Both lead to exploitation of one by another and render people unequal. There is a middle path in which we can live in harmony and socio-economic equity.

What does your work in progress look like?
I am quite satisfied with what we have been able to do so far. There are lots of nicks and knacks that have to be straightened out. We have experimented with different forms and we have tried to create a holistic design for our work. We seem to be getting somewhere.

We created successful non-profits. We have promoted successful for-profits owned by the people. We wanted to show how for-profit businesses can be ethical that do not just earn profits for the owners but also for the consumers who get good products for a fair price. How do we get all this together and try to create a holistic outlook towards living?


Text Soumya Mukerji