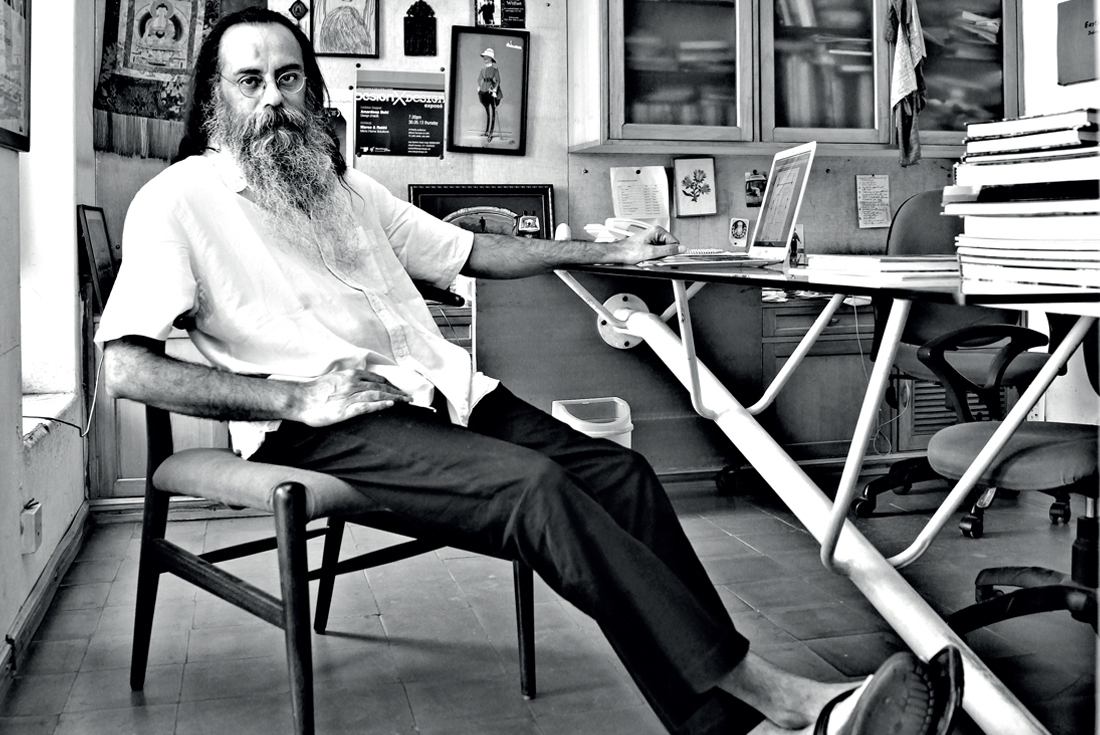 Photography by Tanuj Ahuja
#ThrowbackThursday: Amardeep Behl
Indian designers today have no choice but to be torn between the old and the new. As they struggle to find the design language kosher to this country, some try to recoup an dreinvent the old; some try to use design as a vehicle for socio-cultural change while others try to scuffle with the challenges that Indian cities are facing today. Design no longer remains a niche affair, and as more and more deisgners recgnize their responsibilities as designers, they look towards the future with conviction and fortitude, and believe that design can bring about compelling transformation. The founder of Design Habit, Amardeep Behl, realizes the potential of exhibitions and is on a journey to rediscover and narrate the history of India.

Your large body of exhibition work is almost dramatic, designed for interactivity whether through film, audio, architecture or use of different materials. Do you think exhibitions have lost their significance?
I'll tell you how I look at exhibitions. Exhibitions are an opportunity to have a captive audience, where people walk into a space. And the space becomes a medium through which the message is imparted. So to me, it's a great opportunity to make the audience and the space come into some sort of synergy where the space expresses itself to the audience. Right from my design studies onwards, I have focused on making spaces express themselves. I watch films very closely and I have done some production design. It's been an incredible experience for me. I work with light, sound, moving images and colour to create a sense of surprise. Also, the audience has to move for the expression to come through, which means that I'm willingly participating in a physical space. So that's what it is. It's sad that we don't see exhibitions as that. If we started to see its potential, then exhibitions would be the most powerful media. For me, that's the game plan that an exhibition opportunity provides. So, I think exhibitions are surely the way to go. By exhibitions I mean Spatial Design. It could be an event or a launch, a shop, or a museum. Exhibition has a lot of potential; it needs to be seen like that. It is a great vehicle for communication. It has been like that for time immemorial.

What is your design practice?
I don't consciously try to figure this out. My work is largely to do with a context. I don't do installations for the sake of doing installations. I don't see myself as an artist. So to me, my truth is my message. When I'm doing Khalsa, my truth is Sikhism. When I'm taking Gandhi to the museum, my truth is Gandhi and his principles. If I'm launching Mahindra's new car then that's it. So I zero in on that and I know where I'm standing. I try to create this experience in space. I just see the value in each thing. So then I can just do the things I want to do. My eyes are open. I can see the tactility of fabric like the transparence of glass. So I bring them together and play with them. I am not carrying a baggage of preconceived thoughts. I'm not saying I will do A, B, C because I'm open to all of them and will use whatever my design requires. So I'm not the guy carrying a torch for Indian crafts, neither am I a high tech guy. I'm trying to do justice to my work. The more I work, the more I realize all these things will work! I just pick up things as they come to me. And I've learnt that over the last few years, to not carry any baggage while designing. I don't see a conflict in anything. I want to tell a story. Whatever I need for it, I'll bring. It's being engaged with what you're trying to create— whether it's a house or the mobile phone cover or the exhibition—the special task that you're doing and then zeroing down to the world within it. By being unburdened, it all falls into place.
"I don't use craft because I like it. I use it because I find meaning in it today. It is not about romancing the past. In India, you don't romance the past, you bring it all in. As designers, this is our skill."
So what kind of responsibility do you think designers will have in the future and what is the future of design in India?
A designers' responsibility is to find a language, to design, to define our world. The world is globalized. Now it's for us to do the blending. We need to create a contemporary language for ourselves. That's the challenge. India has a rich past. And then there's the West. Our job is to find a contemporary language that blends the two. India is so full of opportunities. It's multi-dimensional and I think nowhere is it more holistic than it is here. India is one place where the sense of time is different. We're a non-linear civilization. We have such an array of sensibilities. We can think Hollywood and Bollywood. We can create ethnic, mud architecture and space age architecture. It's the synergy that you need to seek in the other. Sure, it doesn't quite work out sometimes. Accidents happen, but they're beautiful. It's India. It's also a very complex array of scenarios.
The future is very bright and we can go really far. People from my age to your age have a great responsibility. We owe it to this country to do it right. It's a challenge, but the possibilities are amazing. It's amazing if we can bring all this and put it in the contemporary context of today. I don't use craft because I like it. I use it because I find meaning in it today. It is not about romancing the past. In India, you don't romance the past, you bring it all in. As designers, this is our skill.

Our conversation with Amardeep Behl was first published in our Design Issue of 2013. This article is a part of Throwback Thursday series where we take you back in time with our substantial article archive.



Text Aditi Veena Gupta