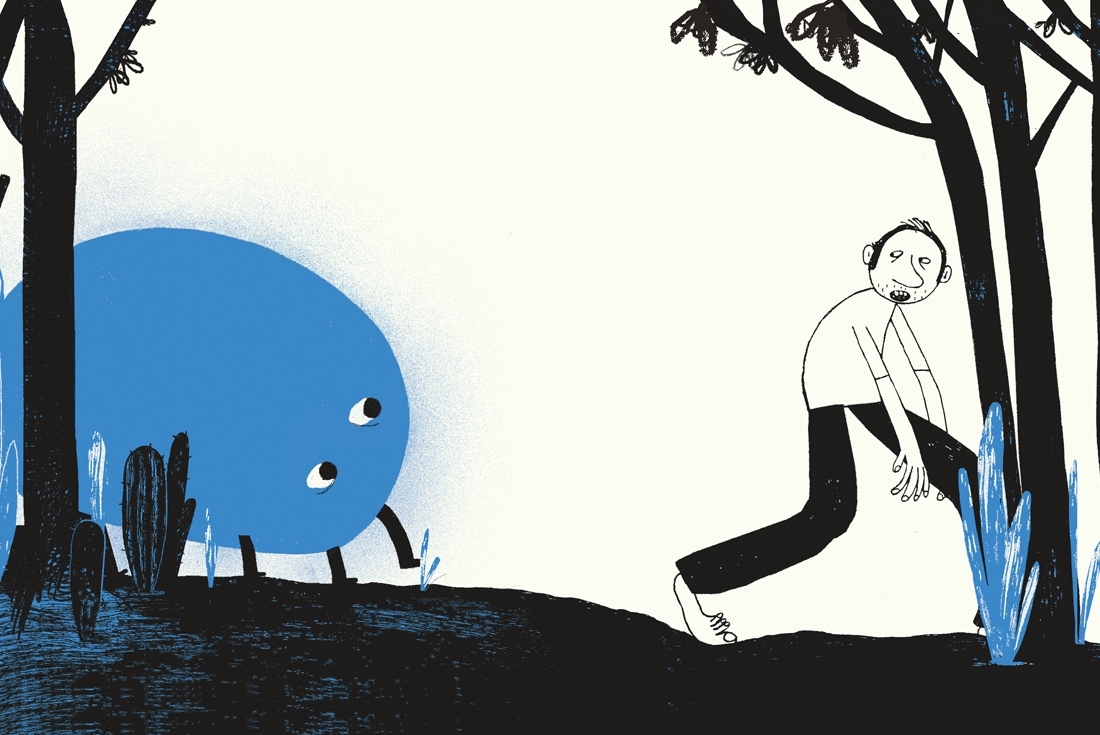 The Illustrator and her debut picture book

'Is it a bug? Is it an alien? Where did it come from? What does it want? And why is it following the man?'

Upasana Mehndiratta's first picture book, The Visitor, traces the story of a man and a strange blue creature that visits him on a lazy afternoon. It follows him through his house and through the woods, until he finally befriends it. Published by Kokaachi studio as the debut release from FIRST CUTS – a creator-driven imprint through which the studio showcases the debut works by some amazing storytellers – the book has been dubbed as 'a balm for our anxiety-driven lives in the guise of a picture book' by the three co-founders of Kokaachi. The Visitor holds a lesson for everyone, no matter how old you are when you leaf through the pages. Is it really a blue bug or is it that nagging thought that you just couldn't get rid off all day? Is it a lesson to learn to trust a little more, engulfed by a growing sense of anonymity and alienation in our global urban lives? Or is it just the story of a man and his new-found friend? The sheer beauty of the book lies in its ability to warp into a new understanding and a new story for each reader. 'I find children books really fascinating, I love how deceptively simple they are. However, while making The Visitor, I did not have a particular audience in mind. To me, it is meant for all ages,' says Upasana. She takes us through her journey, her creative process and her debut graphic book.

How did your romance with illustration begin?
Being an introvert, drawing became an instinctive way to express myself. I used to draw as a kid, but I got a chance to explore it further while I was at Srishti Institute of Art, Design and Technology. Even though I studied design and worked as a graphic designer, I remained inclined towards drawing and illustration. I made a blog of my drawings that slowly grew over the years.
Where and how does inspiration strike?
I think its random. There's usually a gap between when something strikes me to actually sitting down and drawing it. I use this in-between time to visualise the thought a little before putting it down on paper. Sometimes, it comes from an observation, at other times it's introspective.

Deconstruct your creative process.
When I notice something - an unusual posture, an expression, a colour or any other small detail that I like…I try to grasp these bits and use them later in a visual or a story. When I draw, I see if it coveys the mood or feeling that I want it to, I sometimes do a couple of versions just to get that mood or expression. If the composition is sparse, a line here or there can substantially change the way it looks.

What informs your sensibility when it comes to your work?
It's intuitive for me. It's a lot about how I am as a person - I am a bit socially withdrawn and this probably reflects in the characters and situations I choose to draw. Other than that, I think everything we see and feel around us consciously or subconsciously feeds our sensibilities.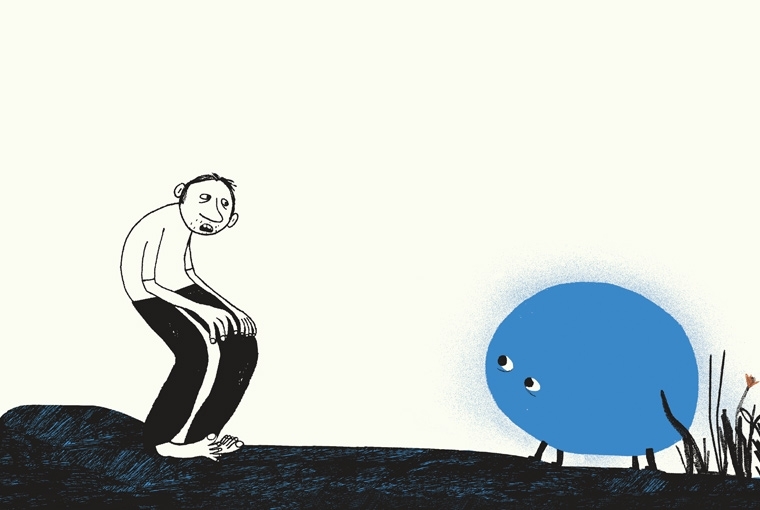 What inspired The Visitor? Give me an outline of the story.
I had made a little comic book and a set of flip books when I was at Srishti. The Visitor is my first published book, that I had made about two years ago. I had this visual of a blue creature chasing a man, in my head, that slowly developed into a narrative. It's about an inexpressible feeling - the blue creature depicts that feeling in a way. The narrative is about how the man (in the book) silently interacts with this blue creature. Some people say that it ends on a happy note but I don't think it can be defined as happy or sad. I think it lies somewhere in-between.

As an illustrator, what kind of themes do you find yourself gravitating towards?
I am definitely more drawn towards darker and elusive themes than out rightly happy ones. I think it's a mix of contrasting emotions that makes an experience interesting and worth remembering.

What's next for you? Are there any interesting projects in the pipeline?
For a couple of months, I've been working on another narrative that will hopefully develop into a book.

Get your copy of The Visitor here.


Text Ritupriya Basu.