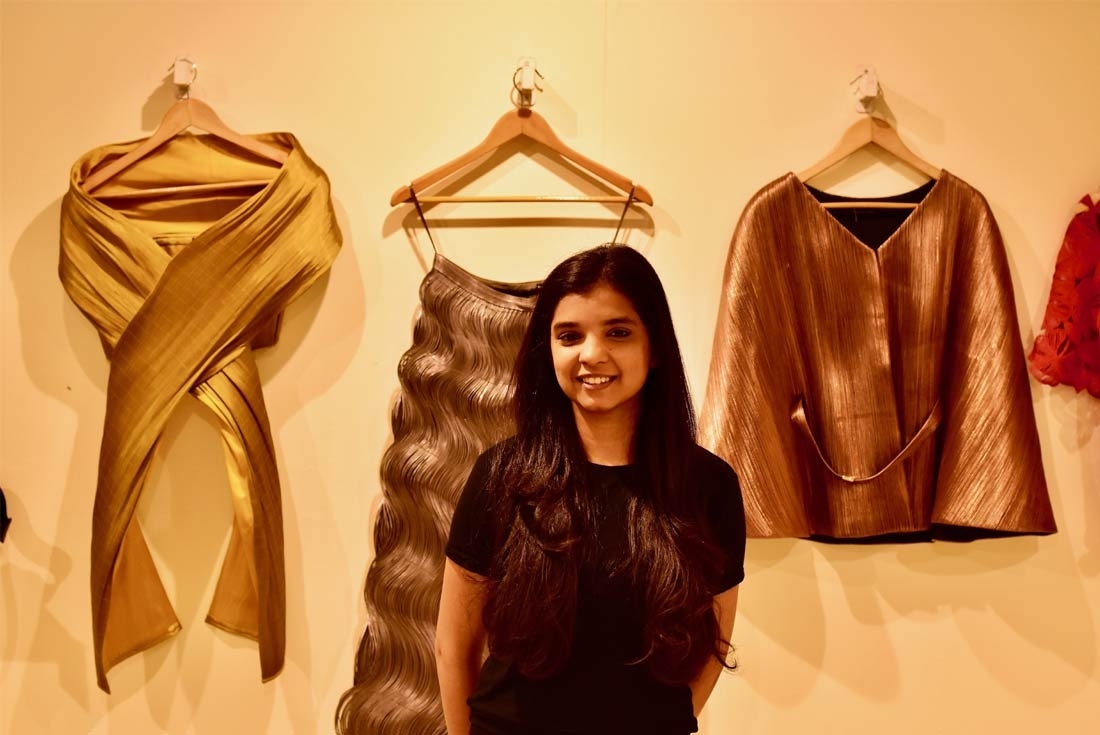 A day out with Rimzim Dadu
My meeting with dress maker Rimzim Dadu was setup in the faraway land of Noida. Like any regular November morning in Delhi I expected gloomy skies and the Chernobyl-esque backdrop Delhi has become synonymous with. But to my utter surprise I was greeted with clear blue skies and sunshine, probably reflecting Dadu's mood that morning. Her small frame was all sunshine and daisies and she spoke with such enthusiasm, it lifted my spirits.
Like the beginning of any chronological narrative we started with recollecting her childhood and the influence her memories had on her as a designer. Introduced to the textile industry at a very young age, her father's job as an exporter piqued her interest. She reminisced with sheer exuberance her post school afternoons at the factory where she would sit and learn from the karigars. At a mere age of six or seven, Dadu was experimenting and creating things. When kids around her had aspirations of being teachers and pilots she always knew she wanted to be a designer. 'That's all I have seen in my family, even before I knew what it meant to design clothes I just knew I wanted to do just that.'
Dadu's fascination with the saree though didn't start until 2014. Her need to experiment manifested itself in the blank canvas of the saree. In the hands of the ingenious designer the feminine, sexy saree found new meaning. It gained structure. Structure that provides armour to the women who wear it but at the same time is also fluid and malleable owing to the material used. Playing around with material, she created an artifice that is a reflection of the contemporary woman...strong yet soft. Dadu's signature weave attempts to capture the paradoxical existence of women in itself.
Our conversation ventured into more serious terrain as I asked her about the big S word--sustainability. The discourse around sustainability is everywhere. It's like a crowded market on a Sunday afternoon where every brand is selling sustainability. But there is an obvious lack of understanding that is prevalent around the term itself. Dadu deconstructed the term with such frankness that it unnerved me. She emphasised on every business being able to develop their own definition of the term. Her interpretation involved creating samples that held meaning, not mass producing clothes and storing them as stock. I prodded further and asked if a brand could ever truly be sustainable. Not an ounce of deceit, she broke it down for me, 'It's a chain, a lot of things that one can't control. For small brands it's very difficult. Let's say packaging, if you're sourcing the cartons from a third party, one doesn't have control over that. For a small brand to be truly 100 percent sustainable is not easy. There is a need for change globally across every industry. The packaging, chemical dyes and even the threads are in need of a revamp. With something as mundane as bubble wrap, our clothes are such they need the extra layer of wrapping for protection.'

We continued discussing how detrimental it is for sustainability to exist as a trend and going out of fashion the next season. It should exist as part of a continuum that continues to evolve according to the dynamic times.
I expected her workshop to be akin to a chemistry lab with how animatedly she described the experiment she carried out with creating textile out of paper, the entire process that took her about nine months to complete. Tucked away into a little corner of the store the area buzzed with activity. I chatted with two of her karigars and got them to break down the entire process of the signature Rimzim Dadu weave. The shy and soft spoken Nagina Kumar from Bihar shared little but Rajesh Bhardwaj, the in-charge of the karigars volunteered more information. The excerpts of the conversation are as follows:
Where do you come from and when did you start work?
Nagina Kumar: I have been working with Rimzim for the past four years before that I worked with someone else for eight years. I hail from Noida, Uttar Pradesh.
Rajesh Bhardwaj: I hail from Lucknow and I started this work from the beginning.
Have you always done this work? Was it passed down in your family?
NK: I have always been involved in the textile industry. This does not come from my family I was the first one who started this work.
RB: This work does exist in my family. My uncle is involved in the textile business. That's how I learnt all this work.
What kind of styles of embroidery do you know and where did you learn them from?
NK: I learnt various styles of embroidery since I started working here and I can follow instructions and imitate any style that's asked of me.
RB: I am well versed with varied techniques. I learnt chikankari from Lucknow which is very popular in the region.
How much time does it take for the signature weaving? Talk me through the process.
NK: I am involved in the process of creating the metallic saree. It takes a sum total of nine to ten days for putting together one piece. The ripple effect one takes about 20 days to finish.
RB: For the ripple effect pieces we source cords and then each of them are separated one by one in long distance and then we engage in the process of wrapping that creates the cord. Then the cords are cut and pressed together. Furthermore embroidery is done and the ripple effect is created one by one on the cords. The process of embroidery itself takes a minimum of 20 to 25 days. Then begins the process of stitching which involves getting the fabric dyed in the colour of the cords, getting the lining inserted, fixing the drape. Including the stitching of the blouse it takes about 30 days in total.
Would you like for your next generations to be involved in this craft?
NK: I wish for my kids to learn this craft as well but want them to excel at studies as well.
RB: I am uncertain about the next generation. But this work is good, I enjoy it.
Text Unnati Saini