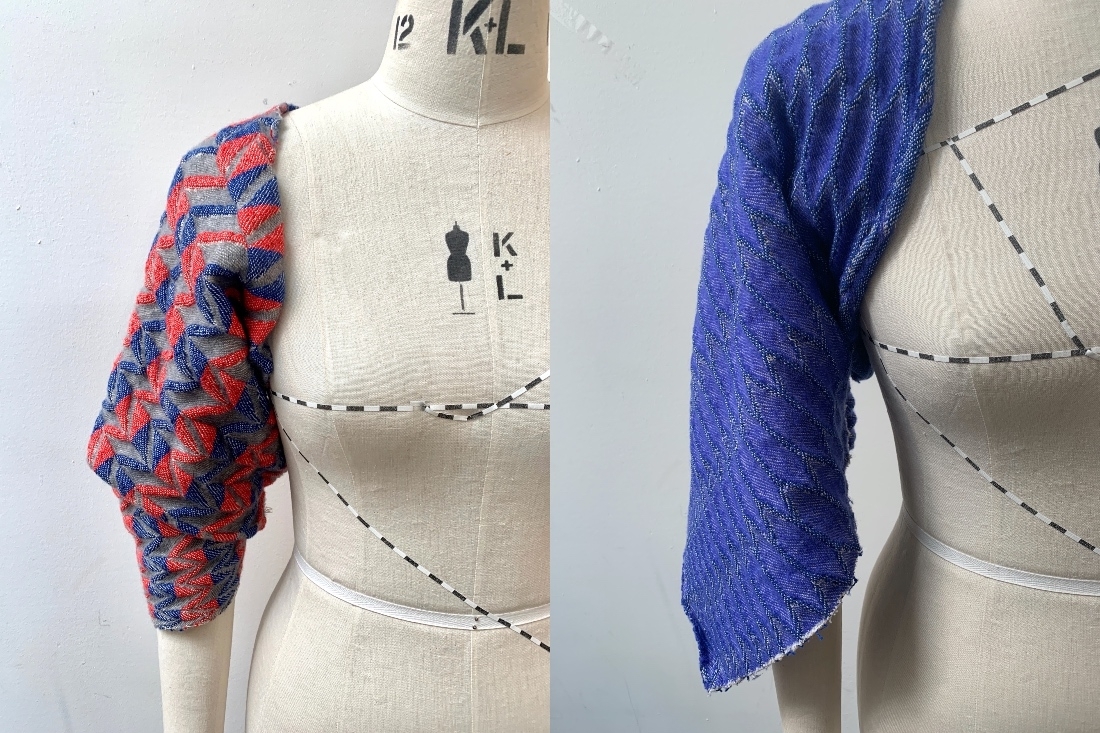 The Designer
My specialisation is actually textile design in weaving, I can work across both fashion and interiors. I'm fascinated by how fine-fibres all intertwine to form a strong and steady structure — textiles are a form of architecture for the body. Making fabric is as old as the story of humanity, each culture has its technique and choice of material based on climate and location. So I also have an interest in textiles from a social and historical approach.
The Work
My fascination for fibres and structures leads my work in a more technical way. I thoroughly question how warp and weft interact and what are the outcomes of that interaction. How do different materials behave and what are the external factors that can change the finishing of a fabric. But the core of my work is sustainability — social and environmental justice. I have been a fashion volunteer for a few years now and actively advocate for a better textile industry in my practice and personal life. Within this framework, my material selection process is led by rigorous research about the environmental and social impact of specific fibres.
Because my interest is in structures and forms, my work challenged the usual two-dimensional look of a fabric by pushing the boundaries of warp and weft to create self-forming tactile surfaces. Nowadays boundaries are blurring, when it comes to art, fashion and design I think it all blends in, we strive to find beauty in everything around us -- from what we use to ornament our bodies, to our houses et cetera. Every choice of clothing is an expression of ourselves and our styles, that is art.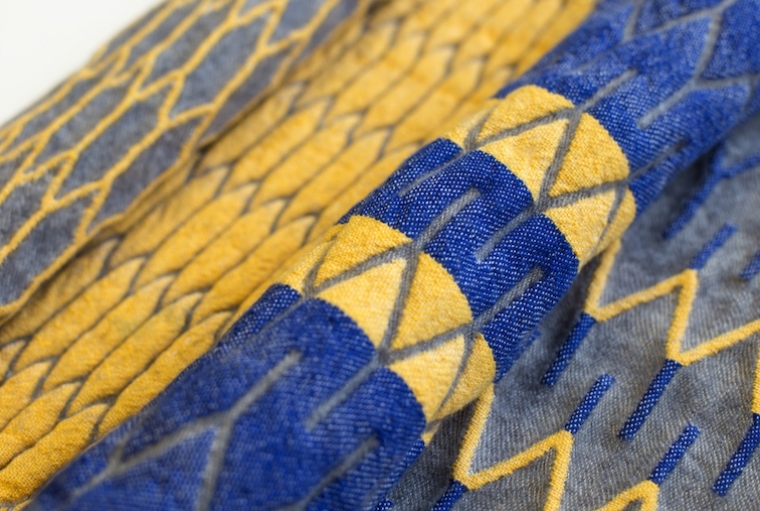 The Inspiration
My biggest influences are Issey Miyake, Iris Van Herpen, Bodice and Samira Boon. For Issey Miyake and Iris Van Herpen, you can see an overlap of art and design within fashion while pioneering the most advanced technologies. Issey Miyake also investigates functionality and zero waste in his pieces, which is the perfect blend of art and design. Samira Boon uses advanced technologies and explores new ways to incorporate three-dimensional textiles in interior spaces and for other usage. The Indian brand Bodice has a clever way of using pleats which became their aesthetic signature. Many cultures such as the Greeks, Indians and Egyptians all used pleats in their clothing for facilitating movement but also for aesthetic.
I love pleats! Even my wardrobe is full of pleated clothes. I am obsessed with how light and space interact with pleats. Before translating my ideas into textiles, I often pleat paper and look at origami for inspiration. In my practice, I developed my own style, which is the use of strong colours and technology to challenge conventional forms of textiles to have three-dimensional surfaces. Woven textiles can be limited to horizontal and vertical threads, but the right combination of material and machines makes it exciting to see what else can be done.
The Future of Fashion and Beyond
I think transparency is definitely something indispensable for a sustainable future. Not only will it hold companies accountable, but for decades now consumers have lost touch with what they wear. Most people don't know where their clothes come from and who made them. I was privileged to grow up with my grandmother who is a dressmaker and I was conditioned to love what I wear. But loving what you wear is actually a luxury now, clothes are seen as disposables. So yes, transparency is necessary. We need to connect to our clothes, know their stories and understand the responsibility behind our consumer choice. Once this connection is built, everything else will follow. We will throw away less, repair more and reuse because we understand the value.
I'm currently on a break due to the pandemic, I was working for a manufacturing mill in India before the lockdown. I'm using the time to reorient and question my ambitions for the future. The Covid 19 pandemic has exposed too many flaws in society and we can't remain still. The future is unclear and uncertain, but I'm privileged enough to be with my family in Mauritius to take the time off and think. What's coming up next is still unknown but my passion for sustainability is even stronger than before, so I hope to find a way to still expand my career within a sustainable industry.