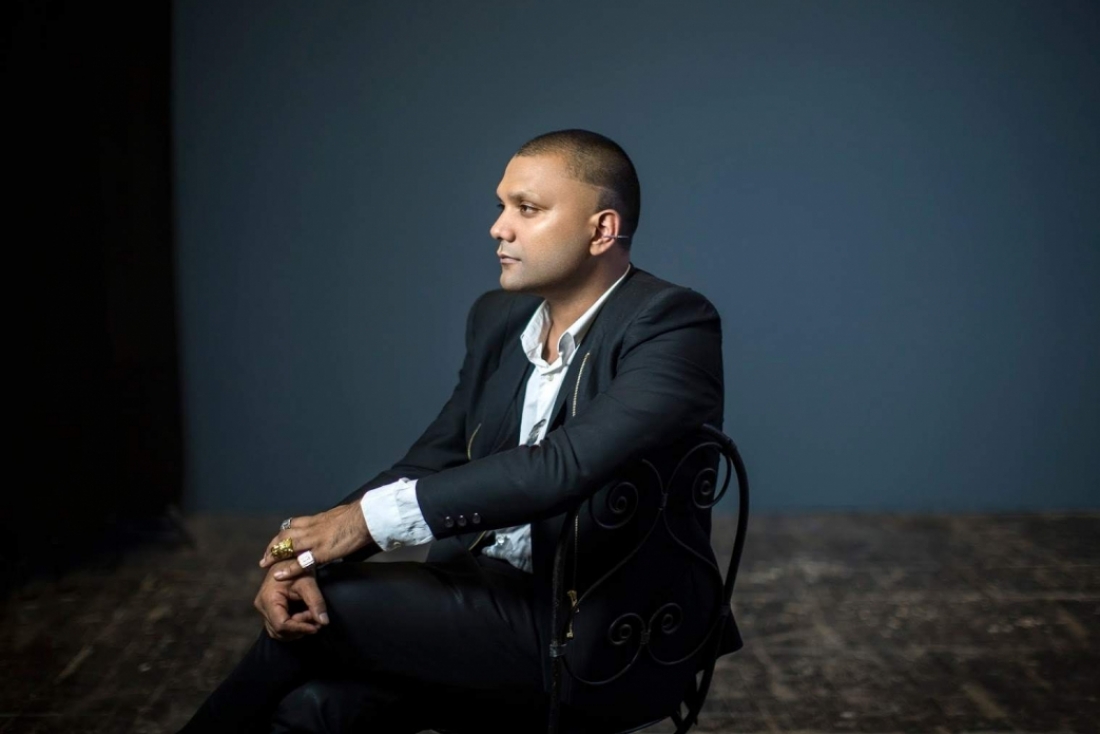 Gaurav Gupta is perhaps one of the most celebrated and innovative flag bearer of avant garde couture in India. Over 14 years of merging indigenous Indian construction and embellishing techniques with his idea of the future, Gaurav has delivered and sustained a world that is Indian at its core and boundless in its form and emerged as one of the strongest voices in couture and fashion from India. Gaurav's stores too, are an extension of his inspiration – his award-winning design collaboration with Studio Lotus will take a new dimension with his recent couture store. Located in the heart of the historic Mehrauli area, this will be a first-of-its-kind experiential retail space unraveling the couturier's dreamscape, with an added focus on haute couture and customization. Architecturally, the old and new have been brought together in a harmonious contrast- a Romanesque oval fountain in the center of the store is outlined with curvilinear walls, beveled mirror edges are interspersed in the space to create a feeling of endlessness. To celebrate in a way that is anything but ordinary, Gaurav collaborated with CROW, for a gothic-mystical immersive experience during the launch. Founded in 2015 by director-designer Nayantara Kotian & writer-actor Prashant Prakash, CROW engages and collaborates with a wide network of designers, architects, actors, and artists. For the launch, artists Jim Sarbh, Ayesha Raza, cellist Sayan Sinha and dancer Aseng Borang, amongst others explored the darker side of human emotion in the winter for this presentation. Also, in celebration of this landmark occasion, the brand presented its latest couture collection 'Descend', featuring sophisticated, structured garments for men and women. We had a chance to interview the designer post the opening of his flagship store last week.
What led you to pursue avant-garde couture and how has your journey in the world of Fashion been so far?
I have always concentrated on treating every collection as art, and it has given me joy in exploring the unconventional through our Avant-garde couture. We have always steered clear from doing the obvious and are committed to being progressive, and are grateful that the market has been responsive to our aesthetic. While my journey has been exhilarating so far, there's a long way to go. I feel like I'm more a part of design and not just fashion per se.

What have been some of the major influences on your work, regarding both ideology and design?
A lot of my work finds its foundations in surrealism and magic realism. I find myself going back to beauty in art and architecture, abstraction and magic. It's about creating a new culture, a new thinking- whether its through our design, forms or shape.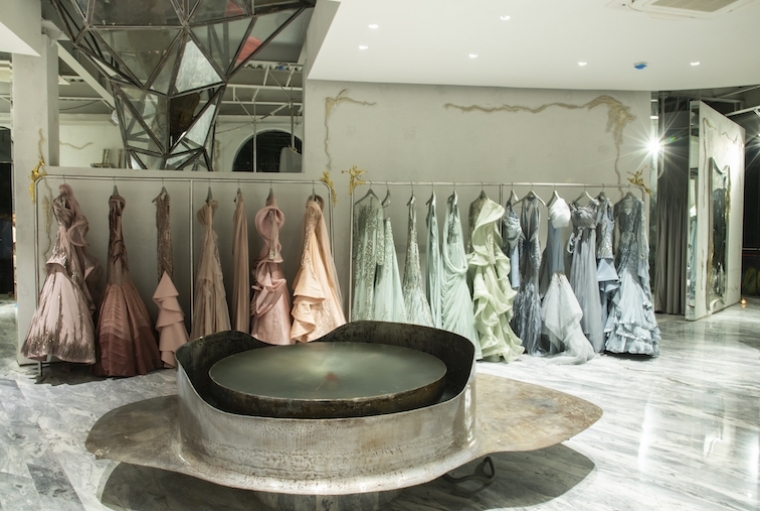 What was the main inspiration behind your new flagship store?
The Mehrauli flagship is my haute couture dreamscape come alive. Finding inspiration in surrealism, it is my interpretation of fantasy palace ruins, complete with mystical references and magical creatures. Architecturally, the old and new have been brought together in a harmonious contrast - a Romanesque oval fountain in the center of the store is outlined with curvilinear walls, beveled mirror edges are interspersed in the space to create a feeling of endlessness. There is a cosmic quality to the store's design.
Right at the entrance of the store is an age-old Siris tree, encased in a pristine glass prism, with a carefully shaped moon-roof, balancing the geometric with the poetic. Our entire store has been built around this beautiful tree.
Tell us a little bit about your creative process behind the new collection Descend?
Futuristic, crystalline and wavy, this collection has been inspired by the alignment of stars in a galaxy. We have employed experimental, textured elements and structures, drawing from the shape of a prism, and this construction is weaved in a way to make the woman wearing it seem inches taller, slimmer, more powerful; adding a certain length to the garment.
Curvilinear in form, the collection is sharp in its details. Silhouettes display as much freedom as they do control. Birds, wings, feathers and waves, and the journey of being one with nature is explored through multi-dimensional construction and forms, adding a whole new vibe to sophisticated couture. Indigenous boning and sculpting techniques of the brand developed in-house all combine to enhance the plural dimensions of the pieces.
How was the collaboration with Studio Lotus brought about?
We have enjoyed a deep-design collaboration with Studio Lotus with our last two stores and this was a very natural progression for us. I think our aesthetic aligns very well, there is respect for each other's creative inputs and thought process, maintain a balance. They architecturally rendered the kind of space I envisioned, and our team developed signature objects d'art, mono-tonal furnishing, carved wooden furniture, suspended art nouveau mirrors and handmade brass murals to build this store.

Can you introduce us more intimately to your own design vision and how it reflects through your new store?
This store is the ideal surrounding for the fantasy that we sell through our garments. There is a play of art and geometry, where one sees a whole different view from across various corners. Originating from the concept of a ruined palace, we wanted to extend ourselves to a more luxurious take on the Gaurav Gupta aesthetic that has existed in our previous stores.
I believe that we were able to strike a balance with this store- that between the luxurious and the surreal. While there is marble flooring, it has been laid out in a certain tessellation. The walls are similar to our other stores, but have an added cosmic quality with the handmade velvet curtains, which created an almost-floating feeling. We have also presented for the first time, a more extensive collection of the Gaurav Gupta Objects D'art that are inspired by fantasy creatures that have yet only existed in my imagination - a table on top a panther with wings, intertwining serpentine side tables, hand carved murals on hanging racks and other such elements.
What are your future goals and are there any new projects you are currently working on?
This is a very exciting time for the brand, with the launch of our largest couture store at Mehrauli and a renewed focus on menswear with GG Man. We will also be looking at some exciting design collaborations in the coming months.

TEXT Nidhi Verma