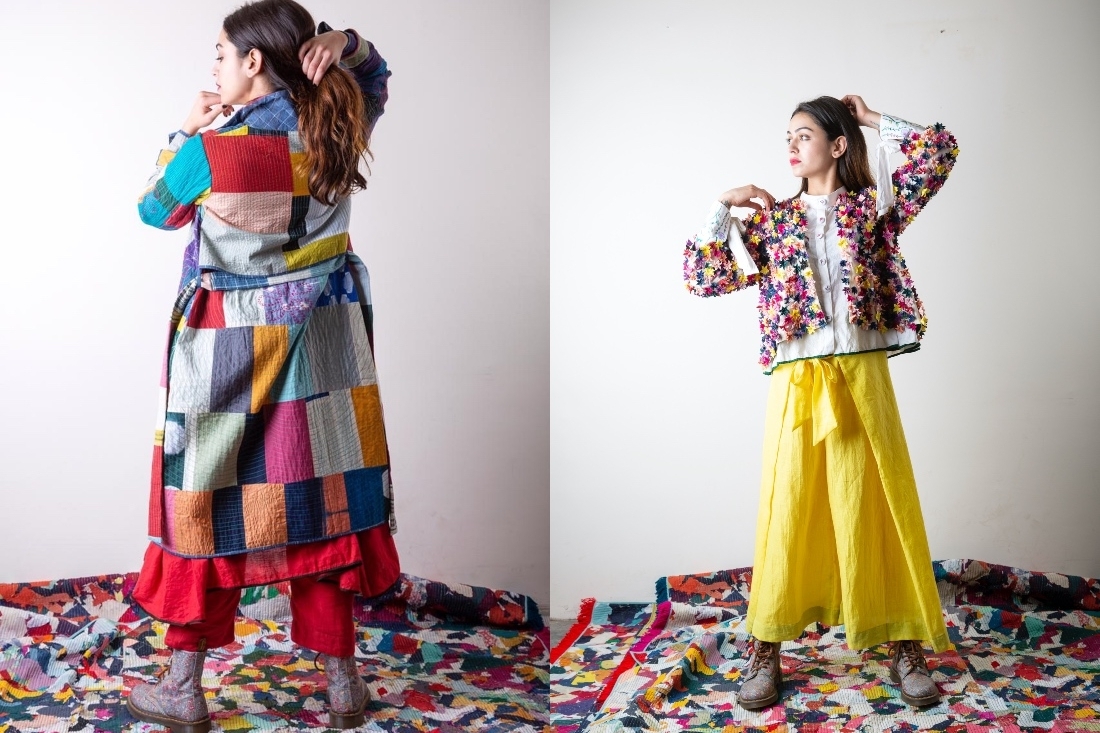 Karishma Shahani Khan's Ka-Sha was established in 2012 as an earnest attempt to celebrate the traditional arts and crafts of the country. Many years down the line, what exists today is a successful artistic endeavour, which truly understands and explores the kink in Indian dressing, one that gets lost somewhere amidst the wedding paraphernalia. Karishma's vibrant palette explores Indian modernity and lends a unique narrative to the age-old textiles and techniques found across the nation. For someone who never even considered fashion to be a part of her future in her early years, Karishma has built a rather strong and ethical foundation for her business. She sees fashion as a concept it ought to be seen as — that of an equal exchange between the producer and the consumer.
The label has evolved through the years and so has Karishma's creative process, it is the only way for her to truly grow. Talking about the growth at Ka-Sha, she adds, 'As people, we keep growing and evolving, and our real-life experiences keep shaping all that we do. This translates to the way we approach design too, and the narrative at Ka-Sha has evolved based on this. Our values from inception until today have been focussed around simply remaining conscious of all that we do and all the lives that we touch while we continue. For us, people are as important as processes. Our plans for the near future are filled with furthering our endeavours in design, its processes, its impact and its education, through our work at Ka-Sha.' Essentially what they wish to do is create a holistic ecosystem related to their design practice. Karishma has also been deeply involved with the educational facet of design since 2014 and is working to amplify it more.
Earlier this year the label also collaborated with Fashion Revolution, a non-profit organisation, working tirelessly towards helping build an ethical industry. Ka-Sha was amongst the few chosen ones to be a part of Fashion Open Studio, an annual global week-long event. Karishma breaks it down, 'In April, in the midst of the pandemic, we ran a Digital Craft and Skill session with our artisans live from their homes, as our contribution to the event. This has been a format we have been planning for long for ourselves at Ka-Sha, since we take education and skill generation extremely seriously. With the pandemic it was possible for us to take this plunge and we did.'
The Ka-Sha ecosystem also prides itself on one of their projects Heart To Haat, that reflects on their sustainable ethics. Karishma explains, 'It came into being in 2012 alongside Ka-sha. It was a way to approach our production remnants with a zero-waste policy, by creating up-cycled products that ranged from accessories to clothing to home textiles.' In the present moment it has metamorphosed into a much larger movement. It is now a waste management solution that approaches waste through novel processes and techniques, which can also be accessed by others as a response to the larger scrap issue currently plaguing the industry.
There are multiple other means through which Karishma's design practice reflects how conscious she is of the environment she's producing in. Another element that defines the label is their signature patchwork jackets, which can also be seen playing an important part in their latest offering Bahaar. Their patchwork is a classic defining factor for the label. Constructed carefully using leftover bits and bobs, it is an artistic release for the designer. She works with colours, minimal resources and pre-cut shapes, and creates eccentric and quirky pieces.
An amalgamation of colourful stripes, kantha stitches, French-knot buds, fabric flowers, hand-painted blooms and patchwork pieces, Bahaar for Karishma is all about evolution. It is about the ultimate expression of oneself, without any boundaries. Talking about this collection, she says, 'We see beauty around us in more ways than one. In ways that are not stereotyped, in ways that are made up by a myriad of experiences. Most of our collections look into layers, not just the layers in the clothes, but the multiple meanings that signify or make up one thing. We forge new paths only as we allow for change, and seek comfort in the evolution of ourselves and those around us.'
As the world struggles through a pandemic, many industries are hanging by a thread and are being forced to rethink and restructure. Fashion being one of them, has a plethora of voices running parallel to one another, yet unable to reach any consensus. A few big names have vowed to produce less in a season, while some others have refused to cut down on shows. For Karishma, practices in the future should be governed by the former rather than the latter and making less — her modus operandi. On a parting note, she adds, 'It is necessary to be responsible about how one creates and how one gets the product to the consumers. This is a good time to consider and let go of the unnecessary, as this time has clearly taught us that a lot of things we thought were important, aren't actually so.'

Text
Unnati Saini