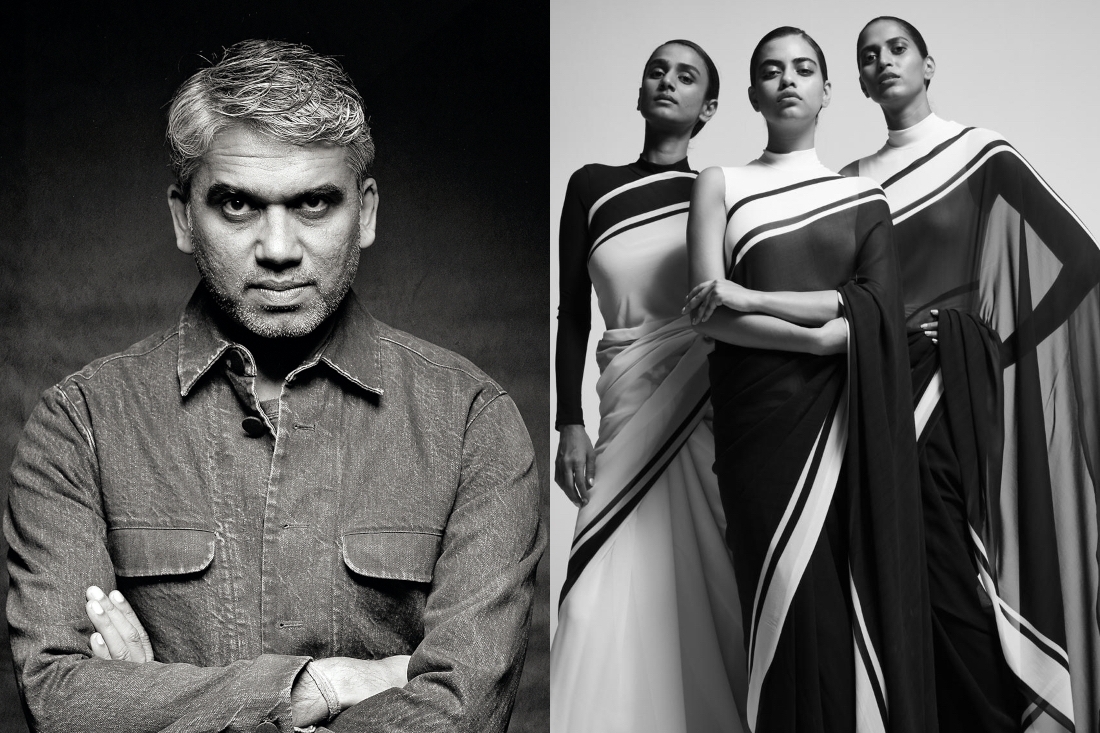 'Fun, bold, brave, mindful and with a sense of humour,' is the person the new Creative Director of Satya Paul, Rajesh Pratap Singh, envisions when creating his silhouettes. In order for two great minds to collaborate, sensibilities have to match. Satya Paul is known for his vibrant, bold prints and free flowing ensembles, whereas Rajesh Pratap Singh's trajectory has been more clean, no fuss, beautifully tailored garments. Both are extremely talented, however differ in many ways. We connected with the new Creative Director to find out what intrigued him to join hands with Satya Paul.

What was it about Satya Paul that inspired you to join hands with the brand?
It was colour and the bold approach that Mr. Paul had in the late 80s and the 90s which was extraordinary at that time, and I take that as a baton to be carried forward.

What is your vision for Satya Paul?
Our vision for Satya Paul is to make it one of the finest brands out of India. Keeping its DNA intact, we would like to make the brand more relevant for a discerning audience.
As a Creative Director, what avenues are you going to explore and iron out, and what folds are you going to leave?
Aggressive indigenisation in textile development. Revisiting the purity of Mr. Paul's vision and retaining the original essence of the brand. Recovering lost ground for a brand which was path breaking in its inception. Launching a men's collection and accessories within the brand umbrella.

What role will sustainability take on under your reign at The Satya Paul house?
From the materials used, to the process of manufacture, to inventory management, to the timelessness of the designs produced, to the packaging, to the interests of all stakeholders concerned including the employees craftsmen and shareholders — our approach to sustainability will be a very balanced one.

What has inspired your first collection as Creative Director, and how challenging has it been to create under lockdown?
It's work in progress. The menswear collection was based on the interaction of man and the environment. We started designing this collection when the fires were raging in the Amazon, Australia and in some parts of India. We finished during the pandemic and so it came at a time when the balance between man and nature deserves our attention. Without being preachy and with a sense of the great Satya Paul humour, we made this small capsule for men. Our approach for everything will be upfront and honest.
Challenges are when you don't enjoy what you do. This was not a chore.
Lastly we are caught in the midst of a very unforeseen reality — what does change look like in your industry and what is your new normal?
We don't have a crystal ball. Our industry was already in the midst of change — the virus has accelerated that process. We are learning as we are going along. I'll be honest, we don't have clear foresight — we try and we come up with solutions everyday. And to be very honest after a very long time, we are enjoying this process. We are very positive that some real changes and positive solutions will come out from our industry, which was possibly becoming a victim of its own system. There is no comparison but just to give an example, Shakespeare wrote some of his best works during a pandemic. Newton discovered the law of gravity during isolation.

Text
Shruti Kapur Malhotra