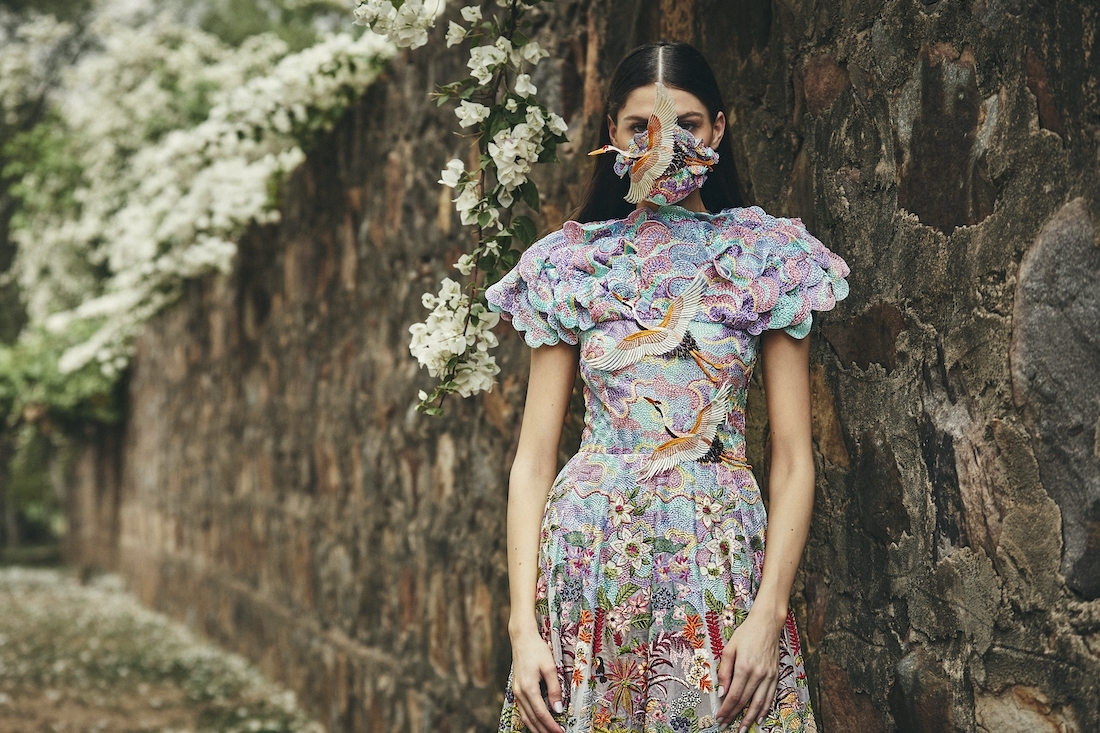 The Indian Couturier: Rahul Mishra
If one were to dig deep and go down memory lane with ace dressmaker Rahul Mishra, they would learn that some of his earliest childhood memories about textiles involved his grandmother's charkha, a rather huge ambar charkha which was nothing but a toy for him at the time. He wasn't someone who took to fashion immediately, and actually took quite some time getting comfortable with needles and threads.
Cut to present day and one finds that the Rahul Mishra aesthetic is built on a solid foundation of inspiration that comes from arts and literature — from the likes of Rousseau, Monet and Hans Christian Anderson to name a fair few. They nourish his soul as he says. Heavy on tropes drawn from nature, his latest offering is Butterfly People. The seven-minute digital presentation on the collection depicts a unique coupling of the art created by the team, with nature. The fashion film created in collaboration with Hormis Antony Tharakan is surreal as the man-made pieces — the carefully hand embroidered butterflies on each of the masks — are ready to fly away and camouflage into the very surroundings they have been inspired by. Humanity seeks harmony with nature.
The French term haute couture literally translates into high dressmaking and is the ultimate form of fashion which exists today. One doesn't just become a haute couturier — you have to be invited by the Chambre Syndicale de la Haute Couture in Paris to be one. We're in conversation with the only Indian designer to have been invited for a second time to present at the Paris Haute Couture Week.
Post joining NID did you take to Apparel Design immediately? Would you say you were enjoying what was being taught?
To be very honest I would have to say, not really. At NID I was just enjoying other things, the freedom that came with moving away from family, the kind of inclusivity which was ingrained in the environment there, but more importantly, I was enjoying every aspect of the creativity that I was indulging in. I was like an eager child who had just woken up and was trying to grasp everything. There was so much to learn from everybody over there. I actually ended up spending over five years at the NID campus instead of the two and a half that I was meant to for my course. What really interested me was the idea of design, the concept of being able to transform things. Being able to create new things excited me more. I dabbled around with a little bit of filmmaking, graphic design, product design and visual communication. I loved the logic behind something as mundane as a logo, why it exists and why it has been created in a particular manner. I enjoyed the ideation process of things as well.
I had my Apparel Design course going on simultaneously, for which I had to complete a design project which ended up being a total disaster. For one of the projects I was assigned Kerala. This was when I started learning craft and enjoying it. It was at the end of my second year at NID when I developed an interest in craft, and also started enjoying the travel that came with it. For the first time I undertook a train journey that long, it lasted around 44 hours. What I enjoyed the most was the process of it all, how the craftspeople engage with their jobs. I learnt all about these people and their small dreams, and even for those they have to work so hard. Along this journey I also developed life skills like empathy and humility. What pushed me into fashion is the power it holds to transform the lives of so many people. During this Kerala collection in 2005/6, I realised there's so much power in design, it can generate employment and change lives. This was the calling for me and nothing else.
Tell us a little about your new collection, Butterfly People.
Butterfly People answers a simple yet very pertinent question -- what is the relevance of couture in such times? All this while, the entire atelier struggled together. We ensured that every artisan is supported despite the countrywide official lockdown and an acute drop in sales. There is an unperturbed expression of art through our motifs, but every stitch, every knot is strongly related to the present and future of an artisan, especially hit by the pandemic. This period of pause let nature be without much human intervention, and the atelier feels nothing short of a garden -- hosting, cultivating and celebrating the craftsmanship of the 'Butterfly People', the artisans.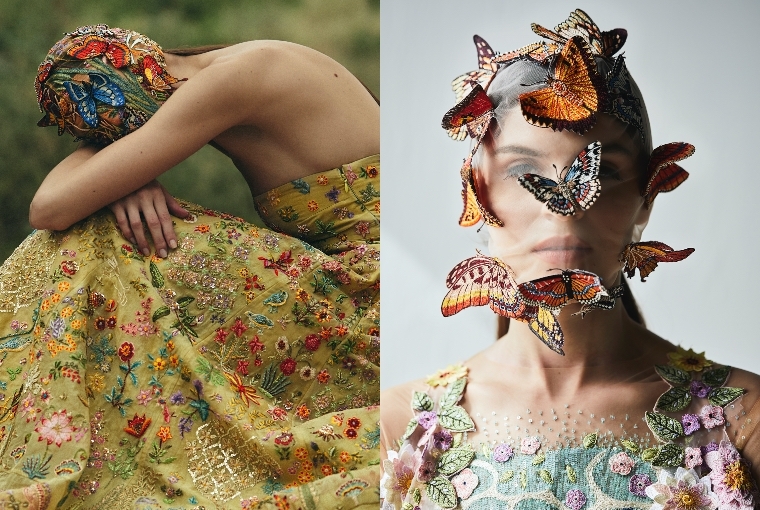 Butterfly People is an ode to your artisans. Tell me about the relation between an artisan and the fashion designer. Do you perceive it to be one that is unequal?
I don't think so. What even is a relationship? I think it's something that is always fulfilling, it's never unequal. My own relationships with the craftsmen are definitely symbiotic. Both the parties involved live for each other. As a designer I know there are about hundreds of craftsmen and weavers involved, who are getting livelihood from the employment created, but this relationship also needs to keep evolving, keep growing. We have to keep including more and more people for the system to grow further.
The relationship should be looked at holistically and not from one restricted lens. I also call this collection Butterfly People because for me, they're also almost like butterflies. They come from all over the country and I consider myself to be more of a gardener, maintaining the garden and growing his flowers on the fabric — so these butterflies can come and nurture themselves, gather their nectar of creativity from here. In return they pollinate and make the garden look so beautiful, flowers bloom in their presence. A single flower wouldn't be able to survive had butterflies not existed to pollinate. In that way, we share a very crucial and beautiful relationship.
Creating a collection for the Paris Haute Couture Week comes with its own challenges. Creating one during the lockdown wasn't probably an easy feat. Take us through some of the biggest challenges you faced.
Since I had all this time during the lockdown, creatively I had hundreds of ideas floating in my mind. So the biggest challenge for us was more ideas and less time. The factory only opened again mid-May, we barely had about six weeks to finish the collection. With the Paris Haute Couture Week being one of the highest platforms to showcase at, you need a minimum of six months. I was telling my team recently, if just by sketching garments could get made, we'd be the best company in the market considering the sheer amount of ideas we had for this collection. We obviously had to choose a rather realistic route, the people involved were considerably less, and we were following all the required rules for social distancing. The biggest challenge we faced was to be able to actualise what we were thinking.
Our ambition was set at just being able to get 12 pieces ready, we actually ended up making 13 in all. Usually we make about 50 pieces and then choose and pick about 25 of the best from that. This time whatever we have managed to create has made it to the final edit, since everybody worked tirelessly and put in so much effort despite the time crunch at hand. Every day was challenging for us. During this time we weren't able to work overtime either, just getting to work our regular hours was a big blessing. We followed the curfew religiously.
Haute Couture has this sense of exaggeration and extravagance attached to it. How do you then draw the line between fashion as art and fashion as utility in your practice?
This has always been a thing with me. I don't tend to make clothes that can't be worn or those that can't be dry cleaned or be used again. I think even if it's art, it should be wearable art. It is also about my present state of mind, maybe sometime in the future I might want to create only art, something which maybe only lasts for a day. Even in that scenario, I will have to deal with different aspects like sustainability, something that we are already known for. When you're making couture, I think the best is to just remain free. Free from expectations, pressures, limiting yourself or drawing a line on anything. I tend to enjoy couture because it gives me a lot more freedom than making anything else.
How has your creative process evolved over the years?
It has definitely evolved a lot since I started in 2006. Initially I'd say I had a fairly rigid approach, I had a long struggle within me to understand why embroidery is even needed in the world. I later realised that embroidery tends to generate more employment, as opposed to the handlooms, which were my preferred method. With hand embroidery, if it took say about 10,000 hours to work on a piece, it was also achievable in about ten days if you employ some 100 people to work. I'm learning everyday and flexibility is something I have started enjoying over the years. It's an ongoing process of discovering myself, I know even today I might be rigid, and then tomorrow I'll be less rigid. I'm like a child with eyes wide open, who constantly considers feedback and someone who will always be curious.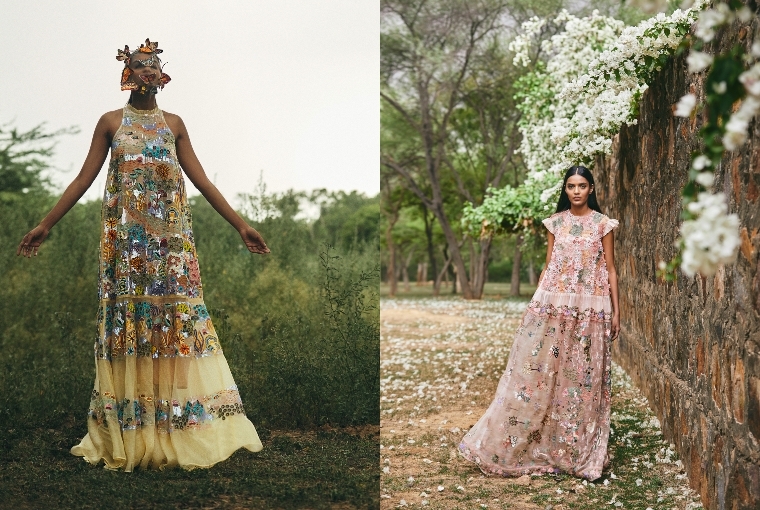 Right now, with what's happening in the world ,there are a lot of opposing voices in fashion. Etro went ahead to host a live show and Gucci has rejected the fashion calendar, reducing it to two shows in a year. What do you think is the responsible way forward?
I have always been a slow designer. I enjoy the process of two collections, two broad ideas and then I tend to segregate those into different drops. We have always only done two shows, there's India Couture Week but that's just an amalgamation of what I do in Paris. For me it has always been very important to slow down. The answer doesn't lie in the number of times you showcase. It can be five or twelve, but primarily our processes need to slow down. We can't keep looking at one-dimensional growth. The approach of growing the business, the numbers and the clothes produced isn't sustainable.
Fast-fashion isn't involved in any shows, yet they have new styles every week. We need to stop overproducing and overselling garments. This is the battle of creation and consumption of fashion, we need to seriously analyse why a particular bag or outfit deserves to be on the planet. There should be more than one reason for something to exist, it shouldn't just be to make someone richer. The same way a piece of clothing becomes far more beautiful since it helps to sustain the backend and those involved in its creation. We have to look at the deeper issue.
Text
Unnati Saini