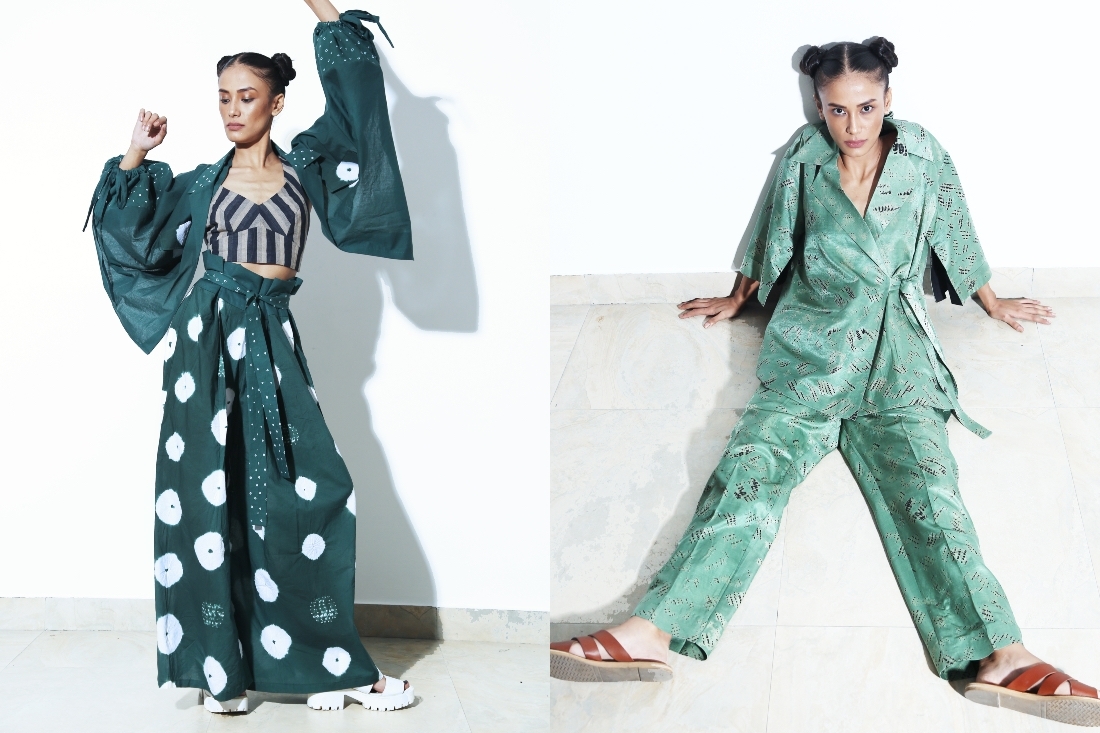 The Pot Plant was conceived with a very simple idea, something which has now become a requisite for our survival. Founders Resham Karmchandani and Sanya Suri aimed at making our lives greener, one garment at a time. As the contemporary capitalist setup entices us to consume more and generate more waste, Resham and Sanya's The Pot Plant helps one dress well guilt-free. Working with fabrics such as hand-spun khadi and handwoven linen, they believe in an absolute zero-waste policy, and create clothing that isn't bound by gender binaries.
Talking about what the brand stands for, co-founder Sanya adds, 'We believe in finding the freedom of expression in clothing that is fuss free and comfort driven. Natural fabrics and sustainability is the philosophy that the brand lives by. We repurpose and up-cycle all our fabric scrap, which gives us a kind of an extended product portfolio. We develop bow ties, sleep masks, ties, recycled hangers, finger puppets and everything else that we can think of to up-cycle the fabric scrap. Our packaging and courier bags are also crafted from leftover fabrics to minimise the use of plastic/paper bags.'
For Resham, design was never rooted in her childhood, she never wanted to be a fashion designer. Yet growing up in Agra, all she saw around her was the concept of custom tailoring and textiles from across the country. She vividly recalls rituals at her home. Her father would return from work-tours and come bearing gifts for the entire family. These gifts included textiles from different clusters in the country. Being exposed to all these fabrics in her early years, helped develop a deeper understanding of the craft. She grew up soaking in knowledge about authentic handlooms and embroidered materials.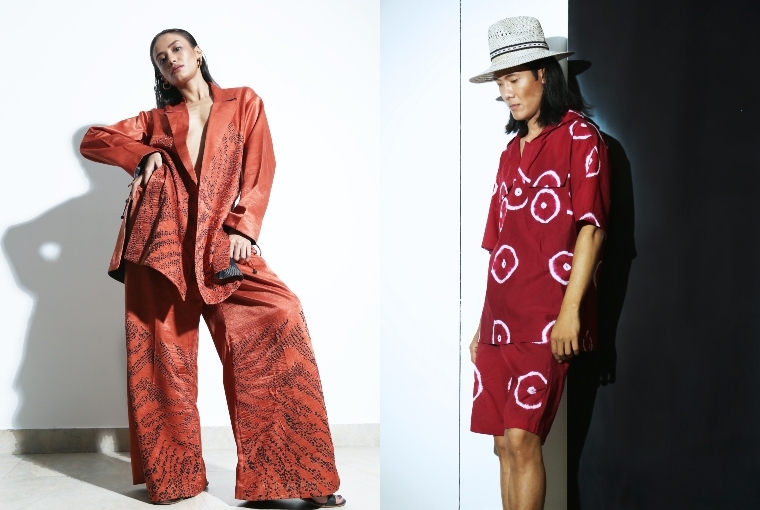 What was further inculcated in Resham's life early on was leading a sustainable life. She adds, 'The kind of environment I grew up in, eco-living was just a way of life. It's just how we used to do things.' Sanya on the other hand grew up guided by a mother who took charge of the family business, and initiated the design process with her own label. Design was then a natural choice for Sanya, who had grown up surrounded by fashion and wanted to follow her mother's footsteps. Something that she craved for herself although, was to carve out an identity of her own, apart from the family business. What followed for both Sanya and Resham was a degree in fashion design from Delhi.
The two founders have been acquainted with one another since day one of their college. Their journey towards The Pot Plant was fairly organic. Being exposed to custom tailoring since childhood, Resham found it hard to find everyday cotton clothes in the big city populated by retail giants, brands she never indulged in. In a bid to fulfill this gap, Sanya and Resham started producing their own samples and that laid the foundation for The Pot Plant. Resham further explains, 'both of us have grown up wearing hand-me-downs. Sanya wore a lot of her brother's clothes and that's where the gender fluid aspect of our label comes in from. I keep borrowing clothes from my father. Growing up, I observed my grandmother would always wear my grandfather's kurtas.' In their formative years, both had been exposed to a culture wherein clothing was free of any gender boundaries and wasn't marked by any labels. All these experiences established the backbone of their label.
The Pot Plant's creative process has no formulas. They don't work with a set pattern and indulge with the craft in a novel manner each time to produce new designs. Sanya breaks it down further, 'We always start with textile development and fabric development, then we move onto the easy separates we're known for.' Presently, the two friends are driven by a need to understand what people really want. Resham contemplates, 'right now we're in the middle of a pandemic. I think retail and shopping is now a way to maybe keep anxiety at bay for most. To not know what the future holds is obviously difficult to cope with.'
Trying their best to keep up with the situation and inspire themselves to lead a healthy life is at the top of their lists, and that is the aura they wish to channelise in their garments. Having always advocated slow living and slow fashion, they feel it is time to push the message ahead now more than ever. Talking particularly about the state of affairs during the pandemic, Resham elucidates, 'It's affecting us as much as everybody else. People are scared to go out and scared to shop and we're storming through it like everybody else is. About the new normal, honestly nobody knows what things will look like. I'm hoping it'll be a kinder world, people will finally come to the realisation that we have limited resources. I really hope we start practising a more ethical way of living religiously.'
The way forward for the industry is an aspect that is being deliberated upon world over. Both Sanya and Resham consider it vital to strike a balance between wanting newer and more innovative products, yet creating them in a manner that doesn't harm the Earth. Real change for them will begin at the threshold of the customers, who need to educate themselves about where and how their clothes are constructed. Their job as designers entails imparting the required information with more honesty. This according to them is where the lag lies, the lack of communication between the designer and the consumer about the processes involved in the production of the garments.

Text Unnati Saini