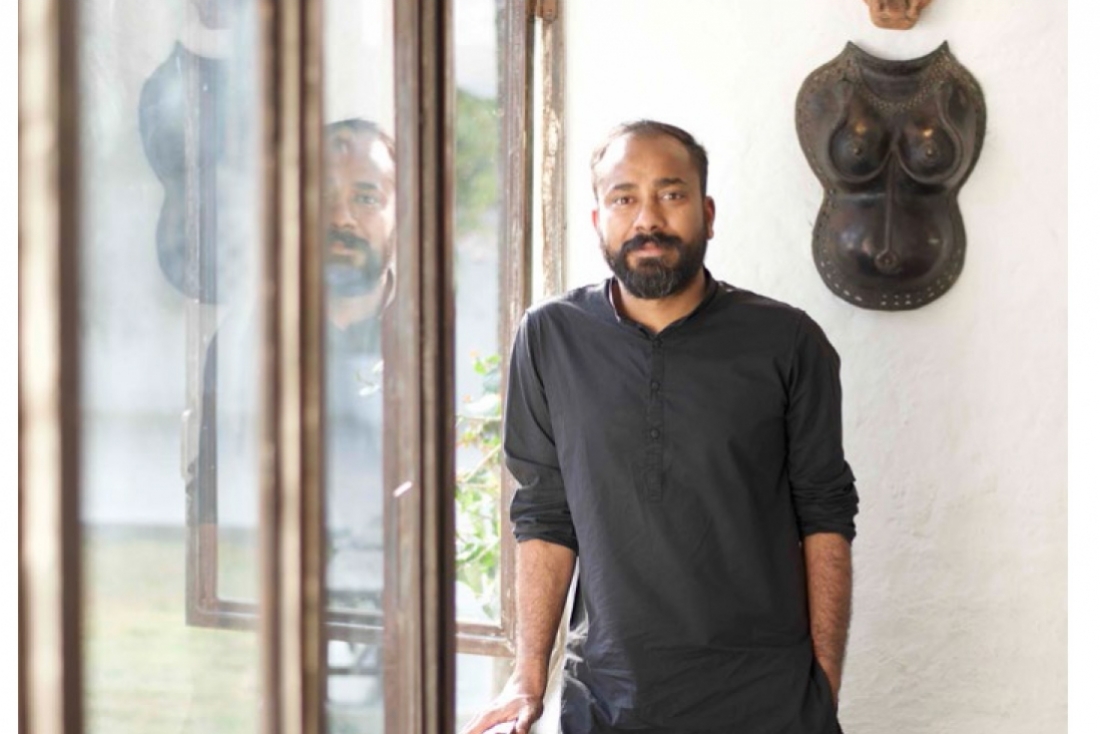 #Throwback Thursday with Sanjay Garg
Raw Mango
Sanjay Garg is probably the only designer who began his journey with solely selling the sari. Ten years on he has formed such a strong individual identity that today he is not only one of the most well-respected and talented designers but also a pioneer that celebrates handloom silk to its fullest, in all its shapes and forms.


Since the very beginning you have celebrated handloom silks and have not deviated from your sensibility—so where does this love of Indian textile and handloom stem from?
There is always a reason behind what I do and why I do it. For me the question that is omnipresent is that how does one look at design in India. I come from a village and only after I graduated I realized that I could make a profession out of design. I feel very nationalist in many levels. I have my views on everything and I like to express it. It's like someone said if you don't know the politics of a country you don't have a right to design. I have always asked myself that what is my contribution as a countryman and not as a designer to this country. For me design helps in problem solving, it is a very important part of living and life. Handloom is considered very old and is synonymous with grandmothers and auntyji etc. what I have always wanted to do is make the handloom current and relatable in today's times.

What is the difference between the two labels Raw Mango and Sanjay Garg?
We have about 450 looms working for Saris only and for me Sari is still very exciting but I do realize that not everyone wears Saris. So the question was how do I do justice to those looms I cannot force people to wear saris but I can modify the fabric and create stitched garments for people to wear, which comes under fashion. So Sanjay Garg comprises of all stitched garments and Raw Mango is unstitched fabric. I look at a fabric and see what will do maximum justice to it an unstitched fabric or a silhouette and that's when I decide where it will go.

You, your designs and brand has very silently made a huge impact in the industry—how has your design philosophy and sensibility evolved over the years?
I am forever evolving and I like it that way. The first collection I did was very minimal to the whole world but to me it was very ostentatious. People found it minimal because all of a sudden they found that a lehenga can weigh 3 kgs as apposed to 15 kgs and a lehenga can be made of just fabric as apposed to embroidery, zardozi, Swarovski etc. So I feel the word over the top or ostentatious is relative to individual taste. My aim when I started was to do saris and that's the only thing I was doing and instantly I was termed as a 'fashion designer' but to think of it I had my first show of Raw Mango only in 2014 so the whole 'fashion' journey is three years if you really look at it that way. I come from a very different world my goal was to sell saris and reach as many people as I can and find my own tribe.

Your saris have stories where do you find these stories—in other words where do you find inspiration?
I am in constant dialogue with myself and each of my collections stems from a story. I find stories everywhere; it could be anger or a commentary on society. There is always a woman in my head before conceptualizing a collection. At one time Ram Kali who was someone who lived in villages inspired a collection, she was a brilliant girl who married a city boy. She was very gutsy and wore whatever she pleased. So like that I have lots of women in my head that have inspired collections. At times the textile comes first followed by the woman and at times it works the other way around for me.