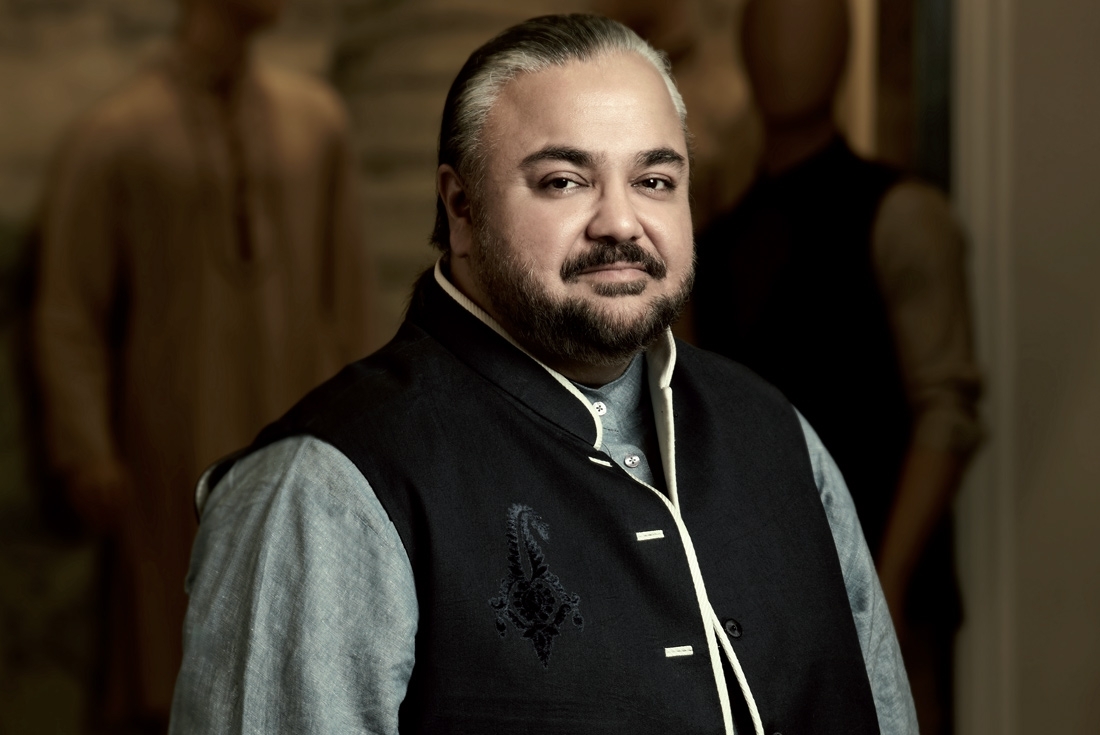 Photograohy by Homis Antony Tharakan
#ThrowbackThursday: JJ Valaya
The Lost Maharaja

For a man who came as a nobody from Chandigarh to the capital without knowing a single person, JJ Valaya has come a long way. The urge to escape the world of chartered accountancy (his profession then) propelled him to enrol at NIFT. Twenty five years later, he seems pleased as his brand is soaring, his foundation is strong and he has received tremendous accolades. Now he wishes to embrace the following years by defining his core areas even more. In a one-on-one with him at his grand flagship store, I learnt more about the past, present and future of JJ Valaya – the man and the brand…

Twenty five years and many more to come – how would you summarize your journey?
Single word – evolutionary. I think that is a key word in any kind of creative sphere because it's what drives creativity. If you wake up every morning and do the same thing, you are not going to last very long. I think the prize is the evolutionary journey itself and the journey is really what every creative person undertakes. So I think it's been wonderful and has entailed a lot of things – fashion (is the core), home décor, wedding décor (which is really big), pushing the luxury quotient to an all time high, and of course my personal baby, which is photography. And that to me is an art form and not a commercial venture – it's more of a leveler and balancer. To be honest, I am quite surprised that I became a designer. My absolute desperation to get away from the career I was following made me go to NIFT, since in the late 80s artists were an impoverished lot – the khadi kurta, kolapuri chappal and the thaila, so that certainly was not an option and interior design did not exist. Fashion didn't exist either, but the fact that there was a technical institute made me curious to check it out and the minute I set foot into it, I knew it was my true calling. Also, fashion for me was a profession where I could let the creative dam burst. I always had a creative bent of mind as I was painting all the time in school. I started with oils and I was the best calligraphist in my school. My mother was an expert in children's wear with a special emphasis on embroidery – gentle cross-stitch, smocking etc. So I think that was the genetic influence that I had. I guess that's what drew me to fashion and I never looked back.

"The royalty was the greatest patron of arts and crafts, and so they really pushed it to the edge and that's what I really believe in – to push things and see how far I can go, how glorious I can make something."
How would you deconstruct the JJ Valaya sensibility?
It's very different in both spheres – my art and fashion worlds are linked but at the same time they are very different. In fashion of course, I am the lost Maharaja, I can't imagine thinking any other way. Monarchy in general has something to do with me and I have no idea why. Maybe it's something to do with a past life or something, or maybe it's to do with me being born in Jodhpur, I really don't know. But what I do know is that the royalty was the greatest patron of arts and crafts, and so they really pushed it to the edge and that's what I really believe in – to push things and see how far I can go, how glorious I can make something. Also, I take great efforts with presentation, I like my shows to be spectacles within themselves and I think it's very important, as I like to combine fantasy with reality. On the other hand, photography is actually an expression of art. I have been taking pictures for a long time, but in the middle, I kind of lay low. Then I started taking them again but it was mainly fashion photography. I feel photography is my first step towards expression and I do not know where it's going to lead and that's a parallel evolutionary journey, which is continuing. I am a babe in the woods when it comes to the art world, but yes, I am a super powerhouse when it comes to the fashion world. For me the real reason I do my art is because it allows me to be fearless and that is very important for me. It doesn't matter if you like it or not, as you cannot please everyone. But what worries me is when the reaction is indifferent; as I need to get a reaction whichever way it leans.

What is it that you like to communicate through your designs and ensembles?
I think what I communicate is that, for me, every person right from the banjara to the multi-billionaire has a very intrinsic inner personality, which they often shy away from. A lot of girls and boys will not envision wearing lehengas and achkans, but thanks to the Indian wedding, you actually come out in full glory. So my whole mission is to be able to transport a person for a few days into another realm. It's this transformation of a normal person into someone magical that I thrive on, and the surprise that I see on the girls' faces is fascinating.

How has the fashion industry evolved since you stepped foot into it?
I think it's still struggling. The problem with most of the fashion industry is that they always keep looking around them, we tend to compare a
lot. Even the media today will focus more on western fashion; a lehenga is covered but only in a bridal issue. What does it tell me? That we as Indians, are not happy with what we are doing with our clothes and secondly, a young designer is being misled because when he sees all this, he thinks this is what he needs to do, but what he won't realize is that those designs are not going to be his signature images. So I want the Indian designers to celebrate India more, and I want our publications to support that.

Our conversation with JJ Valaya was first published in our Film Issue of 2012. This article is a part of Throwback Thursday series where we take you back in time with our substantial article archive.



Text Shruti Kapur Malhotra