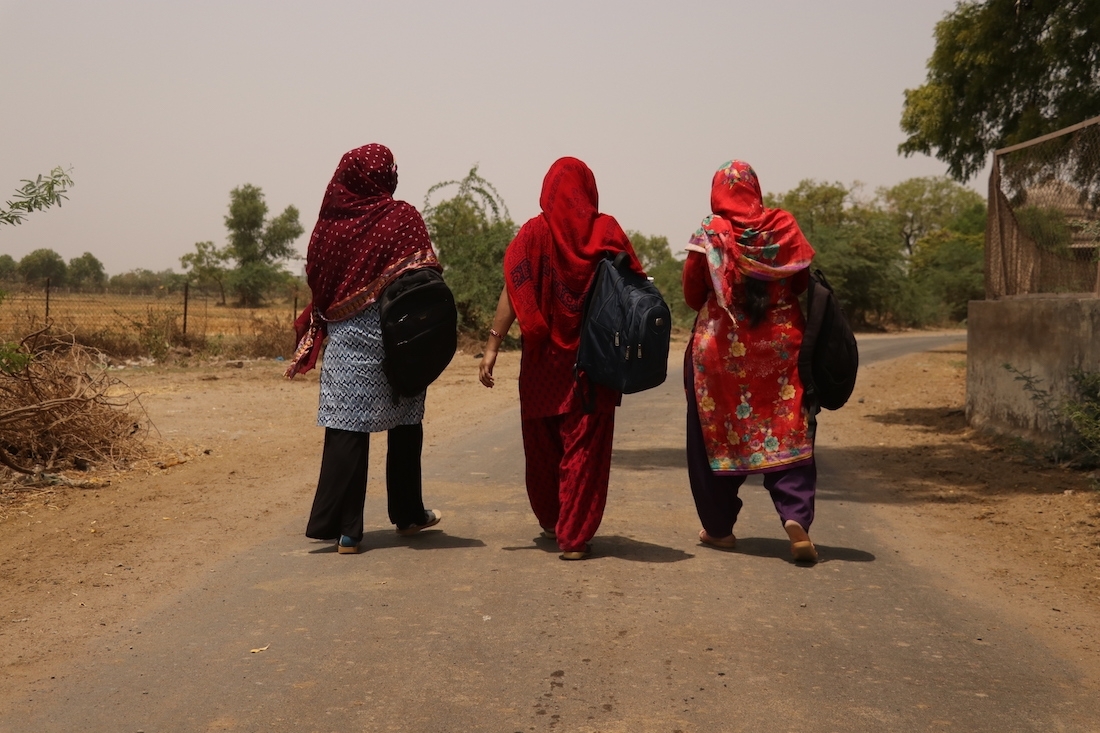 Brave Girls
Ellie Walton and Yashaswi Desai
When one looks back at the legacy of feminism as a movement, it comes as a shock that it has only been a century since the first wave of feminism arose and through the Suffragette movement, many women worldwide were given voting rights. Even though a lot has changed in this past century and women have managed to prove time and again that they are not the secondary sex, it is still a constant battle for many women to follow their dreams. Many communities are still far away from allowing their women to have equal rights as men and live their lives on their terms. Yet, more often than not, women rise up to smack patriarchy in its face and upturn the restrictive societal regimes.
The Brave Girls documentary manages to show this complexity of women's lives in a small town of India named Dholka and their stories of courage to break free. As Karishma, Apsana and Samira, decide to go back to school and give their 10th grade exams, their horizons widen beyond the four walls that they had been trapped in. Yet, societal expectations catch up and their families begin to arrange their marriages without their consent, leading them to make important decisions. Apsana breaks her arranged engagement the day before her wedding to continue pursuing her education; Karishma decides to run away and marry a forbidden love and Samira accepts her fate and gets married as was expected of her, leaving her family behind. Filmed over 4 years, Brave Girls explores the urgent questions about the empowerment of women in the developing world from the perspective of the women living those questions and facing the consequences of answering them.
Excerpts from our conversation with the directors of the documentary, Ellie Walton and Yashaswi Desai follow:

Tell us a little bit about yourselves and how did you venture into the world of filmmaking.
Although we grew up in different parts of the world, we were both rebels in our own ways, determined to carve out an independent path and be treated no different than our older brothers. This childhood sass led us on journeys fuelled by a curiosity about everyday revolutionaries, people who were going against the grain to create more equitable spaces. We both always felt that it was important to find ways that could help make our communities more inclusive and tolerant to one-another and discovered film as a tool that can facilitate the transformation that is continuously taking place in our society. We believe that making films creates a platform where we can share a story from someone's life which is not just challenging but also entertaining and inspiring at the same time.
What led to the making of Brave Girls?
We were teaching digital storytelling to a group of young women in Dholka, Gujarat, where we gave them cameras to explore their life and journey back to school. These workshops brought girls together every day to write poetry, express themselves, ask each other questions about their struggles and dreams. In the second workshop, one of the girls asked her friend, "Would you do a love marriage or arranged marriage?" "Would you live a life you dream about or one that your family will decided for you?" These questions that emerged from the girls themselves, then became a theme as they explored what was deep in their hearts and began exploring the kind of life they wanted.
Could you take us behind the creative process of the making of this documentary?
Our initial intention was simply to open a gate for the girls to share their hearts. As their stories started taking unexpected turns, we realized there was a deeper story unfolding that needed to be shared, in order to amplify their journeys as a way to both support other girls who were also facing similar struggles and build compassion in their communities. We were taken in by girls and their families where we would spend lot of time in their homes and in their neighborhoods talking with other girls, women and mothers. We wanted to capture the beauty of these girl's lives, their strength, which could bring other people closer to them as they watch their story unfold on screen.
At one point you are told by one of the girls that the villagers suspect that you were also involved in helping one of the girls run away from their marriage. How hard was it to become such an integral part of these girls' lives and what were some of the biggest challenges you faced while making this documentary?
The girls in our film were looking for an outlet to share their struggles as they were finding ways to navigate through this phase in their lives. After Apsana broke her arranged marriage, it was an incredibly challenging moment for us as it brought up a lot of ethical questions about our involvement in her decision. Even though we never encouraged her to take this step, we did create a space for her to express these dreams and emotions and always listened. The community was searching for someone to blame, including the teacher and us. Although the desire for a simple answer makes sense, we have come to feel that her decisions were much more complex, and there were a number of influences at play. We were very much involved in her life, but her questions and desires and dreams were coming from inside her, and if we simply took the blame, her agency and strength and courage would be discounted. Nonetheless, we feel a deep commitment and care to her and the other girls, a bond that became more like sisters, which has continued to this day.
As we see the lives of these girls unfolding, it almost feels like running away is the only option that could set them free. After the making of this documentary what do you have to say regarding how women in such situations can tide over such circumstances?
It does feel like running way was the only option, a choice that had a deep consequences. They were very close to their families and especially to their mothers. But over the course of making this film, we came to realize that communities are changing. It might take some years or perhaps a generation for people to start opening their minds to fully respect a girl's voice, a girl's life decision. We also came to believe that communities are fluid. We are the communities and we have the power to shift practices, beliefs, traditions if it is not working for some of us. As we begin to share the film and lead workshops across India, we are hoping to create more reflective spaces that support the voices and decisions of young women.
The documentary has been a part of some big film and documentary festivals. What has the response been like towards the documentary and what did you hope the viewers would take away from it?
We make films to connect hearts, to give people a space to come closer, to dive into stories of other peoples lives, and to find common ground. Sharing Brave Girls at festivals has been an incredibly fulfilling experience. The film has received a lot of appreciation, won two awards and people have loved the turns and twists, the intimacy, the bold and beautiful presence of the girls amplified on the big screens. However sometimes the smaller screenings in communities have been the most impactful. The conversations sparked, the hearts opened. However if continued to be shared, we hope it continues to move people.
Lastly, what is next for you?
Currently we are launching a 'Brave Girls' outreach campaign in India. We wish for the film to be used as a tool to open conversations about the growing agency of women in our India. We are also reaching out to organizations working for young women. Right now, through the film we wish to facilitate the process of inviting people to create better and more inclusive communities where their young women are nurtured, heard and cared for. We are so happy that girls from the film are part of our outreach work in India which is also supporting them financially.


Text Nidhi Verma