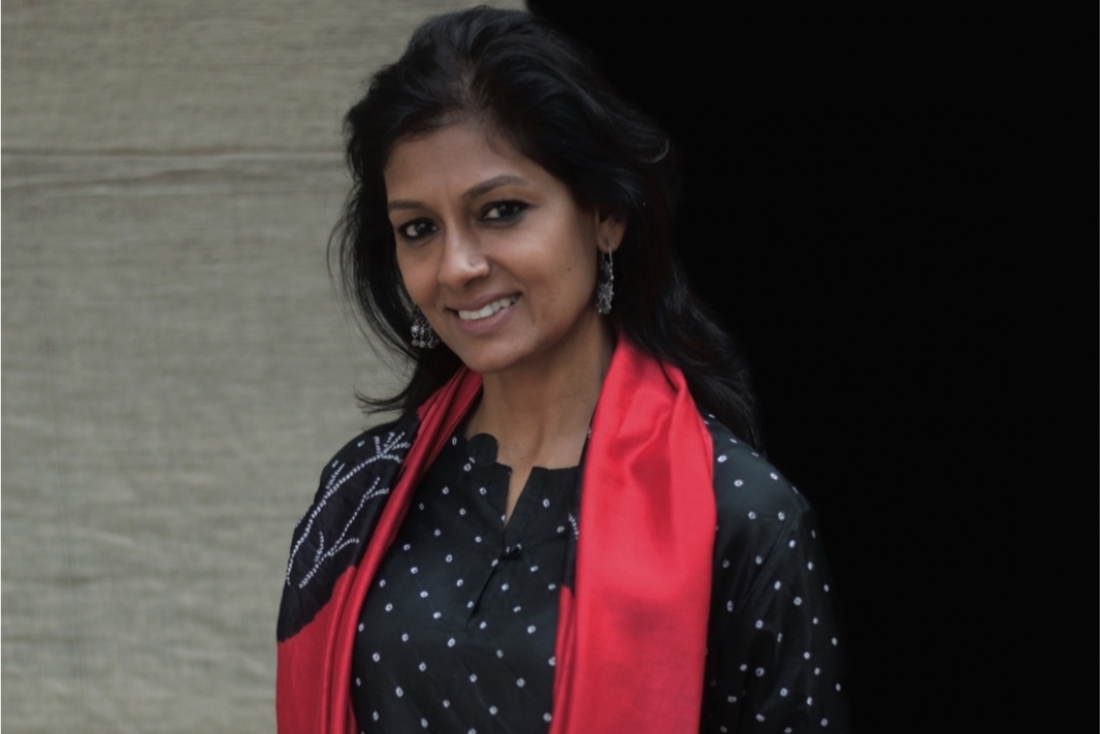 When I meet her on a bright winter day in Delhi, Nandita Das greets me with the sunniest smile as does her co-producer, Jean-Pierre Le Calvez. The gentleness and humility about her is well- known and yet hard to believe given the strength and rebellion of her subjects. The sun is sharp, let's take the shade, she says, still somewhat awkward with the fan attention we are occasionally interrupted by. Her latest muse, Saadat Hasan Manto, is on his way to a much-awaited reinvocation this year, and even before he arrives, the world hails her film as a masterpiece. She patiently and painstakingly puts the pieces together for me.
It's been 10 years since you directed your first feature. Take me through your journey from Firaaq to Manto.
Having worked in 40 films as an actor, I realized only post Firaaq, my first directorial film, that direction is a long journey which starts from the time you think of a story until much after the release of your film where the conversations triggered by the film continue. I always say 'Firaaq is my first child!', but without that experience, I don't think I would have been able to make Manto, which has been far more challenging. Though at the core, both Firaaq and Manto are manifestations of my life experiences, creative instincts, and human and social concerns.
Subconsciously, Manto is a continuation of the themes that I explored in Firaaq—identity, the notion of the 'other', prejudice, fear, emotional impact of violence, etc. While in the last eight years, my creative experiences have been lesser than my engagement in social issues, and I have spent the last seven years being a mother, in some mystical way, it has impacted my work also as a director.
I don't relate to cinema that manipulates emotions and tells you how and what to feel and in Manto, I see that being played out even more than Firaaq. To tell a story about a writer whose work was raw and bare, without any frills, in a way that is restrained and real, has been an interesting experience. In Manto, the biggest challenge was to recreate the period, and as I ended up pretty much producing the whole film, I have had to rely on my creative instincts more than knowledge of the craft, which I feel, in any case, are deeply intertwined.

In your opinion, is an artistic gene imperative to be a good artist yourself?
For starters, I have never assisted anybody nor have been in a film school, and have been an actor and director by default and not design. So, purely going by my experience, I would say that to be artistic, you have to have a creative instinct and be a keen observer of life. The rest helps but is not imperative.
In my case, my artistic instinct has definitely been nurtured by me being the daughter of a painter and a writer. I grew up with crafts, hand-loom, the earthy colours that we had at home— all of which impacted my visual aesthetics, and seeing my father paint at home helped me understand that art was anything but rigid and definable. Exposure to many artists, architects, photographer, musicians, dancers—friends of my father's—helped me understand the larger world of creativity. And filmmaking is a composite art where many different forms come together. So in that sense, I am sure, my upbringing had a big role to play in nurturing my instinct.
What inspired you to adapt the legend of Manto into a screenplay?
I first read Manto when I was in college. A few years later, I bought the complete original works in a collection called Dastavez, in Devanagari. I was struck by his simple yet profound narratives and the way he insightfully captured the people, politics and times he lived in. He wrote as he saw, as he felt, without dilution, and with a rare sensitivity and empathy for his characters.
For years I thought of making a film based on his short stories, even before I made my directorial debut, Firaaq. In 2012 when I delved deeper into his essays, they helped the idea expand beyond his stories. Today I feel equipped, both emotionally and creatively, to tell this story that so needs to be told.
What drew me to the story of Manto was his free spirit and courage to stand up against the orthodoxy of all kinds. He was irreverent and had an irrepressible desire to poke a finger in the eye of the establishment, often with sharp humor. As I plunged deeper into Manto's life, I wondered why he seemed so familiar. Soon I realized that it felt like I was reading about my father, Jatin Das, an artist. He too is intuitively unconventional, a misunderstood misfit, and whose bluntness is not too different from my protagonist.
It is Manto's fearlessness and a deep concern for the human condition that I have always felt most deeply connected to. Manto's faith in the redemptive power of the written word, through the hardest times, resonates with my own passion to tell stories. In some mystical way, I feel I am part of that hopeful legacy. Through him, I feel I am able to kindle my own conviction for a more liberal and compassionate world. Manto himself would not like it if I put him on a pedestal. For him, ugliness was a reality and therefore, a part of beauty. He wrote, "till human beings, and especially till Manto has weaknesses, he will see them through his microscope and continue to show them to others."
"It is Manto's fearlessness and a deep concern for the human condition that I have always felt most deeply connected to. Manto's faith in the redemptive power of the written word, through the hardest times, resonates with my own passion to tell stories."
Why did you find Nawaz perfect for the pivotal role?
I always had Nawazuddin in mind while writing Manto. Firaaq, my directorial debut, was Nawaz's first feature film. In fact, I told him this in 2013 at Cannes, when I was in the short film jury, and he was attending the festival for Monsoon Shootout. At that time I was at the initial research stage and warned him that it would take at least two years for me to finish the script. He was excited and assured me that he would give all the time and commitment to it, whenever it happened. It took me longer as the subject is vast and challenging. They say if you get casting right, 70% of your job is done, and with Nawazuddin that's exactly what I feel. He looks and feels the part. And he has an incredible range as an actor, but intrinsically Manto lies somewhere in his eyes.

Can you, for the purpose of this interview, stand aside from your chair and build a picture of Nandita Das, the Director, as she commands her crew? Also, I'm curious to know how your larger creative process flows...
Strangely, I, in any case, observe myself in different situations and have a sort of inner conversation between the two Nanditass—the observer and the observed! After all the films I did as an actor, I could safely generalize that most male directors find it easier to "command their crew" than women. Somehow women are more team players. Also, their own vulnerability, shaky confidence, and passion make them more open to taking suggestions and being less self-important. For instance, I know that I used to think aloud often on the sets which were initially seen as being uncertain or not in control. Slowly with time, the crew began to realize it was simply my way of working.
Usually, I do many different things and it's only when I'm directing that I need to focus on one thing for so long. But in filmmaking, there are several phases—researching, scripting, shooting, editing, sound, music—each important and distinct. So in many ways, one is doing different things through all of them are coming together for that one film, and I enjoy every aspect of it. Despite the fact that it's a collaborative art, it's also a very solitary journey, as only you know your reasons for doing what you do, and even that, often it is not so clear and defined, making it even harder to communicate with other team members. There are no simple ways to describe the creative flow, but all I can say is, the closer you get to your material, characters, locations, actors, and crew, the more you begin to know your film. It is also a process of self-discovery and unfolding of what you began with, which too is constantly evolving.
Tell me some tales from the sets. Something that may have moved you, rattled you, had you in splits or been a great learning experience...
There were many incidents that moved me, rattled me, had me in splits, and through all that, the learning, of course, keeps happening. I remember we shot a scene where Manto is to give a talk at a literary event which is packed with Lahori intellectuals. This scene was shot all night in a small village in Gujarat and the villagers we had collected to be our audience didn't even understand Hindi, let alone Urdu. So when we had to shoot their reactions, I spoke to them in Gujarati and told them about Manto in a way that not only to keep them awake but for them to look as if they were in rapt attention of what Manto was saying. At that time, it was a hard task, but now, looking back, it does make me smile.
Getting junior artists was overall a big challenge. In Bombay, they are jaded [and have good reasons to be] and it was hard to find faces that had the simplicity of that period, let alone finding women who hadn't plucked their eyebrows and bleached their hair, and men who had latest haircuts and the young ones with six-packs not quite hidden. Funny how their coordinators and also my ADs would assume that if educated people or people from the richer class were needed, they had to be light skinned and lower and working classes had to be dark skinned. It was interesting to see how the unconscious bias and stereotypes impact casting.
A lot of the locations in Bombay, that we had seen as part of our recce and narrowed down for the shoot, had drastically changed closer to the shooting date. Either there were scaffoldings on it, or some grills had emerged, or had been painted blue or pink. Finding the right locations was really hard and while I have enjoyed exploring the Bombay of the 40s, it has also pained me the conditions of the buildings that exist now, and sadly we have not been able to use many of them, due to the modern day invasion, or because of the kind of the prices that were quoted.

What were the biggest challenges that came your way on this journey? There have been so many reported obstacles.
As with every film, there were many challenges. I plan to write a whole book about the journey—from scripting it through largely books and reference material, with very little first-person accounts, to raising funds for a film like Manto, with no song and dance, to recreating a period film in the modern-day clutter that we now live in, to casting, to finding the right crew...I am sure marketing the film will pose
many challenges too, especially with the financial constraints we are working in and considering media interface is my least favorite aspect of the journey. But I want to make the film accessible, like Manto's own writings, and I feel like this film will have something for all those who believe in the free spirit and free speech.
If I would list the obstacles, you would need to dedicate the whole issue to it. There were even obstacles I had not foreseen at all. For instance, finding Shyam, a close friend of Manto's and a pivotal character in the film, proved to be harder than I thought. Typically, his role was seen as the "second lead" in the movie, and no reputed actor was open to doing it. Finally, Tahir Bhasin, who stepped in the role, brought Shyam to life with his genuineness and charm.

What are your plans for 2018 and onward?
After the film is finished and released I plan to take some time off with my little one. During that time, I hope to travel, write, listen to music, reflect—the Manto journey will be at its peak in 2018 as it will see both the Festival round and the release.
This year threatens to be just as hectic as the last year has been. Just as my father loves to paint but finds exhibiting a draining process because of the logistics, and its interface with media and the larger public, I know I am going to feel similar. Marketing and distribution have less to do with creativity but is an important aspect of the journey when you so want to share a story with as many people as possible. So, while it will be draining for me as well, I'm hopeful that many will support the film as I am already overwhelmed with the interest in it. One thing I know, that when all of that ends, what I most want to do is to catch up on some sleep!

Text Soumya Mukerji