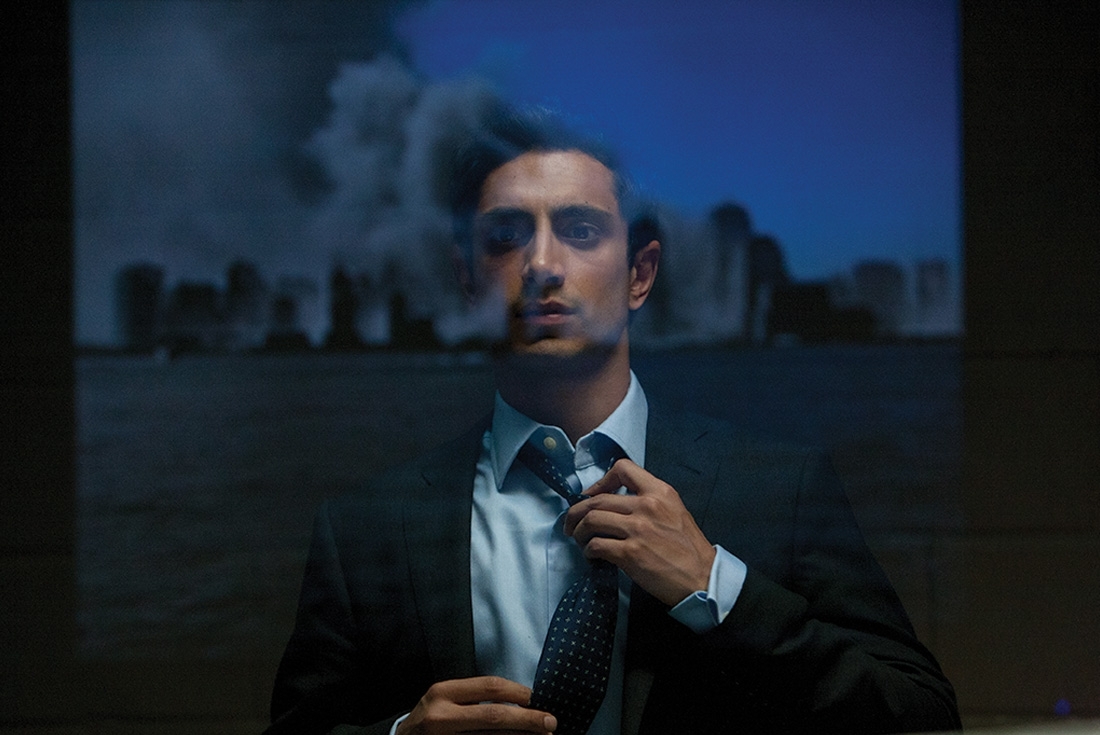 As a young boy growing up in a working-class Pakistani community in northwest London, the only life Rizwan Ahmed knew was one of dual identity. He won scholarships to go to private schools and Oxford University while maintaining a strong connection with the Asian street, its trials and its codes. Later, it is this cultural crossover that would fuel his inner fire for the arts, give him a powerful voice against xenophobia, and most recently, win him the cover for Time Magazine's 100 most influential people in the world.

2016 saw Riz releasing a music solo, a Swet Shop Boys album with Heems or Himanshu Suri [formerly of Das Racist], and a thought-provoking mixtape, Englistan. As an actor, he appeared in Jason Bourne and HBO's The Night Of, as well as indie films Una and City of Tiny Lights. We speak to Riz who has, by confession, never learned to slow down.

What is your first memory of acting?
I was always messing around and play-acting as a child. My household was boisterous and playful and loud, and I loved impersonating Prince Charles. That's the kind of stuff I did at family gatherings. And then, I got used to acting in day to day life and switching roles from one context to another... if you see my short autobiographical film, Daytimer, you'll see how I went from a traditional Pakistani household to a predominantly white upper class schooling… with that kind of Brit-Asian culture I was exposed to, I think acting came naturally.

And of rapping?
I used to listen to my brother's cassettes, he got me into rap. Then at a school trip to the science museum we got to go to the sound recording studio and I guess that's where it started.

What inspires your art and choices?
My inspiration comes from trying to put myself out of my comfort zone, and trying to remain authentic.
"You can't go back to that childlike instinct, you've got to find new ways of working that inspire the same sense of novelty."
Music, film, theatre and TV— you have engaged with all these mediums. What excites you about each of these?
All of these help me create something and give me an opportunity to express myself, so they're all exciting. These are collaborative mediums, and I like solving the problems that come up in the creative process with each. For film, you need a lot of people; it's more expensive and the schedule takes more than a year. On the other hand, music is quicker… the Swet Shop Boys album just happened and it is out this summer; the kind of turnaround time involved in music is shorter. But then also the attention span for music these days is also less and it can sometimes feel more disposable. Something like a film has a publicity budget behind it and the promotional rollout helps them make a bigger splash in your consciousness. So there are differences in the way people see film or music. But from a creative perspective, they are all connected for me because they allow collaborative expression and are mediums through which I can connect with audiences.

How have you evolved as an actor over the years?
When you start you don't have anything to work around except your instinct. Then as you work more and more, you have more experience…the challenge is to not lose that original instinct but use it to refine your craft. There's the confident of being naïve at the very start of your career. That's why you sometimes see children giving such incredibly brilliant raw performances. But you can't go back to that childlike thing, you've got to look ahead. You've got to find something else; you've got to find new ways of working that inspire that same sense of novelty.
How difficult has the journey been, and was your origin ever seen as something of an anomaly?
In terms of my roots, I guess I'm lucky to be part of my generation of actors in America and UK who are making it culturally less of an anomaly. I'd like to think people like Dev Patel, Idris Elba and I have contributed a little to this.

You've said the Star Wars set left you in awe.
Yes, I've grown up watching those films and I was delighted to get an opportunity to work on one. The experience has been incredibly special. The level of detail on set was inspiring, and we had a good time shooting.

Nightcrawler earned you four major award nominations. How was it a special film for you?
It's strange but Nightcrawler was something that I went into with minimal expectations, as I was told that I was wrong for the role and I shouldn't even bother to audition for it! I did it without much thinking…sometimes we put all this pressure on ourselves as opposed to just doing something playfully with no expectations, and yet it comes out much better this way.

Who are the actors you admire?
Irrfan Khan. He's incredibly inspiring. Among the actors I've worked with, Matt Damon is an intelligent, engaging, down-to-earth guy. Sometimes, there can be a bit of ego among actors on sets and that can create a toxic atmosphere but Matt Damon is just the opposite.

What challenges have you faced in both your career choices, as actor and musician?
My debut album was back in 2012 and my second album Englistan released in 2016, because I have been busy with filming. You often have to make sacrifices. There's juggling writing, recording, family life...and there's only so much time. But it's ultimately a joy because I'm getting to do things I love.
"I think I can be a perfectionist and it stops me from sharing my work. I can tweak things for an entire year, which is insane. If I could, I would not allow for perfectionism to get in the way. I would move on faster."
Tell me about Englistan.
We live in a time of rising racial tensions because of the financial crisis in the West. That's what inspired Englistan. For me that title is not about invading or taking over the idea of England. It's about retaining England and creating a name for England that could feel more inclusive and more in tune with the multi-cultural reality of both our past and our future. The past of this country is deeply intertwined with that of South Asia and the future of this country is deeply entwined with all the immigrant groups. Englistan first represents the voices and the stories and the pain and the joy of the South Asian diaspora here and secondly, hopes to take the English flag and stretch it big enough to connect all of us. There's a track on the album called I ain't being racist but… in which I pretend to be a racist white rapper who is saying how he hates the idea of immigration.

I want people to realise that all countries in the world are a cocktail of different ethnic groups and the result of different immigrant waves over centuries. So the idea of a purely white Britain or Hindu India doesn't make sese. We are ultimately in the wake of a global financial downturn seeing the right wing groups come into power and dictating the political code everywhere. There's polarisation taking place and we don't need these lies and bullshit.

Englistan also looks at the idea of double lives that kids in the diaspora have to live – torn between traditional exepectations of their families and the western way of life outside. People in India and Pakistan probably feel that too, but in a diaspora, this dichotomy can be a lot more pronounced. That's because the Asian immigrant groups who came to England in the 70s have held onto the 1970s idea of what Indian or Pakistani values are, rather than keeping pace with the modernisation that has been happening there. So I think for the diaspora communities, their home context is sometimes even more traditional than the urban equivalent in India or Pakistan or Bangladesh; they get frozen in time.

Going back, is there one thing you would have done differently?
I think I can be a perfectionist and it stops me from sharing my work. I can tweak things for an entire year, which is insane. It can get in the way of finishing things or sharing them or just moving on. If I could, I would not allow for perfectionism to get in the way. I would move on faster.

What is next?
I'm currently working on a TV series for BBC which I'm excited about, and which is about a similar world to what I've shown in my short film, Daytimer. The funny thing is that sometimes you think 'this is about my life and no one can understand it', but the more specific you are with your art, the more universal it becomes. It's amazing to see that a short film or album I made that draws so specifically from my own life resonates with such a wide audience.


Text Soumya Mukerji