Female artists have time again used their artistic expression to champion feminism and smash patriarchy. Sona Mohapatra is one such artist, whose music has unabashedly broken free from all societal norms. Shut up, Sona is a tongue-in-cheek take at her unrelenting fight for an equal space in modern day India, a country deeply uncomfortable with her emancipation. The documentary, as she hersefl told me, does not come across as an autobiographical tale of her but a universal one, to which many women today can relate. It a film with a lot of guts and a lot of glory.

We connected with Sona to know more about her journey and her film.
How did music find its way in your life?
I've had music in my life as early as I can remember. My mother was instrumental in making sure that we had a classical music training wherever we went. My father was in the Navy so we moved to a different place every two years but me and my sisters, we were always taught music and that played a very important role in our lives. I cleared all my Hindustani Classical exam levels and also excelled academically alongside, so coming from a typical middle class family, it felt very natural to pursue an engineering degree after school, but I kept my love for music alive. When I could finally make the leap, I quit a very lucrative corporate job to turn into a musician full time and subsequently into an entrepreneur.
How would you describe your music sensibility and what inspires it?
'Desi Soul' is the music that I go for. Its very rooted in our culture and I have a deep love for the folk culture. From all the travel from my childhood and even now, as I continue to have this wanderlust, I pick up from cultures, cross-cultures and hence there are a lot of cross-cultural influences in my music. So be it Romano or Flamenco music, there is a lot of dramatic storytelling that comes from such forms. Off-late, apart from Indian folk forms, I have been listening to and have been very influenced by the storytelling cultures of various parts of the world. At the same time, I am extremely desi at my core, and I love identifying with it, be in the way I dress or through my music. I don't look towards the West for my inspiration.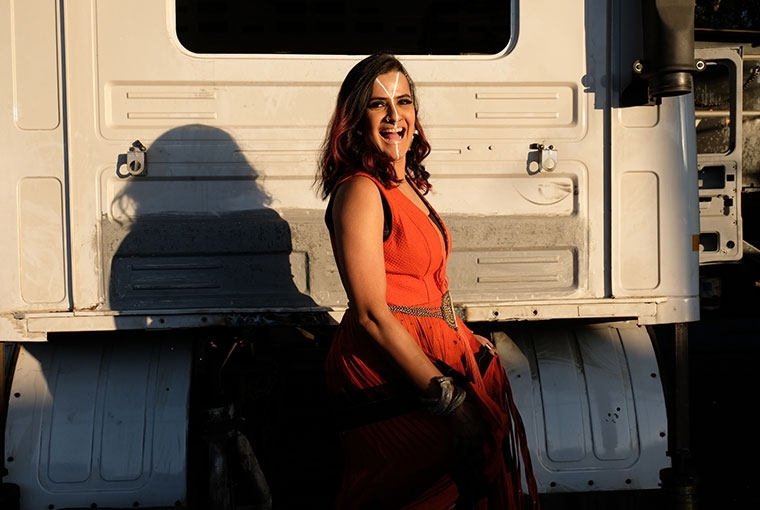 What propelled you to produce your film, Shut up, Sona?
Three years ago I found myself in a corner and I felt that opportunities for female music artists were shrinking by the day. I didn't want to just sit and crib around and wait for somebody else to make things happen for me. So I said, let me take charge of my own narrative and I pulled together all met interests to tell a story, a meaningful one. Through this I simply got to own my narrative, travel, and speak my mind. I felt that it was very important for me to be able express myself as an artist because I was choking at that point and felling the walls close down upon me. I also fell precariously ill and then I got the chance to be in a hospital bed and think, since I am such an opinionated person, I should have a chance to tell my own story and that's how the film came about.
Could you tell us a little bit about the process behind the making of this film?
It was very organic. I initiated the idea of making a film, to pursue my love for the country and its music. Then I got in touch with one of my oldest friend, Deepti Gupta, who is a fantastic cinematographer, with whom I had worked on a couple of music videos in the past. She also has a deep love for the country and her journey itself has been tough, being one of the first female cinematographers in the country. People still don't take female cinematographer seriously and we felt that it was a lovely journey of sisterhood where we would get to tell our story. Also, the process itself was so much fun albeit exhausting and challenging. Normally a documentary is limited to a locality and we managed to cover 17 cities through ours. I had this romantic notion of writing a love letter to the country when I started off and now its a love letter to a country that is uncomfortable with my emancipation.
What was the most challenging part about making this film and what do you hope the viewers take away from this film?
Well, I wish I could give a more philosophical answer but it was financing it. It was not easy to finance a film and I used to literally work, work, work and out the money earned, into the film because there was no one else backing the project. Now that it has become one of the official selection in some of the top film festivals around the world, just makes me feel that its been a worthwhile journey. Also, sometimes even money is not the question, its the fact that so many people question that you are making a film on yourself, with yourself in it. There were a lot of naysayers and many just thought that these two friends are making a home video, no one really considered it to be a film. So the journey that this film is seeing now gives me immense pride. So the one thing that I would take from the film and tell everyone is that, no one will believe in you as much as you can in yourself.
I hope that the viewers have a great time watching it and it makes them think about things. I didn't really have agenda while making this film, like I don't generally have one while making my songs as well. You make it because its an artistic expression. In all the screening we've noticed people laughing their heads off and also getting very emotional, which makes me feel that maybe we've gotten something right through this film. Its not a standard documentary, its fairly entertaining and authentic. I am not coming across as flawless or perfect in it, and it a universal tale, not an autobiographical movie about me. I am more like a medium, telling a more universal narrative.
Could you tell us a little bit about the music used in the film?
A lot of the music has been heavily inspired by the poetry of Mirabai, Amir Khusro, Kabir, artists who have influenced a lot of change and societal impact in the past centuries. Apart from a lot of original music of my own, there is also music from Ram Sampath, because we make a lot of music together. So there is a lot of original and traditional music because I wanted to take the poetry of our masters and put it forth to the young audience that show up at my concerts. I have been left shocked in the past when I have come across young people who don't know who Mirabai is. She was one of the most amazing, inspiring and legendary artists, not as a a woman artist but generally. She was a rebel, she was a rockstar, and a lot of her music has just been presented as very devotional and domesticated but she was also writing a lot of sensual poetry, she was challenging the social order of her time, she was writing against Sati. So there is a lot of challenging of the norms and connecting the dots of this challenge, through the past centuries. I end the film with a song that I usually begin with, its a celebration of Shiv-Shakti or Yin-Yang, which is the balance of feminine and masculine energies in our universe. I feel that there is nothing that can be breached when you go in stage, your music speaks what you stand for.
Lastly, what's next?
Hopefully what I am working on a film called, Please Sing Sona. There will be a lot more music in this film. I am also working on a lot of original music, a couple of tours are coming up and our film journey with Shut up, Sona has just started. Fortunately we've been blessed and have been invited to some of the most prestigious festivals around the world. I am hoping to create a lot of content that goes beyond just music and tell stories from a clearly feminine perspective, be it producing it or collaborating with others. Music will always be at the heart of it and right now, in India I think this a great time to be producing original music because film music these days are mostly remixes. So its a great time for creation and expressing ourselves as a country.

Text Nidhi Verma