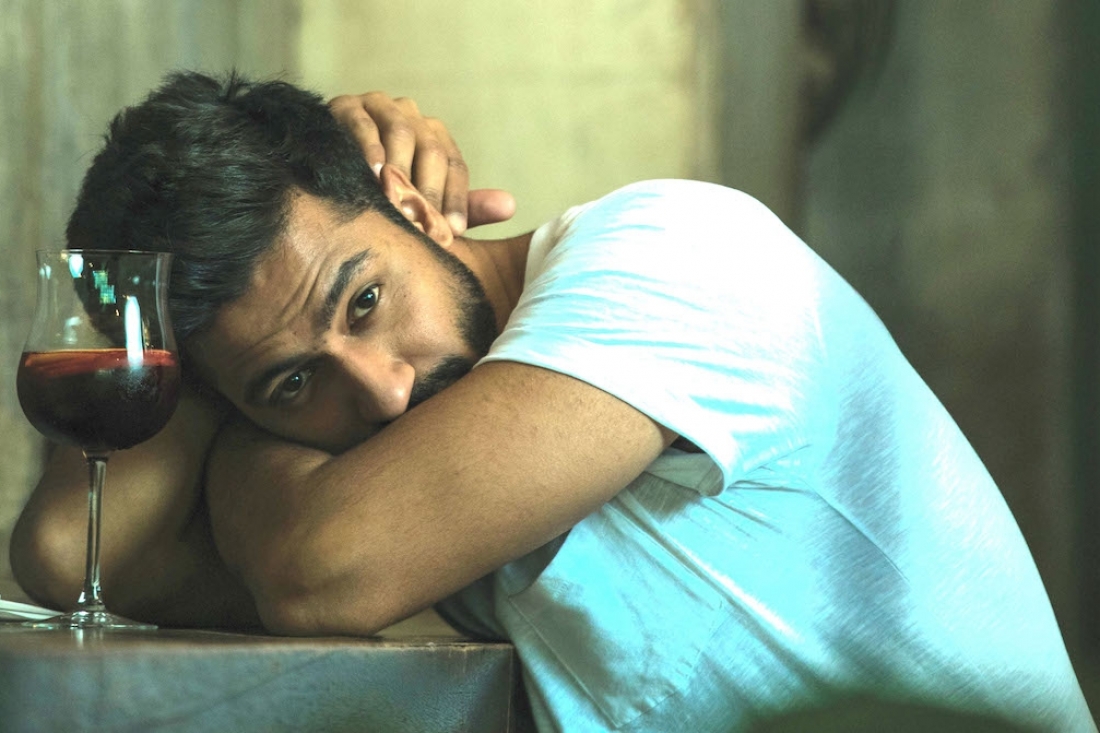 INTERVIEW OF THE WEEK
Photography: Ishika Mohan Motwane
The Practising Artist
Vicky Kaushal
It was 2015, just 3 years ago when Massan, his first film was released where he played the leading role. Instantly one knew a good actor had arrived. His effortless performance played with pure honesty left you, thinking and applauding his brilliant craft, considering he was a debutant. In a matter of three years not only has he done some incredible cinema but this year also saw him working with industries top filmmakers and finest actors, be it Meghna Gulzar's Raazi opposite Alia Bhatt or RajKumar Hirani's Sanju opposite Ranbir Kapoor or Anurag Kashyap's Manmarziyaan opposite Abhishek Bachan and Karan Johar's Netflix original Lust Stories – 2018 has been Vicky Kaushal's year and to think this is just the beginning…
What is your earliest memory of the movies?
I think the first film I watched, as a kid in a theatre was Dilwale Dulahania Le Jayenge. I don't have any recollection of the film but I have the memory of being in the theatre in a large dark room with my family, I remember being very restless. Since childhood I have always been surrounded by films, my father being an action director, he had meetings at home where they would discuss how the hero would save the heroin or his mother from the villains' hands. I would love watching movies on a lazy afternoon coming back from school. That was my thing every day and every night. I can spend hours someone telling me a story. I guess that's how I fell in love with films.
Even though you studied engineering did you always know you would be in front of the screen one day?
I have always been a person that goes with the flow and concentrates on the present and I am not one who plans the future. So while doing engineering when asked what the plan was I used to always say Masters as that was the progression. But in my second year we were taken for an industrial visit to show us how a company works and what we should expect once we start work etc. It's there I realized as I entered an office where I saw people working behind cubicles and I realized we were not meant for each other. I knew I will finish my education and sail through it but at the end I would be a very unhappy soul and I knew at that instant that this is something I definitely don't want to do. And its then I started asking myself that two years down the line after graduation what is it that I want to do? I did not feel in synch with the engineering world and asked myself what do I feel in sync with and it was films. The first idea was about performing because I had been active on stage since childhood. When acting I felt liberated, I felt happy, it made me feel open and I used to never miss that opportunity.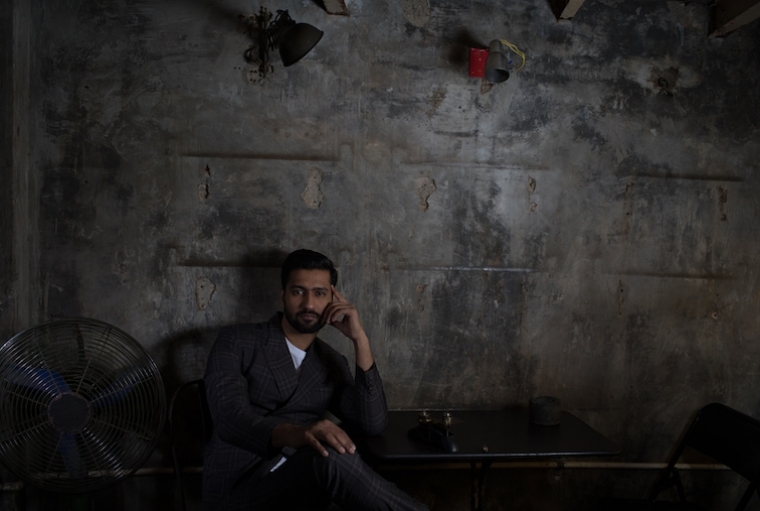 "A Vicky Kaushal could lead a film, could play a prominent part in a film because today story is the hero of the film."
So considering your father has been part of the film industry since over three decades when you decided to join the movie business what was the advice he gave you?
When I told my dad that I wanted to act he wasn't very happy. We come from a very small village in Punjab called Hoshiyarpur. My grandfather (dadaji) owned a small kinare ki dukaan in that village. My dad was an English literature MA topper and he wanted to be a professor but he couldn't pursue that, as his financial situation was not very good. So he could not go to Chandigarh and do another degree so he had to quit that dream. Destiny got him to Bombay and struggle struggle struggle and he became an action director. So none of my family members have had the luxury of doing a stable job where you get a stable pay cheque every month, Saturday, Sunday is holiday, Diwali holidays are separate, family time is separate, work hours are allotted and all of them had been craving to do that. So he had hopes that he could live his dream through me and make me live a stable life with no unpredictability. When I told him I wanted to be an actor his dream got crashed. Having said that he loves this industry as whatever said and done whatever he has got today it could be love, money, house etc is all because of this industry. So he said he would never discourage anyone but he said the reason for someone to join films should be correct. My dad's reason was survival and my reason was passion. I genuinely felt it was my calling and I was ready to struggle for it. I was self-motivated. Once he was convinced of my reason he said I would be with you through it all as your father but not as an action director. Having said that he directed me for one sequence for a film called Zubaan as my action director. It was outstanding and a dream come true.
How has the whole process of entering the industry been for you?
I did an acting course for 6 months not only to learn acting but to be sure that if I wanted to do this for the rest of my life. Till then I knew acting made me happy but I knew there was more to it. Do I want to wake up every morning and do this. And in those 6 months I was convinced. The whole process has been very organic thus far. All I wanted to do was act but the fortunate thing that was happening while I was struggling as an actor was that the audience was evolving in a beautiful way. They were demanding new stories and new content, new faces, new thoughts and new writers. And I just happened to be at the right place at the right time. So a Vicky Kaushil could lead a film, could play a prominent part in a film because today story is the hero of the film. They want to take the story back home. If they take the story back home they will even take the actor who has maybe even done one scene in the film.
"I would like to associate myself with films with substance. I don't mind dancing around tress and doing the whole song and dance routine but it should say something and resonate with someone."
What kind of cinema engages you and you would like associate yourself with?
I would like to associate myself with films with substance. I don't mind dancing around tress and doing the whole song and dance routine but it should say something and resonate with someone.
For an actor he does not know what he is capable of unless and until he does it. So right now I am exploring myself as an actor and with every film I get more confidence. And I understand my weaknesses and strengths. If I connect to the story for any random reason I will do the film.
Even though you are still very young in the industry, you have managed playing characters that are very diverse from one another – on what criterion do you decide to take on a role?
Firstly when I read a script or when I hear the narration I always listen to it from the point of view of the audience. I think I have spent 300 rupees to watch the film, after the film do I feel like talking about it to my friends or connecting with a character. Am I getting that urge to discuss the film, if I have that sense then I am in the right direction. Secondly of course the director, the setup of the film and if the character is repetitive then I try and avoid it but if its not then it's the final tick in the books.
What has been the most challenging role you have played?
For me it was Raman Raghav 2.0 over all, to be in that space of that character of that story of those locations. Most of them were night shoots in the grungiest places in Bombay. It's not a happy story - you are beating women, you are doing drugs. Its not a happy space to be in. it's difficult to play a character that you want to step out of. With a character like Massan, or Sanju or Raazi you feel like indulging but with a character like Raman Raghav you want to disconnect the minute you hear cut. It's difficult for you to remind yourself that don't judge yourself for playing that character. It's tricky cause you are playing with your head. From the outside it looks normal but there is so much going on in your head. And I told my family as well that when I come back home from the shoot please don't ask me anything. As all I want to do is eat and go to my room and sleep, wake up and go for the shoot. We were shooting for 21 days straight and what happens with a tight schedule is that you have to put in that much more of you each day and that drains you. Even though it did not require physical prep as in I did not need to loose weight or emulate a certain character trait but you needed to connect with the emotional state of the character and he would do what you do instead of the other way around and that's even more tough cause there are no clutches or reference point so it's very internal.
"The most amazing thing about acting is you get an opportunity to face your darkest side and confront it and come through it. And the best part is you know its temporary and you will come out of it."
Raazi, Sanju and Manmarzia saw you opposite three of the finest actors of today how did their sensibility bounce of yours?
Whenever you see a good scene it's always the exchange of those energies of the people inside that scene. And when you are acting with great actors beside you, you are always in a state of getting inspired and pushing yourself to the best of your abilities that will only bring out the best in you. The added positive was that the actors I worked with are extremely good human beings, such secure people, people who wanted to learn at the same time. Even though they had knowledge, they did not take their stardom for granted. So there was so much to learn from them not only as actors but as human beings as well. And that has been a very enriching experience for me.
This year you also acted in Lust Stories – what was the experience working on a short film for television?
Lust stories, was a party on set. We shot for 6 days. Karan had given me a screenplay narration. We used to get dialogues a night before, Karan used to write them himself. What was pleasantly surprising is that he is good with comedy. And he is an approachable director when you are working with him you have fun because he is having fun. And he is very clear that we will do this because it gives us happiness and we work with that energy. He is very light and easy. And when your director is having fun everyone on the set is having fun. He lets you improvise and have fun with the character so it was great.


Can you tell me a little about your upcoming release Uri?
Uri is based on true events. In 2016 September our Uri base camp in Kashmir was attacked my militants and 19 of our soldiers got murdered and in retaliation a very covet operation took place which was a surgical strike. So the story is based on that - the attack, the planning of it and then our surgical strike. We shot in Serbia and it's an out and out action film. I am playing the commando who led the surgical strike. It's my first action genre film. There was a lot of physical prep. I have a beautiful problem gaining weight. For this role I had to play a mid 30s character, strong built and I had to put on 15 kg of weight. So in Sanju I was 72. In Raazi I was 77 and what you will see in Uri will be 92. And I am normally 82. There was a lot of military training involved and injuries etc. But we are very excited about the film.
Lastly what's the most exciting thing about acting?
The most amazing thing about acting is you get an opportunity to face your darkest side and confront it and come through it. And the best part is you know its temporary and you will come out of it. And that's the thrill of it cause you know you will be looking at life for that period of time with a totally different POV and that is incredibly exciting and that is what is feeding the artist in you.

Text Shruti Kapur Malhotra