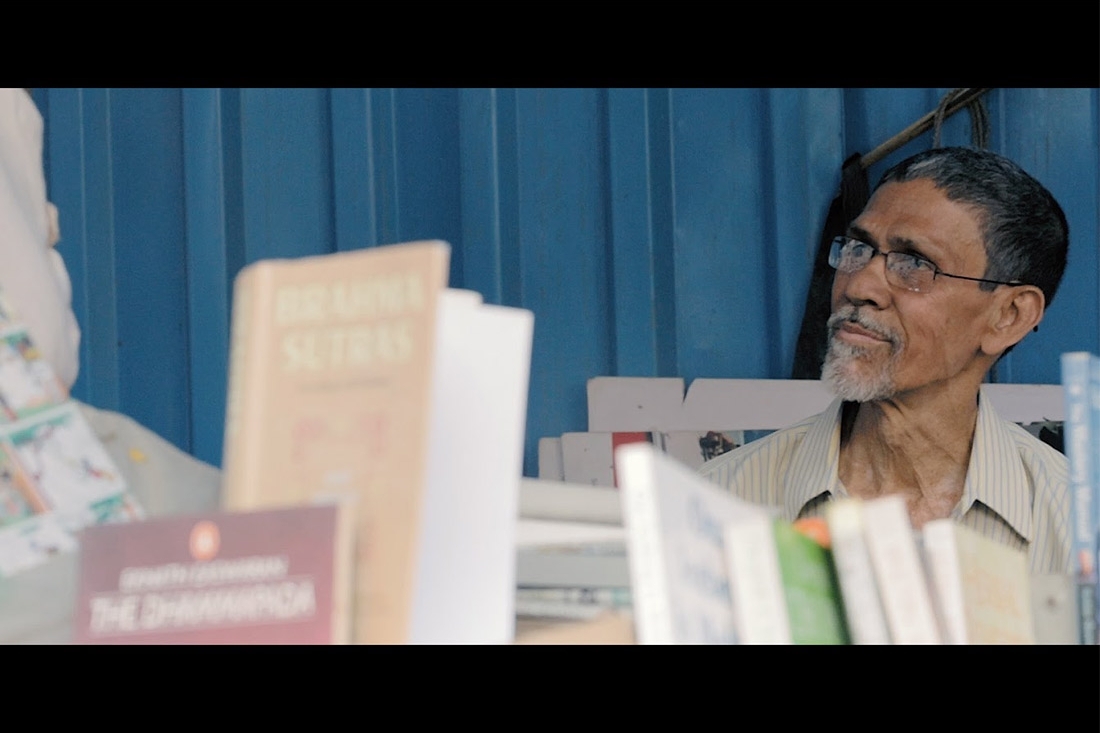 Bablu Chakraborty, still from the film
Zen and the Art of Bookselling
Shivajee Biswanath
Shivajee Biswanath's short film, Zen and the Art of Bookselling, (produced under Camera and Shorts) explores the life of bookseller Bablu Chakraborty who has been selling books near Fort, Mumbai for around five decades. A street bookseller, he had little knowledge of books, book genres, titles, authors or even the stories that resided inside these books when he started out. Today, he is so well familiarised with every genre, every author and even the rarest editions of some books, that he chooses his own customers. He decides who is worthy of which book. This influx of knowledge owes itself to an encounter he had with one of his customers, where he, on not being able to inform the customer about a particular author, was unsparingly called out, 'You're a bookseller and you don't know?'

When did you fell in love with filmmaking as well as documenting real stories in particular?
This happened way back in college. I graduated from IIT Kharagpur in 2016 so there was a film society in college so I guess that's where I found my love for film. Ashay Gangwar, my then senior is who is the founder of Camera and Shorts and a few others, we were doing this historical project during about an event that took place the time of the first World War and making a film was one of the things in that project. Other than that, there were a couple of other projects in college which drew me to film making.
Documentary because we like documenting people and documenting Indian life and if it's done properly people connect to it more than a fiction film. Also documentaries helps you to project the current society and throw a light on what is going on around you. They also forms historical archive of places, for example if you see 'Zen and Art of Bookselling', you will see how Fort Mumbai looked in a particular year, when you see this documentary years later.

How did you come to know of Bablu Chakraborty?
There was an article by LBB about a bookseller saying that he sells second hand books and that he reads a lot of philosophy. It was very small article. So two of my friends started going to meet him, then eventually I met him. I started shooting him on the 2nd or 3rd day. First I just had a word with him, and found him to be very friendly. He wasn't too conscious of the camera or anything. So it started off like that.

What were your thoughts and emotions while filming this documentary?
My first instinct was that through the film his personality and his story should unfold. Most of his story was discovered while shooting and even after shooting we used to pick out the clips which we felt were very relevant to his story. For example, the film is named after his favourite book 'Zen and the Art of Motorcycle maintenance' so Me and Bablu would speak about this book a lot. After that I started seeing that there was a connection between that book and his life. I had read that book a few months back so that was also a coincidence. He believes a lot in Zen and the art of zen and he has read about it quite a lot. He also leads a life of following a lot of zen. That's why I felt naming it 'Zen and The art of Bookselling' would be apt for the film.
Bablu Chakraborty, still from the film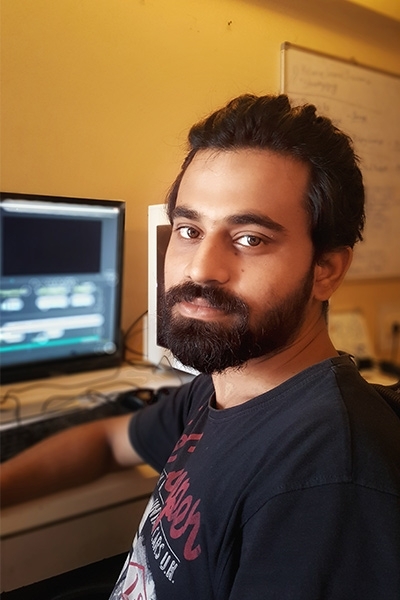 Filmmaker
Shivajee Biswanath
'There is a general notion that wealth corresponds to happiness but Bablu's story presents a completely different picture. He seems extremely happy in what he is doing'
I think that notion that people who are poorer are not that happy is very incorrect because I have covered a lot of street vendors, golgappa sellers etc . It is not like that. As much as I know and have interacted, that is far from the truth. Most of these people really enjoy what they do. In Bablu's case it was of course entirely different because he had found his calling through books. Although his family is in Calcutta, he stays here. He spends most of his time sitting under that tree reading. It's been around 5 decades since he has been selling books at the same place. He has a lot of loyal customers who are always there for him. He is very engrossed in reading books and searching for rare copies of books. He is a very very happy man. Lot of people in the evening come to meet him and talk about books.Also sometimes he selects a book and keeps it for a particular customer. He stores the book for that person. He has a very good collection of books.

You spoke to Bablu for quite a while. Are there any parts of his life or personality which are not seen in the film that you found to be interesting?
The fact that he has seen Bombay seen change over the years, also he has seen the fort area change. He has a lot of anecdotes. I was shooting just after demonetisation had happened. That time his business had gone down but he was still very happy. He was facing difficulty in selling books. I don't think he was bothered that much by it though. He is very complacent with life. He doesn't have many complaints with life. It hurt him, but it wasn't a huge thing in his life.

How have you grown as a filmmaker over the years?
One thing I have learnt is to be an observer in your daily life, observing everything that happens. In reality even if you go down for a walk, observe people, observe their behaviour, be like a third person. One should not weigh things as to what is right and what is wrong. Just observe and take everything in without forming judgements.

Text Supriya Jain